A growing number of Canadian parliamentarians are lending their name in support of a Private Member's Bill requiring warning labels on cell phones, Wi-Fi routers and even baby monitors sold across Canada.
Conservative MP Terence Young has introduced a bill calling for safety warnings on all such radiation-emitting wireless devices. Young has represented a federal riding in Oakville, ON, since 2008.
Known officially as Private Member's Bill C-648, An Act Respecting the Prevention of Potential Health Risks from Radiofrequency Electromagnetic Radiation (Warning Labels for Radio Apparatus Act), the Bill was seconded by NDP Health Critic Libby Davies.
Young, and other supporters of his initiative, want to change the way Canadians think about wireless devices by putting cautionary information about their use and potential health hazards front and centre.
Or on the back. Or on the box. Or some other location to be determined – the issue is complex, controversial and complicated by the small size and limited real estate on many wireless devices, much less the still hotly debated science and research surrounding electromagnetic radiation, EMR, emitted by devices from cellphones to baby monitors to smart meters and more.
Young knows full well that many device manufacturers, particularly cell and smartphone makers such as Apple, Blackberry, Motorola and others, already publish health warnings about the devices they make and sell, but such warnings are hard to find.
"The warnings are in fine print, in paper booklets that few people read," he said. "This new bill ensures those same warnings will be readable and easy to find, right on the packaging or the device."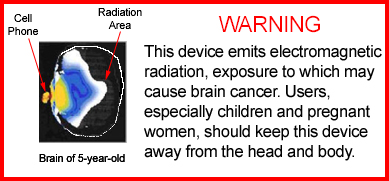 Even when legibly sized, not many folks read the small print in user's guide or product info brochures; those who do have read a rather familiar passage, no matter the device or manufacturer:
"For body-worn operation, this phone has been tested and meets FCC RF exposure guidelines when the handset is positioned a minimum of 15mm away from the body without any metal parts in the vicinity of the phone or when used with the original body-worn accessory intended for this phone. Use of other accessories may not ensure compliance with FCC RF guidelines."
So, the closer you get to your smartphone, the more danger you're in.
The Oakville MP is no stranger to consumer protection initiatives, and he was successful last year in championing a new government bill requiring clearer warnings on pharmaceuticals.
If this latest bill is passed, it could require all wireless devices sold in Canada to carry warning labels similar to tobacco and alcohol products. Retailers who fail to ensure warnings are affixed to the packages could be fined up to a hundred thousand dollars per day.
Frank Clegg, head of Canadians For Safe Technology (and former president of Microsoft Canada), has long sounded warning signals about wireless devices and health effects, and is supporting Young's initiative (C4ST is based in Oakville, ON).
Clegg says the bill calls for manufacturers and vendors to be responsible for the wireless labelling, noting that service providers are vendors as well. He knows it is possible that some devices may not physically allow for a legible warning to be placed on them, but says issues like that would be sorted out in the next phase of the bill, with the Minister responsible making final decision about label size, shape and placement.
Manufacturers, vendors and service providers are understandably resistant to commentary that makes direct connections between the use of wireless and cellular devices, and negative health effects that are said to result from their use – or even proximity.
"The overwhelming evidence, as determined and published in studies worldwide by the respected scientific community, continues to support the conclusion that there is no public health risk associated with the use of wireless technologies," Bernard Lord, President and CEO of the industry trade group Canadian Wireless Telecommunications Association (CWTA).
The CWTA has acknowledged that mobile phones function because they are able to send, receive and manipulate radiofrequency (RF) EMFs, but it says – somewhat disconcertingly, if EMR is a health hazard – the studies have shown that cellular/PCS emissions represent less than 25 per cent of the ambient RF emissions in an urban area.
Can there be labels on "ambient emissions" too? Another physical challenge, certainly:
But be clear – the issue of health and medical related effects of RF and microwave radiation has been around for a long time, and it precedes today's ubiquitous use of wireless devices and the radiation they emit.
In 1979 – yes, 1979! – physician, researcher, and academic Dr. W.Ross Adey authored a paper entitled 'Neurophysiologic Effects of Radiofrequency and Microwave Radiation'.
His work clearly tracks impacts from low frequency radiation on brain function, cognitive behaviours and other biological functions, although interestingly enough, it seems he could see both negative consequences and potential therapeutic value.
Either way, with no cellphones around, he could still hear the future calling, and he warned of its arrival: "Future research may indicate that long-term human exposure to these particular low-frequency characteristics should be avoided or carefully controlled."
Or at the very least, labelled.
-30-
submitted by Lee Rickwood