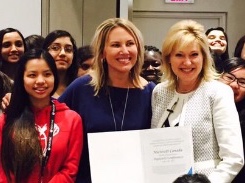 By Gadjo Cardenas Sevilla
Empowering the youth with technology has been one of Microsoft's YouthSpark initiatives, their DigiGirlz program aims to reach out to young girls and offer them mentoring and the love of coding.
"Women are dramatically under represented in science, technology, engineering and mathematics (STEM) fields. Seven out of 10 girls are interested in STEM but only two out of 10 will pursue it in college or university," said Staci Trackey Meagher, Vice President, Enterprise and Partner Group for Microsoft Canada.
There are fewer and fewer women focusing on technology careers and this is made more difficult by the lack of support by many educational institutions that fail to see the importance of teaching children how to code.
As fewer opportunities present themselves to young girls to consider programming or engineering, the lack of role models to look up to is reflected by the shrinking number of women in technology jobs.
It's a chicken and egg situation that results in technology careers often being overlooked by young students, specially young girls.

Microsoft is doing its part to bring technology, the love of code, and even mentorship in a series of day-long DigiGirlz events as part of its YouthSpark initiative to engage youngsters to pursue technology as a career or interest.
DigiGirlz Day events are held globally and allow students to interact with Microsoft employees and managers to gain exposure to careers in business and technology
Microsoft recently held its DigiGirlz  Day event in the company's Mississauga offices.  100 girls from the GTA between the ages of 14 and 17 participated in a day-long skills development and mentorship conference. During the event, the participants got to code an app using the Microsoft Surface Pro 3, they also met developers from Ubisoft Canada,  who create the popular video game Assassin's Creed.
Some Microsoft classes were run by  women, including Sage Franch, a technical evangelist at Microsoft who publishes her own tech blog, Franch said she really fell a connection with the girls attending.
Franch attended an all-girls high school and explained that while learning coding in high school, "it was very natural to learn with only girls."
This event is part of a larger story by Microsoft YouthSpark, a global commitment to empowering young people with the opportunity to acquire the training and tools they need to succeed in employment and entrepreneurship in our increasingly digital economy.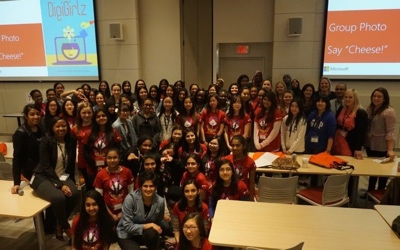 The event was presided by  Mississauga Mayor Bonnie Crombie, Microsoft Canada Vice-Presidents, Staci Tracey Meagher and Mary-Ellen Anderson. We interviewed Meagher for WhatsYourTech.ca to get some insight on the initiative.
"I think it's really important that we inspire girls at a very early age to love technology, science and engineering," Meagher professed. DigiGirlz has been ongoing in Canada for around five years.
Meagher explained that showing young girls that creating code isn't impossible but is also fun and exciting is a starting point. Making female mentors or role models available can also help interested students see a future for themselves in technology. Meagher was delighted to see the level of interest in this year's batch of participants.
Programs like DigiGirlz as well as Girls Learning Code are essential to enabling interest in technology and forming the future programmers, engineers and designers the industry is going to need. Finding ways to sustain their interest as well as offer longer-term training and exposure to technology and mentoring remains a key necessity to success.