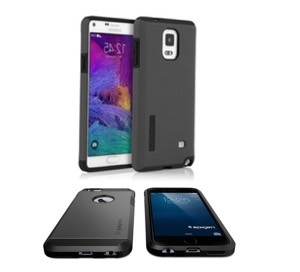 By Gadjo Cardenas Sevilla
Smartphones have become palm-sized computers keeping us connected, informed, and accessible. Yet, as sleeker, thinner and lighter models come out, the need for improved protection increases.
When old school smartphones were mostly flip-phones or candy bar models, they were designed to take a beating. You could drop those devices and they could still be used without much problem. But with smartphones being mostly a pane of glass held together by glue and screws with thin plastic, metal or even glass enclosures, the chances of surviving a drop diminish exponentially.
The end result of a shattered smartphone display is that it can't be used. Repairing the high-res display and digitizer that allows for multi-touch, can be costly, almost as pricey as replacing the entire phone, in some cases.
So, while smartphone manufacturers prefer that their beautiful devices aren't covered up by bulky cases, the reality is that if you want to save yourself some grief and a lot of money, a tough smartphone case is worth the extra bulk and minimal cost.  Here are some cases worth considering.
Spigen Tough Armor Case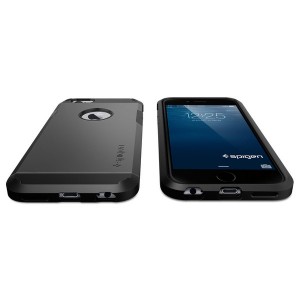 The Tough Armor case from Spigen for smartphones  provides impact absorption while staying less bulky than other protective cases. The dual layered build of flexible TPU and hard polycarbonate come with protective features such as Air Cushioned corners and an interior spider-web pattern.
Spigen has a variety of cases ranging in levels of protection. They are all good and can fit most user's requirements from basic protection to heavy, all-around shock a drop protection offered by the Tough Armor line.
These cases manage to serve as a cocoon for the device while the tough exterior soaks up bumps, dings, dents and scratches. Spine's design and materials are second to none and the Tough Armor Case series provides above average protection without breaking the bank.
Incipio DualPro Shock Absorbing Case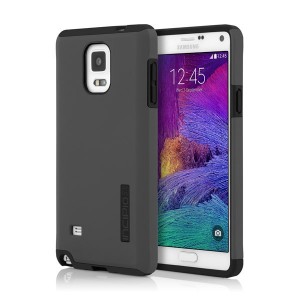 Step up the level of defense with Incipio's DualPro Case for devices like the Samsung Galaxy Note 4 from Incipio.
Combining a rigid Plextonium polycarbonate external shell with an impact resistant inner core, the DualPro Case offers protection for your device from damage caused by the harshest of drops.
Slim, lightweight, and a smooth matte finish complete the design, making it notably one of the best everyday cases in our lineup.
Using this case on my Samsung Galaxy Note 4 offered me the best mix of a relatively thin case but with strong shock absorption qualities.
Only problem is that the fit was not perfect, and it was easy to toggle the volume up and down keys while in my pocket, not pleasant while going for a run, specially when music suddenly goes up to full volume unexpectedly.
Urban Armor Gear (UAG)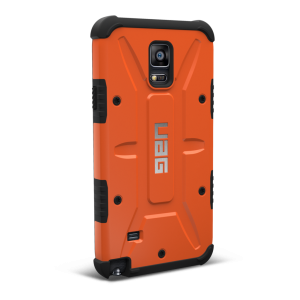 One of the best options for complete protection for smartphones is Urban Armor Gear. Looking very much like military or tactical grade cases, they incorporate light weigh, impact resistance and easy access to most ports and buttons.
UAG Armor Cases visibly protect the entire device, but also include impressive screen protectors. Their crystal clear HD screen guard, soft rubberized screen surround and rear skid pads provide 360 degree protection from scratches and abrasions.
Their impressive patented composite design fuses a hard outer shell with a soft impact resistant core. The unique shape of the case also provides structural rigidity. These are also the most visually striking cases in the market right now.
If you use your smartphone on the field in harsh conditions, the UAG cases will quickly pay for themselves in terms of peace of mind and saving your delicate device from unexpected drops and rough terrain.
OtterBox Defender Series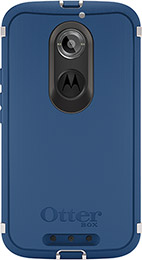 You can't have a list of tough smartphone cases and leave out OtterBox. This company defined this specific niche with their bulky but no-nonsense Defender series of smartphone and tablet protective cases.
If you see a construction worker out on field with his iPhone or Android device, chances are it is snugly ensconced in multiple-layers of OtterBox armour. Drop, dent and dust protection are the OtterBox's forte.
The Defender series continues to be the gold standard in total protection. With a soft interior rubberized case which is covered by a tough and nearly indestructible polycarbonate shell, OtterBox also excels at pairing cases with belt holders of all types, because people who work in the field need to have their hands free. These aren't the cheapest cases out there but you're paying for quality that you can see and feel with OtterBox.
These are some of the best options out there to safely secure and protect your expensive smartphones for the Summer.