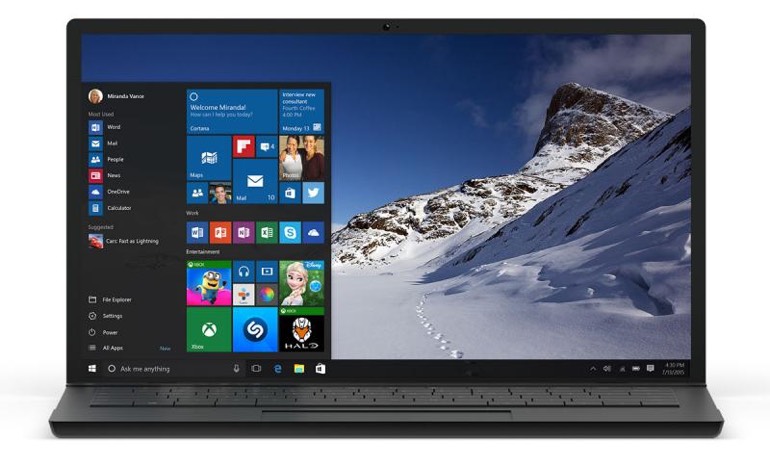 By Gadjo Cardenas Sevilla
Windows 10 has been out for less than a week and is touted as the best version of Windows for laptops and 2-in-1 devices. I decided to install and test the new OS.
While Microsoft ran a 'reservation,' program for existing Windows 7 and Windows 8.1 users to receive a free update. I wasn't seeing any signs of Windows 10 being available for download on any of my PCs.
I was thankful that Microsoft Canada provided me with the new OS on a USB stick and I proceeded to install it on a Surface Pro 3 as well as an older Sony Vaio Duo 13 2-in-1 Ultrabook.
Installation on the Surface Pro 3 was smooth as silk and took under one hour to complete. I was happy to notice that everything worked and Microsoft's claims that the device could automatically switch between tablet mode (without the Type Keyboard) and desktop mode (with the keyboard connected) were accurate.
Installation on the Sony VAIO Duo 13 was similarly smooth, but a deluge of problems soon followed. I intermittently lost audio, using the new Microsoft Edge browser to watch video resulted in half the video being unwatchable, plus battery life took a serious turn for the worse.
The VAIO Duo 13 easily gives me 11-13 hours of battery life on Windows 8.1, but it wasn't lasting more than four hours running Windows 10.
Granted, the Sony VAIO Duo 13 is two-years-old and runs on older hardware, it ran Windows 8.1 smoothly, but Windows 10 seems to unsuited for this particular ultrabook in its current state.
This makes me wonder if other non-Microsoft Ultrabooks or 2-in-1's could be prone to similar problems. After all, device drivers might need to be updated, and various controls in the OS might need updating to suit each and every device out there.
This really brings to question Microsoft's claim that Windows 10 is designed to run on everything (smartphones and Xbox One included). The question I have is, can they manage a seamless and trouble free experience on all these thousands of devices, sounds like a monumental task to me.
I also began to quickly understand why Microsoft opted for a staggered roll-out of Windows 10 on compatible devices, there's just too many of them and it will require months to truly iron out the kinks.
I'm fortunate to have more than one notebook to use, but seeing as my VAIO Duo 13 is rendered practically useless by Windows 10, I might opt to revert to Windows 8.1 so that I can be productive and enjoy the apps and experiences I've grown used to.
Like many others, I have no plans of purchasing a new PC just to enjoy all the features of Windows 10.
Now, on the Surface Pro 3, the experience is much, much better. Windows 10 and all its apps work as expected and while the Cortana voice assistant isn't available in Canada, I cheated a bit and moved my Region settings to the US in order to use the personal assistant.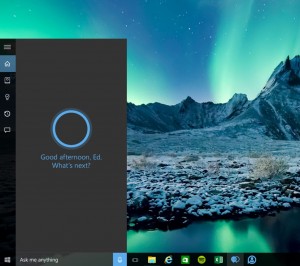 Having Cortana available on your notebook is a transformative technology. If you can get over the fact you are talking to a machine, you can really achieve a lot by invoking the assistant.
I trained Cortana to learn my voice and I can use the "Hey, Cortana," command to set appointments and alerts, play music from Microsoft's Groove music service, open up apps, run searches on Bing and even crack a few jokes.
The Microsoft Edge browser seems reasonably fast and efficient. It will take a while to get used to, but it seems much improved over Internet Explorer at least in terms of general speed and web standards.
If you come from Windows 8.1, there's a bit of a learning curve with Windows 10. The tiled interface is no longer the default view unless you're running Tablet Mode. Even then, you can't simply swipe up to access all the apps (you now get a tiny hamburger-syle menu button that brings these up.)
There are dozens of functional changes in Windows 10 that vary greatly from what Microsoft has tried to hammer into our consciousness these past three years, and it will take some time to remap our brains to work with Windows 10, specially if you're a tablet user.
C0ming from Windows 7, the transition is easier.
If you want desktop mode with floating folders and icons, you will not be disappointed, and while there are still some remaining vestiges of Windows 8 and Metro tiles ever-present, they are easy enough to corral into a neutral pocket so that you don't ever have to interact with them.
I can't comment on stability or battery life yet as I'm getting mixed results, I suspect things are going to be in flux with Windows 10 for at least a few months before we really know how it impacts different PCs.
Have you installed Windows 10 on an older or existing tablet or Ultrabook? Has the update been stable and trouble free? Let us know how Microsoft's latest OS is impacting your life and work and if you're happy with what it has to offer. Let us know below.