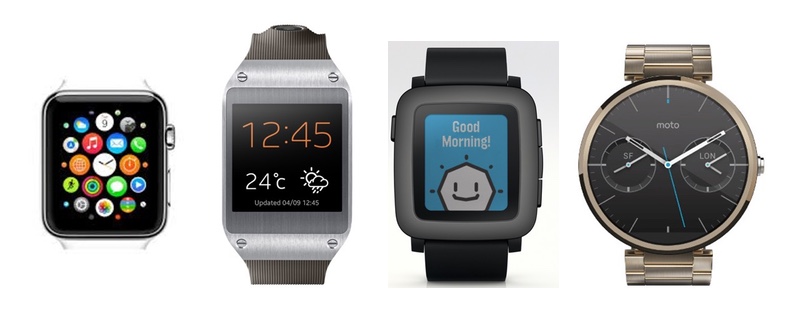 Consumers now have a range of smartwatches to choose from in the market. I've owned, tried and tested the Apple Watch, Samsung Galaxy Gear, Pebble Time and Moto 360 to determine what it is they offer.
The smartwatch market is growing with various smartphone companies, PC makers and even standalone wearable companies are all vying for a piece of the pie. Today's smartwatches offer freedom from constant dependence on smartphones they, are health trackers, remote control devices and possible mobile payments solutions.
During the past year, I have personally collected and tested each of these smartwatch models and incorporated them into my daily life as tools for work, health tracking and communications. Here are my findings.
Apple Watch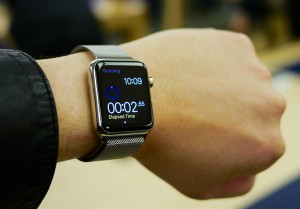 The Apple Watch is the newest entrant to the smartwatch market and it is the most ambitious. Available in three Editions (namely Sport, Watch and Edition), the Apple Watch requires recent iPhone models (iPhone 5, iPhone 5s, iPhone 5c, iPhone 6 and iPhone 6 Plus) in order to work as specified.
I have been using the cheapest Apple Watch Sport variant for a number of months and have enjoyed the ability to take calls on my Watch, use the Watch to easily communicate with other Watch users, manage communications and notifications as well as track my health and activity level.
Battery life is decent with a day and a half of use from a full-charge. Apple Watch Sport is also quite rugged since it is water resistant and durable despite being the most lightweight Watch model.
Apple Watch is expected to get a big functional upgraded this Fall with watchOS 2.0 which will add a lot of value to this relatively expensive accessory. While a lot of early adopters seem happy with what the Watch offers today, it is still quite early in this wearable's lifespan and the best is likely yet to come.
Samsung Galaxy  Gear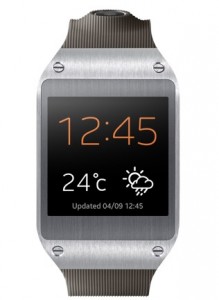 The Samsung Galaxy Gear is the very first of many Samsung smartwatches. It is a couple of years old and it switched operating systems from Android to Samsung's own Tizen OS.
I was able to purchase the original Samsung Galaxy Gear for $150, cheaper than many Apple Watch accessory straps. The device was paired to my Galaxy Note 4 and offered a decent way to receive calls on my wrist, take instant photos right from the watch as well as receive and respond to some mail, messaging and health tracking features.
Build quality on the original Galaxy Gear was good, the AMOLED display is still one of the best I've tried and the limited number of apps are more than enough for most users. Time is also always displayed, which reinforces its functionality as a timepiece.
The biggest limitation of the Galaxy Gear (and the generations of Gear devices that followed it), is that they are compatible with only a handful of Samsung smartphones. This is a very limiting oversight that limits the market of this potentially profitable smartwatch line.
Pebble Time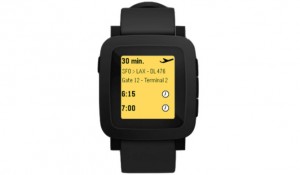 I have used and owned all the Pebble devices and while there was no other competition in 2013, it was the best option for smartwatch. The monochrome and subsequent e-Ink display enable the Pebble watches to be always on and battery life is impressive at four days between charges.
The Pebble time excels at being rugged, has decent health tracking functionality thanks to apps like Misfit and Runkeeper and can even serve as a mobile payments solution for purchasing coffee or using PayPal.
Pebble Time isn't the nicest looking device out there and we've learned that the fashion aspect of smartwatches is a bit of a requirement. What it lacks in looks, it more than makes up for in terms of ruggedness and water resistance. The Pebble Time's two key strengths are its cross platform compatibility (iOS and Android) as well as its low price (under $200), which makes it ideal for anyone who doesn't want to commit to a more expensive device.
Moto 360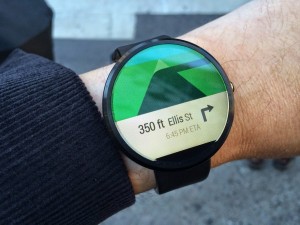 The first circular Android Wear device, the Moto 360 is just as functional as any other Android wearable but had the added advantage of having many of Motorola's health tracking functions. Moto 360 also has a variety of colours and finishes plus can be used with leather as well as metal bands.
Moto 360 has been heavily discounted since it seems Motorola is expected to bring in a new model.
This means a great deal for anyone looking for a quality smart watch and health tracker. Having used the Moto 360 since last year, I liked the wireless charging dock (which converts the watch to a desk clock), the heart rate monitor and the deep integration with Android devices plus the above average battery life.