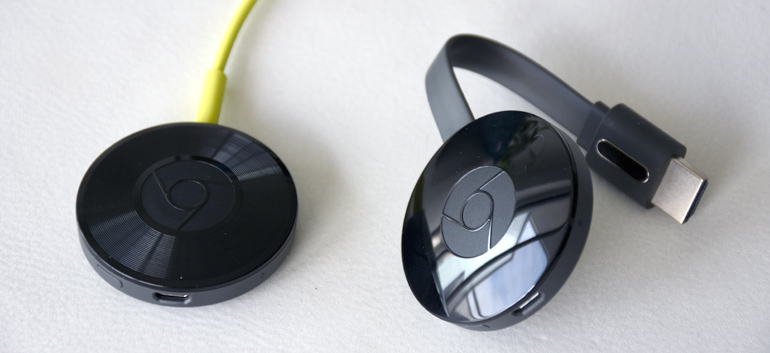 The original Google Chromecast was the little HDMI stick that could. Bridging compatible mobile devices with TVs for a very low price, the device struck a chord with many who used it, despite its limitations. Now, there are two new Chromecasts, one for video and another for audio, with better specs inside and improved support on the software end.
At $40, the first Chromecast was a bargain. It was a product that largely stayed out of sight and performed like a utility: There when you need it, off when you don't. The new Chromecast isn't a stick anymore, it's a mini-puck with a short HDMI cable attached. The thinking is that this makes it easier to plug in crowded port areas on the back of TVs. A microUSB cable and power adapter are included, though you still have the option to plug in the fatter male USB plug into the TV's USB port to power the device.
It also offers "significantly improved Wi-Fi performance," according to Google, now supporting both the 2.4GHz and 5.0GHz bands, plus Wireless-AC (802.11ac). The smartphone or tablet connected to the Chromecast should be able to "talk" to each other more clearly, meaning that startup and buffering will be reduced so that content shows up immediately.
This appears to depend on some particulars, however. The speedier loading seems to lean heavily on a Wireless-AC connection. If you don't have a Wireless-AC router, there may still be some lag or buffering before the content starts. Range is another factor. If the Chromecast is connected to a TV in a room where signals are weaker, the same lag could delay things.
But there is no question that improvement is evident, regardless. Setting up the new Chromecast was arguably faster and easier than its predecessor, to the point where no real tech know-how is required because the steps are laid out on the TV and app. It was obvious to me that the increased Wi-Fi connectivity impacts streaming connections, too.
Though software will figure prominently here. A newly designed Chromecast app for Android and iOS will be a one-stop shop for content and apps that work with the device. In addition, a "What's On" section will pop up whatever is new or trending from YouTube, Netflix, and eventually, other services. These are locked to only what's recommended, not what you were already watching. So, for example, your viewing history on YouTube, or the last shows or movies you watched on Netflix, will not appear at all. This particular feature isn't yet enabled in Canada, but will be in the coming weeks.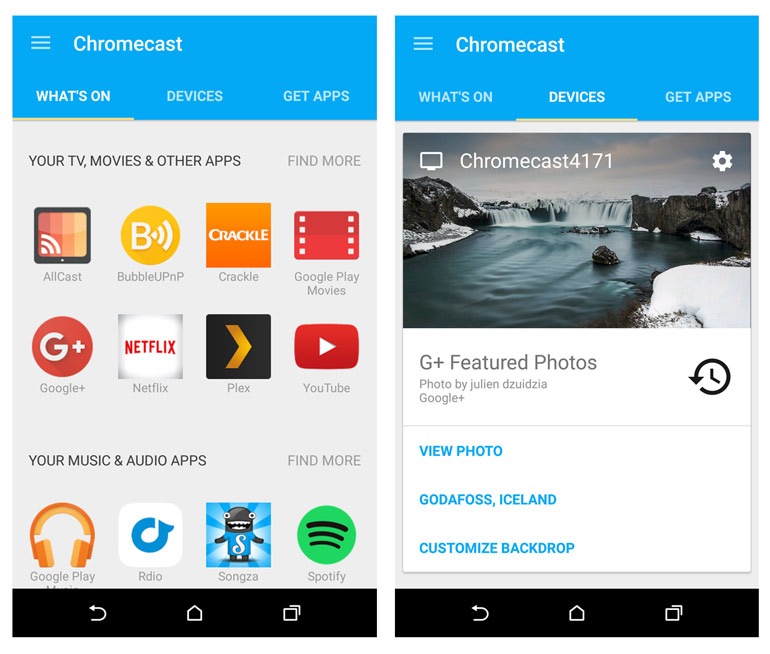 Installed apps that can work with Chromecast will appear in another row below. Music apps will probably be prominent here, given that support has now extended to the most popular current streaming app, Spotify.
That also leads us to the Chromecast Audio, a device that performs the same functions, though purely for adding Wi-Fi to current speakers or retrofitting older stereo systems and bringing them in the smartphone age. While older systems are still more than capable of pumping out great music, playback may be limited to CDs and tapes. And, naturally, there is no support for wireless streaming.
Chromecast Audio changes that, albeit with some limitations. The device comes with a short 3.5mm line-in cable that can plug into a system's Aux-In input. When the phone or tablet and the Chromecast Audio are connected to the same Wi-Fi network, you can stream audio from any supported app. These apps will show the Chromecast Audio as an option when it comes to pushing the tunes to another source.
This is only relevant to apps that can work with the Chromecast. Unsupported apps won't be able to see the device, and since Bluetooth isn't available as an alternative, it's not a bulletproof solution. For example, if you have music stored on your device but prefer to play it using an equalizer app, you may be out of luck, forcing you to use Google's own music app to make it work.
Still, there are some unique implications for this setup that are worth noting. Parents or grandparents with older systems can listen to audio from a mobile device, including radio stations and podcasts from their native country. Tapping into a radio station from anywhere via an app like TuneIn and playing it on an old speaker through the Chromecast Audio makes for an interesting scenario.
Both Chromecast devices are available now for $45 each, and are compatible with all TVs that have HDMI ports. Minimum OS requirements are Android 4.1 or later, iOS 7 or later, Windows 7 or later and Mac OS X 10.7 or later.