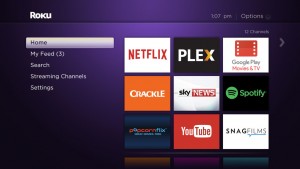 By Gadjo Cardenas Sevilla
Aside from offering the best bang for your buck for cord-cutters and consumers into content streaming, Roku's new OS features new discovery functionality and various smart options to give viewers more of what they want.
Roku is the market leader in set-top streaming box segment that give any connected HDTV a vast library of channels and content from services like Netflix, YouTube, Crackle, Spotify and many others. Provided you have an Internet connection, a Roku player or Roku stick can bring you hundreds of streaming channels on demand.
The latest operating system expected to roll out soon is Roku OS 7 is available to most existing Roku players and sticks. The new OS and its companion mobile app further extend the functionality many users have grown to love.
Take for example Roku Feed, which is allows users to follow specific movies, TV shows, actors and directors. This feed will send alerts automatically giving users news on the items they are following and even notify them if a movie is finally available for purchase or download. This offers and unprecedented option for discovery and finding out more content from one's favourite content creators. Best of all, Roku users don't need to plunk down money for new hardware since all these features can be used on existing Roku.
Apps in the equation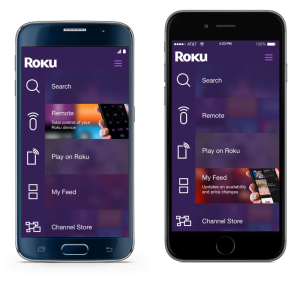 By moving a lot of the functionality and control to Android and iOS apps, Roku has made it possible to give their customers richer and more immersive control over the type of entertainment they want to enjoy.
With just the tap of the screen, consumers can instantly access Search, view and add to Roku Feed, launch Play on Roku to display their photos and videos on the big screen and much more.
Similar to the Roku Home Screen, the Roku Mobile App also displays notifications to make consumers aware of new updates in the Roku Feed. "Pinch to zoom" capabilities let consumers view every detail of their personal photos.
Apps extend the functionality of Roku boxes and also allow newer forms of control and content discovery to be added with succeeding software updates.
Away from Home features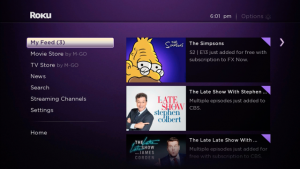 Roku devices are small enough to travel with their users and Roku has enabled a better way to connect away from a home wired or WiFi connection.
Taking streaming devices to some hotels, dormitories or B&B's is often troublesome but now you can simply connect our Roku device to password-protected networks, sign in with your login credentials using their smarpthones or laptops and they can stream their favourite content.
This gives users valuable entertainment options outside the usual TV and cable sources offered in many hotels and dorms and can even make it possible for them to watch TV from back home if they've attached a Slingbox and app to their Roku, which would give them access to realtime and even recorded shows in their home DVRs.
The new Roku OS 7 is expected to begin rolling out in mid-October and should be completed by November.