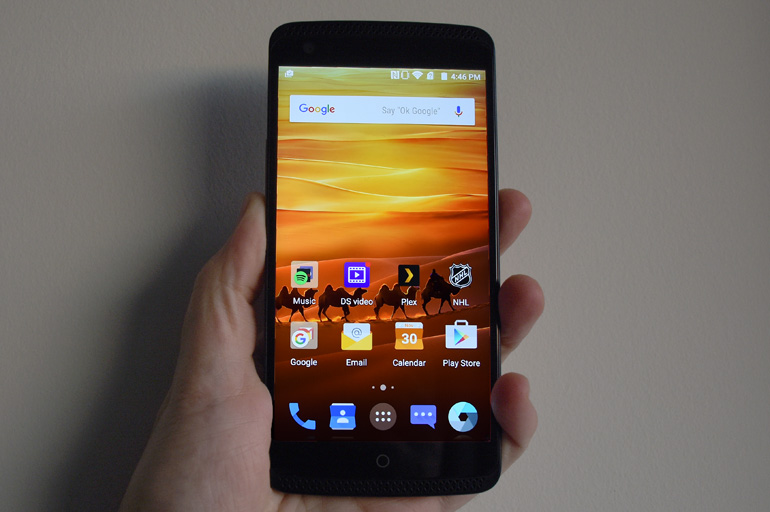 ZTE hasn't ventured too far up the ladder toward the mid-range smartphone market, but the Axon firmly plants it there, making a case that its mix of good design and competent specs are good enough to win some consumers over. It's the best device the company has released in Canada to date, and is worth considering for the price.
The company doesn't exactly have what many would call brand recognition in Canada, but it did choose this country as a key market. Up to now, its devices were mainly low-cost entry-level handsets that barely broke the $200 price ceiling, if at all. The Axon is $400 outright, putting it far above its predecessors, yet offering more value than those ever could.
Much of this begins and ends with the overall design. Eschewing cheap plastic for an aluminum back and Gorilla Glass 3 on the 5.5-inch display, the general look and feel of the Axon is already a considerable step up in quality. The unique triangle pattern grilles above and below the display are a nice aesthetic, though only the bottom one acts as a stereo speaker (the top is for calls).
The back features two lenses, the main 13-megapixel and a 2-megapixel support one for bokeh, or depth of field effects. The front sports a wide-angle 8-megapixel shooter. A hard shutter button is on the lower right side to make it easier to shoot without having to touch the screen. The headphone jack at the top has a higher amp output, while the phone includes a digital-to-analog converter (DAC) inside that should give all audio a boost in volume and quality.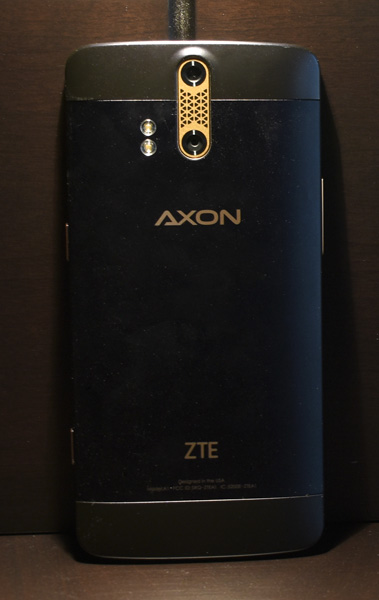 Going with this overall configuration required sacrificing two things many expect to find in a mid-range phone: a microSD card for storage expansion and a removable battery. The 3,000mAh battery is stuck inside, marking a departure for a brand that always had a removable back. The 32GB of internal storage is as high as you can go, which may force you to strategize on managing media content if you have a tendency to take a lot of photos and video or store a lot of music and movies.
Running on Android 5.1.1 Lollipop, ZTE wisely chose not to add weight to the software experience by effectively leaving it alone. This is a mostly untouched version of the operating system, save for some nuances here and there that are not entirely vanilla. Even so, the lack of bloat is easy to appreciate, especially coming from a manufacturer that has shown a fair bit of restraint in the past already.
The 5.5-inch LCD display is 1080p resolution with a respectable 401ppi (pixels per inch) density. Bright, vibrant and with good colours, this is the best screen ZTE has come out with in Canada (the ZTE Axon Pro in the U.S. uses a higher 2K screen).
Under the hood, the Axon runs on a decent 2.3GHZ Qualcomm Snapdragon 801 quad-core processor with 2GB of RAM. Not bad for a phone like this, though it's a combination that was more appropriate in 2014, not at the tail end of 2015. This doesn't detract the phone from being serviceable, though it can make a difference if you consider yourself a heavy user.
By 'heavy user' I mean the type who plays the most demanding games, constantly streams HD video and otherwise pushes the phone by doing a combination of the above and then some. Much like its mid-range credentials, the Axon does best in mid-range use cases where the scales don't tip the balance too far in one direction. Yes, the phone is more than acceptable when usage consists of little more than calls, texts and social media, but even beyond that, it holds up fine once you add in streaming music, casual gaming and some video into the mix.
It's when pushing things further that the phone starts to show its limitations, albeit not in a way that signifies it's about to wobble on its last legs.
Camera performance — so critical to a phone these days — is decent, but not remarkable. The main rear lens is supposed to benefit from a wider f/1.8 aperture and optical image stabilization, which should let in a lot more light for better low-light and night shots. This is more the case when using the manual mode than in Auto. By controlling the shutter speed, white balance, ISO and exposure in manual mode, it's possible to tell the sensor how much light it should take in and interpret through the wider aperture. In auto, the camera software takes a guess, leading to a conservative estimate every single time.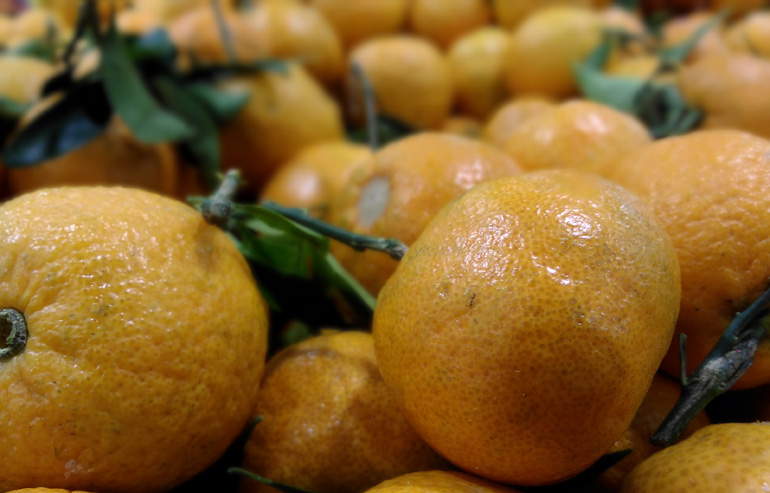 This results in low-light images that are too dark, heavy on shadows and lacking detail. Shooting with HDR turned on can help offset the effect, though it's only in manual mode that composition can improve. In any case, there's plenty of room for improvement here.
At least shooting during the day or in bright light yields better results. This is easily the best camera I've used on a ZTE handset, and is certainly on par with other mid-range handsets in its price range, but doesn't necessarily lead the pack.
Battery life is also decent, but not spectacular. The more you push the Axon, the more the battery dips. You can go a full day with moderate usage, but heavier usage will whittle it down considerably faster, to the point where you will undoubtedly have to recharge sometime at night before bedtime.
Audio playback benefits from the built-in DAC that gives music a nice boost in fidelity. I found it better to listen to tunes and movie audio on the Axon than I did on devices that were double the price. The JBL earbuds that come with the phone are also better than what you would usually get with a phone as well, though using a better pair of headphones helps get even more mileage out of the Axon's sound quality.
The overall performance picture falls in line with what mid-range smartphones are typically capable of today, and the Axon is no exception. It sits nicely within that space, but doesn't quite have enough to leapfrog ahead of the pack in every aspect. It does some things better, but not everything.
Even so, it's worth the $400 it costs to buy it outright. The problem is that it's exclusively available to Fido customers (at $0 on a two-year contract). You could also buy it from Fido and then get it unlocked from a third-party immediately thereafter. The exclusivity is especially unfortunate, given the device is sold unlocked directly from ZTE south of the border.