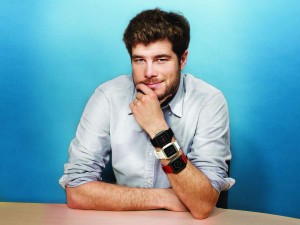 By Gadjo Cardenas Sevilla
Considered to be the father of the smartwatch, Pebble CEO Eric Migicovski spent some time with WhatsYourTech.ca's Gadjo C. Sevilla to discuss wearables and what makes a proper smartwatch.
Pebble is the company that brought the idea of a connected smartwatch to the mainstream. Back when it was merely a Kickstarter project, the original Pebble promised smartphone users autonomy form their iPhones and Androids by pushing notifications to the wrist.
Pebble dominated Kickstarter in 2012 when it raised $10m from 69,000 backers to create a smartwatch with 5-day battery with an e paper display. That original Pebble and its Pebble Steel variant became the darling devices of the technologists two whole years before Google and Apple rolled out their own visions for wearable computers.
Pebble broke Kickstarter records again when it announced its Pebble Time smartwatch earlier this year with US $20m received from 77,000 backers for their new smart watch. Migicovski is now touring around Toronto and the US showing off their latest device, the Pebble Time Round, which is a fashion-focused smartwatch which is going to sale directly to retailers like Best Buy in Canada.
Migicovski was born in Vancouver but  grew up in Cabbagetown, Toronto, although he spent most of his student years in Waterloo, ON.
"We took what we learned with the past Pebbles and made it work in a thinner and round form factor," Migicovski says as he shows the wafer-thin  Pebble Time Round.
At 7.5mm thin and weighing just 28 grams, Pebble Time Round is arguably the thinnest and lightest smartwatch in the world.
With a variety of available band sizes, watch finishes, and band options, "Pebble Time Round suits more people than ever," Migicovski explains.
He recalls where the idea of a smartwatch came to him. "Seven years ago, I interrupted a morning bike ride to pull out my phone and check a text message. That moment inspired me to start work on the original Pebble smartwatch."
Unable to secure funding in Canada, Migicovski went to Silicon Valley and eventually went the Kickstarter route. The success was instantaneous and demand was overwhelming. As of last year,  the company has 400,000 Pebbles in 150 countries and that's before Pebble Time and Pebble Time Round were even in the picture.
This is reflected in the pricing of the Pebble watches. The new Pebble Time Round costs $299.99 while the Pebble Time can be had on sale for $179.99 and the original Pebble is available for $79.99. Most Android Wear devices start at $350 and the Apple Watch starts at $449.99.
What Migicovski loves most about Pebble is really the tightly knit community of users which have helped get the word out and have sold thousands of watches. The community speaks and Pebble listens. Many developers in the community have created new watchfaces and applications which they happily make available for free.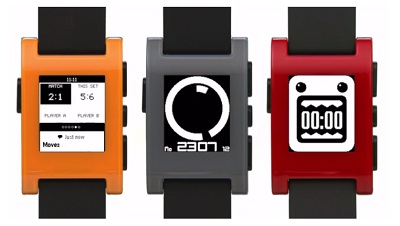 "Pebble watches will have Smart Straps," Migicovski explains, "these are accessory straps that add functionality to the Pebble." Straps will be able to add battery life, health tracking sensors, NFC payments and other functions.
Migicovski sees the Pebble becoming a nerve center for various possibilities enhanced by straps, apps and other accessories.
'We created it to be as future proof as possible," he says, explaining that there are various features in the Pebble models that have been unlocked through time with software updates. These include activity tracking functionality, sleep tracking functionality as well as voice dictation by way of the built in microphone.
When asked what he thinks of Apple Watch and Android Wear coming to market, Migicovski explains that he doesn't see these giants as a threat. "The Apple Watch is like a premium TAG-Heuer, Pebble is happy to be the Swatch of the smartwatch world."