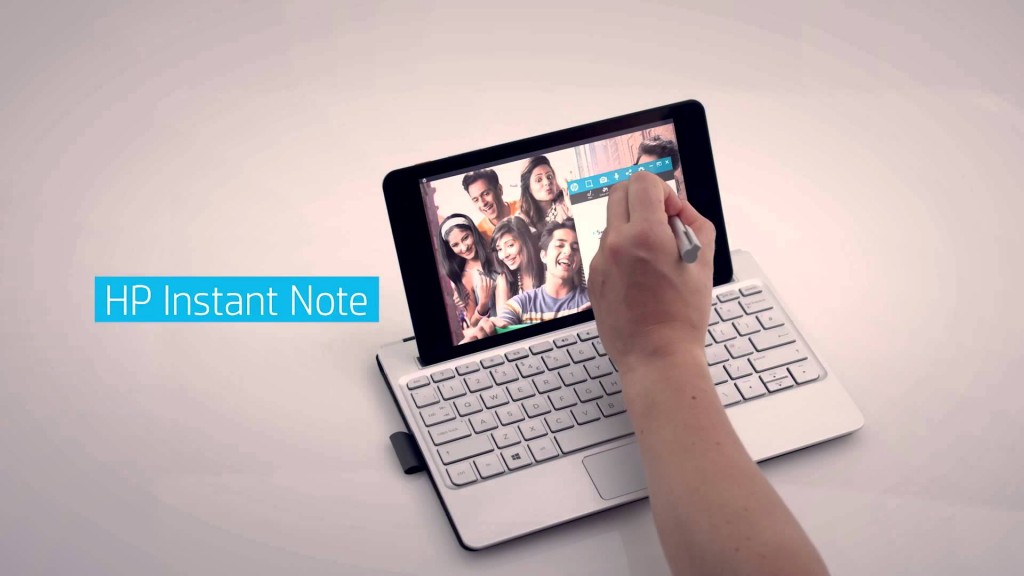 By Gadjo Cardenas Sevilla
HP's Envy 8 Note is an 8-inch Windows 10 enabled tablet which comes with a Wacom stylus and is designed around sub-portable note-taker that can also work as a notebook.
Available in two variants, one with the tablet and the pen and another with a tablet, pen and keyboard, the HP Envy 8 Note is a rare standout Windows 10 mini-tablet that brings multiple modes of usage that suit Windows 10 users on the go.
In terms of specs, the HP Envy 8 Note features a quad-core Intel Atom processor, 2 GB of RAM and 32 GB of on board storage (with an option for an additional 64 GB via a microSD card slot). These are the same grade of Intel Cherry Trail processors that power Microsoft's Surface 3 tablets.
The HP Envy 8 Note has a clear 8″ diagonal FHD WUXGA UWVA multi-touch enabled (1920 x 1200), with an aspect ratio of 16:10.
The Envy 8 has a rear facing 5 megapixel camera and a 2 megapixel 720p HD front facing camera for video calling and Skype. These cameras aren't great but they are nice to have.  This tablet has a single Bang and Olufsen speaker which is of average loudness and quality for a device of this size.
Microsoft Office Mobile is included for free as is access to OneDrive. When used as a tablet and with the pen, the HP Envy 8 Note is a great portable device for writing down notes, sketching and even creating more complex graphics using a variety of applications.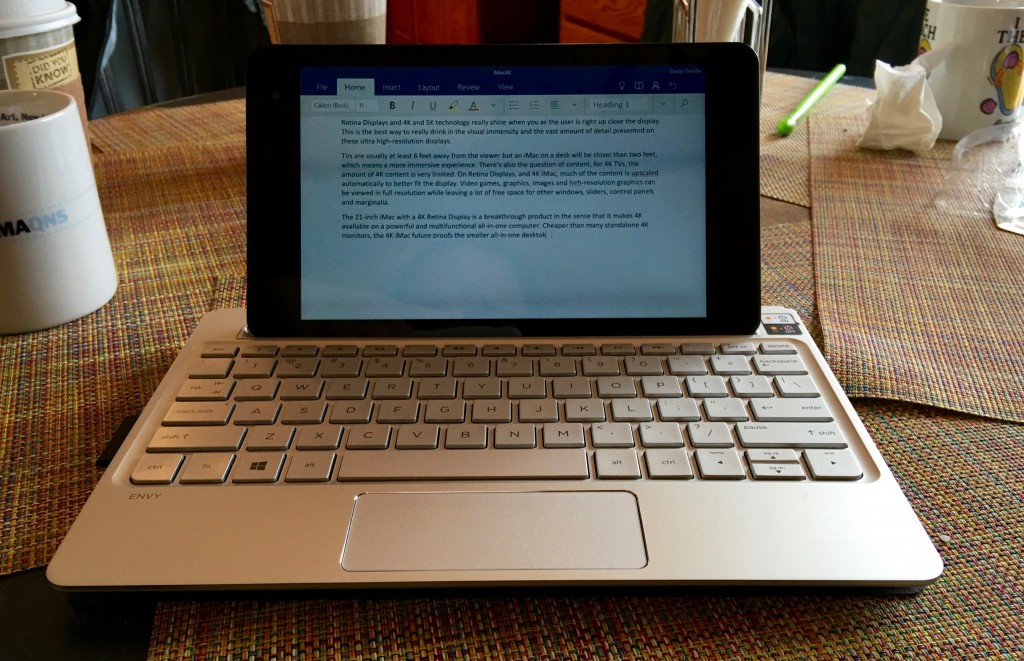 The advantage of getting the Envy 8 Note with the accessory keyboard is that it can become a viable 2-in-1 device ideal for typing down notes. I really didn't find myself using the Wacom stylus very much but relied heavily on the accessory keyboard, which is made of high quality aluminum and has a large trackpad keys that are comfortable to type in.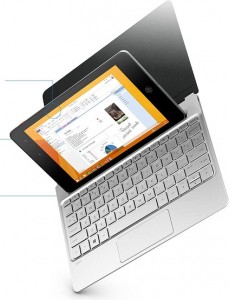 The HP Envy 8 Note and keyboard combination (US $429.99)  makes for a lightweight and capable tool for writing documents on Microsoft Word, managing email via Outlook or various web-based email applications and has enough power for videos and some basic games.
Battery life is rated at around 6 and a half hours for videos, I found that it could last up to 7 hours for writing articles on MS Word as well as checking the Internet for email and Twitter feeds.
Windows 10 on a device of this size works well in tablet mode. I like that it is easy enough to hold this HP Envy 8 Note in one hand, it makes a great eBook reader using the Kindle app on Windows 10.
As a frequent traveler and someone who likes to alternate between tablet and notebook use, the HP Envy 8  is the closest thing to a Microsoft Surface mini which never shipped.
The model I purchased even had a Verizon SIM card which enables prepaid data for subscribers in the US. I am not sure which Canadian carrier is compatible with Verizon's network or radio (I usually use my iPhone as a mobile hotspot), but this tells me that HP really intended the HP Envy 8 Note for mobile portability.
Caveats and limitations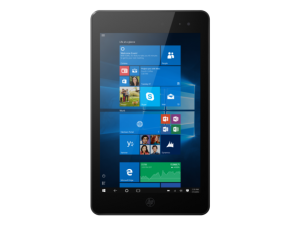 Windows 10 on a device this small is okay in tablet mode, once you get into desktop mode it is far from ideal. There are also various instances where Windows 10 hangs and needs to be rebooted.
I also can't seem to get Snap (the feature that allows two simultaneous apps or windows on one screen) to work on this device. With a single microUSB port, there's also no way to invoke the Continuum feature of Windows 10 (which allows smaller devices to use an external keyboard, monitor and mouse).
That one microUSB port is good for charging the Note 8 and can be used with adaptors for reading SD cards or USB drives.
Since Microsoft has been good about pushing updates, I think that my experience on the HP Envy 8 Note should improve despite its very obvious limitations. The keyboard accessory works well, it can last for months on a single charge and while the keys are not backlit, it does have a handy dock to hold the Note 8 when it isn't being used.
Conclusion
10-inch and 12-inch 2-in-1 devices seem to be the norm right now and while you can get 8-inch Windows tablets, few of them offer the versatility and portability that the HP Envy 8 Note brings. The ability to run full Windows 10, a Wacom enabled pen (included for free) and the above average Envy folio keyboard make it a compelling product for anyone desiring a portable tablet with a versatile edge.