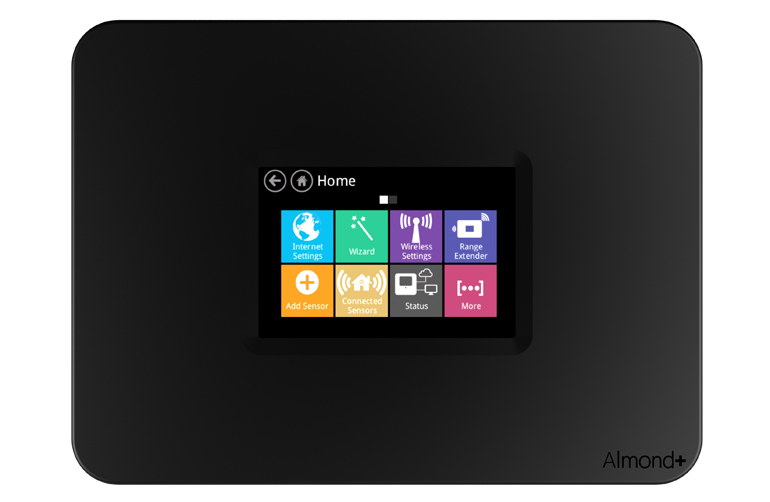 Securifi isn't a well-known brand, and the Almond+ isn't likely to stand out in the router crowd, but this is a device that aims to combine home networking with home automation — a first in this category. It's a sound premise, except the execution highlights some key shortcomings.
The major difference to this unit is the fact it supports both Zigbee and Z-Wave, currently the two main home automation connectivity protocols. This kind of integration is partly what made the Almond+ so attractive initially as a Kickstarter project. It was designed to not look like a typical router. It has a small footprint, there are no antennas sticking out and the 3.5-inch LCD screen in the middle makes it easy to control and make quick adjustments (pulling out the stylus from its slot also helps).
The back of the router has typical connections — one WAN port, four LAN ports and two USB 3.0 ports that can work with hard drives and printers. It's dual-band Wi-Fi, with 2.4GHz and 5Ghz bands, and theoretical bandwidth speeds of 450Mbps and 1300Mbps, respectively.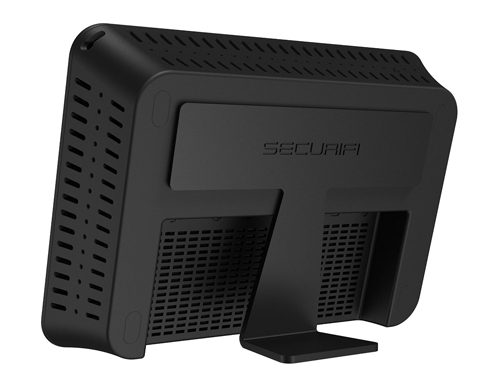 Securifi claims a "three-minute" setup to get the Almond+ up and running, but that number is slightly longer. The whole process can be done through the touchscreen in the front, as there is no CD or drivers to install on a computer to do the job. More advanced users will like that typing in the router's home address into a browser can supersede the touchscreen setup and offer a more intricate setup instead.
As there is no accelerometer inside the router to shift the orientation of the screen, it's best to prop the unit upright using the included stand. A bracket is also included to mount it on the wall, if you prefer.
Managing the router can be done through the web-based portal or the free Almond app for iOS and Android. Here, sections are colour-coded and network activity clearly laid out to accommodate users who may not be as tech-savvy. The layout works well because it minimizes the confusion of what is connected and whether or not all is well with the network. Granted, that information is openly accessible from the Almond+'s own screen, but the app offers remote access, too.
This is partly where the home automation element comes in. In supporting two of the main standards, the Almond+ is as much a hub as it is a router. All smart home products that communicate through Zigbee and Z-Wave run through the Almond+, centralizing their operations, and making it easy to turn them on or off using the app. Some fairly well-known smart home products fall under this, including the Belkin WeMo line, Philips Hue, Kwikset locks and various other devices. Some popular ones don't work, however, like a number of IP-based home security cameras. Not that they aren't accessible — they are — only that you would need to use their own apps to control them instead of going through the Almond+.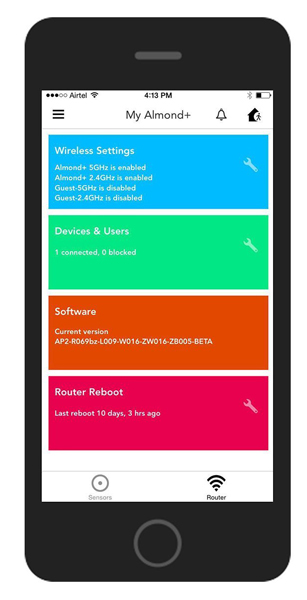 While it is possible to add these items to work directly through the Almond app, doing so isn't necessarily for the best. Personally, I preferred to have access to my Philips Hue lights through its own dedicated app, where it was easier to choose scenes, find other Hue-compatible apps and automate some functions, including geo-restricted ones, using a stellar app like IFTTT (IF This Than That).
The Almond+'s inclusiveness is designed to replace that, but I found it far more useful for sensory devices that have poor app support. There are many of those, so the router's usefulness that way isn't in doubt, only that well-supported ones, like Nest, Hue and WeMo don't necessarily require the helping hand. It would've helped if the Almond+ could work with IFTTT, but Securifi chose to do things its own way, suggesting that it can handle more complex home automation rules. That may, in fact, be true, except it puts the cart before the horse, in some respects. IFTTT is easy to use, and I would argue most rules people need are more simplistic and timely, then intricate and complicated.
This is partly why the Almond+ has to be viewed in two ways, albeit equal ones. As a router, the device isn't the most advanced, and it lacks some basic features one would expect at this price point. There is no QoS (Quality of Service) designation to basically prioritize where the bandwidth should go first.
While it's generally understood that routers push out bandwidth simultaneously to multiple devices, the truth is that devices actually line up in a queue to receive what they need. It all happens in the backend, so it's not noticeable, but it's the way it is until MU-MIMO (Multi-user, Multi-input, Multi-output) goes mainstream this year, which negates the need for MU-MIMO-compatible devices to line up at all.
There were other annoyances that irked me. The router took a long time to recognize the names of the devices that were connected to it. It took over 20 minutes before my Piper home camera showed up by name. My iPhone never did, and I was never clear on which Android device was which. Compared to other routers in this price range that can do all that instantly, this was a major letdown for me. I suppose it didn't matter because I couldn't prioritize them anyway, but for parental controls, it's important to know what device is what.
Range isn't bad, particularly on the 2.4GHz band, though I was vexed that the router had a default setting that had it reboot for any updates at 11A.M. every morning. Those away at work may not care, but for those working at home, like me, it was something I needed to change immediately. Why not make it 4A.M.?
Both as a router and as a hub, the Almond+ sits somewhere in the middle. It doesn't excel at either function, but is certainly not a forgettable unit, either. Other routers at the same $300 price point are better as home networking conduits, but they may not have the smart home chops this one does. You will get above-average performance with the Almond+, just not spectacular service.