By Gadjo Cardenas Sevilla
The Toronto Raptors NBA basketball team is currently one of the leading teams heading into the playoff season. Currently the second best team in the Eastern Conference (48-21), the Raptors are building a culture of winning in Toronto as well as looking to the future by finding the right talent for all positions.
IBM and Maple Leaf Sports and Entertainment (MLSE) recently introduced a first of its kind solution called IBM Sports Insights Central (US). The solution is designed to transform the Toronto Raptors' talent evaluation processes by re-imagining data through cognitive and analytics technology.
This changes and greatly enhances the traditional annotation and tracking of player performance, statistics as well as information that sums up how a team is performing and how it can perform better.
This is key for any sports organization and specially for the Toronto Raptors which have consistently won the Atlantic Division title and have made the first round of the playoffs consistently despite not making it through to the second round.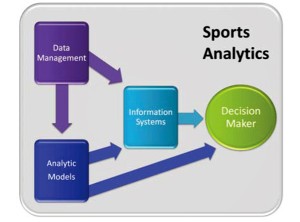 The solution is designed to transform the Toronto Raptors' talent evaluation processes by reimagining data through cognitive and analytics technology.
It will provide the Raptors with a comprehensive platform to view, organize and surface relevant data important in evaluating individual and team performance.
Just like how the movie Moneyball shed light on sports analytics as applied to professional baseball, IBM is working with the Raptors on the idea of, "the management of structured historical data, the application of predictive analytic models that utilize that data, and the use of information systems to inform decision makers and enable them to help their organizations in gaining a competitive advantage on the field of play."
This essentially puts a lot of data at the disposal of the sports organization which can better determine players individual performance at every level as well as set targets and expectations for a team as a whole. "What we've done here, through IBM Sports Insights Central, is to support Raptors' management to create teams that can win more games and championships," says IBM associate partner Farhang Farid.
The solution also incorporates cloud services developed by IBM Research. These include IBM Watson Tradeoff analytics, which assess possible roster combinations against a variety of criteria, and IBM Watson Personality Insights, which includes linguistic analytics to understand player personality and social characteristics that align with the organizational culture.
IBM Watson Alchemy API technology can further help analyze public news sources to round out player profiles.
"This pioneering work and extensive collaboration with MLSE and the Toronto Raptors to design this solution provides  the Toronto Raptors, and eventually other professional sports franchises, with a faster means to share, visualize and drive time-critical decisions," said Jim Rushton, Global Leader, IBM Sports and Entertainment Practice. "Through this solution, the Raptors will be able to reimagine their data to set a new standard of excellence for talent evaluation and acquisition."
Through these improved analytics and visual insights, IBM Sports Insights Central helps management create player personnel assessments that automatically quantify financial and performance impact on current status of the team.
More than a tool, IBM's Sports Insights can speed up analytics and accurately manage vast player and team data to determine possible strategies to continue winning as well as helping the team's management get a clear and accurate picture of how the team and its players can develop into true contenders.