Those envious images of passengers casually boarding airplanes, sipping mixed drinks and puffing on cigars while wearing three-piece suits and their best dresses certainly don't represent the true state of airline travel today. The truth is that airline travel is typically a nightmare. Long lines, restrictions, delays, extra fees, and more all add to the stress. Luckily, there are a number of apps that set out to help ease the pain and make airline travel (and beyond) much easier to swallow.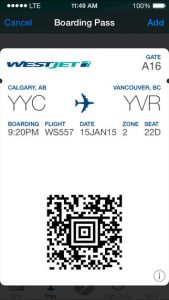 Airline Apps
First, consider that most airlines, like Air Canada (iOS, Android) and WestJet (iOS, Android) have their own apps that allow travelers to view fares and book flights directly from a mobile device, check in online, and even receive digital boarding passes that can be stored in a smartphone app like Apple Wallet (PassBook) on an iPhone. Air Canada has even launched an app specifically for the Apple Watch, which allows users to see flight details, status changes, and check-in directly from the wristworn device.
Simplifying and Organizing Air Travel
Before you head out, Kayak (iOS, Android) helps you compare pricing and options from hundreds of travel sites, and book a flight directly from the app. You can also use the app to book a hotel and car rental with special mobile-only deals, like Hacker Fares that will combine multiple bookings to help find the cheapest flights with more departure and arrival times; and features, like the ability to filter hotels by check-in times, or free parking or Internet. Track your flight, create your own trip agenda and packing list, and determine relevant currency conversions. Eliminate ads by opting for the Pro version for $0.99.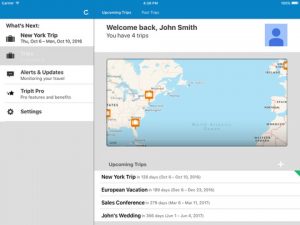 TripIt (iOS, Android, Windows Phone, BlackBerry) is arguably one of the most popular air travel apps, used to help organize all of your travel details, and create an itinerary for the trip. The only caveat is that you have to either manually forward all of your travel-related e-mails to a dedicated TripIt address; or give the app permission to search your e-mail inbox and import relevant details, which some may be reluctant to do. But the advantages include the ability to view, customize and share your itinerary, and create a schedule for the trip, including details like hotel check-in time and the address and pickup time for a car rental.
Subscribe to the paid Pro level ($67.99/yr.) to receive up-to-the-minute flight alerts and notifications, including status alerts and check-in reminders, find flights, and manage reward points. If you find yourself stuck in an airport because of a cancelled flight, the Pro version will even help you find alternates, and monitor flight refund details.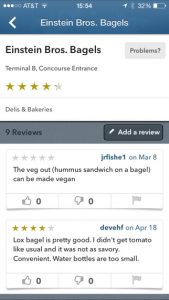 It's the worst feeling to walk tiredly up to a gate, pulling your heavy roller bag behind while lugging a full backpack or briefcase as well, only to find out that the gate for your fight has changed. GateGuru (iOS, Android, Windows Phone) provides constantly-updated airport information and flight status details. If your gate changed last minute, you'll get an alert so you know to stop in your tracks and turn the other way versus walking that extra mile to where you believe you need to be before discovering the switch.
Plus, if you're like me, chances are you quickly mosey on over to your gate immediately after passing security – just to get a feel for where it is, and confirm that your flight is indeed departing there at the said time. Once that stress is relieved, you can hop over to the store to grab a magazine or book, or park your butt in the restaurant for a drink and some grub before boarding. To negate the need to do this, the app also provides maps for more than 204 airports across the U.S., Canada, Europe, Asia, and Australia. This includes which restaurants and shops are in which terminals and where, along with reviews. Additionally, you can get data on security wait times and weather forecasts.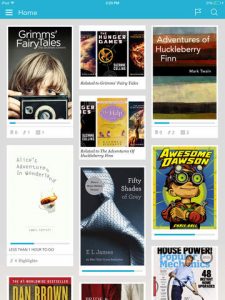 In-flight Apps
Once you're comfortably en-route to your destination, there are plenty of apps that can help keep you informed and entertained in-flight.
Aside from the apps built into seatback entertainment systems, you can use an e-reading app, like Kindle (iOS, Android) or Kobo (iOS, Android, Windows Phone, BlackBerry), to download a good book, then read it offline on the plane.
With Spotify's Premium subscription (iOS, Android, you can download playlists for offline listening so you don't need to rely on using up tons of storage space on your smartphone to keep a library of tunes. The first three months of Premium service are $0.99, followed by $9.99/mo. thereafter.
If you want to immerse yourself in some engaging and informative fare instead, use the TED app (iOS,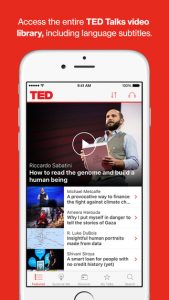 Android) to select a few of those TED Talks you've been meaning to watch, and access them offline.