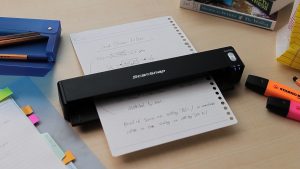 I recently took a business trip where I had to account for my transportation, food, and incidental expenses for reimbursement by my client.

This usually entails scanning loose receipts on a scanner and collating them into a single document with an invoice for submission. These steps are time consuming and tedious.
To make things easier, I used the portable Fujitsu ScanSnap iX100 scanner, Fujitsu ScanSnap Cloud and Expensify app.
Scan straight to the cloud
ScanSnap Cloud makes it possible to scan documents from your Fujitsu Wi-Fi-enabled scanner to many supported cloud services without connecting to a computer or mobile device.
After an initial setup, ScanSnap Cloud automatically sorts scanned pages into documents, receipts, business cards or photos. These are then uploaded to your cloud service of choice. Scanned documents are then quickly accessible on your smartphone or PC.
ScanSnap Cloud currently supports cloud services such as Dropbox, Evernote, Google Drive, OneDrive, Expensify and Google Photos. If you have accounts on these services, you can use them. The ScanSnap Cloud service itself works with Fujitsu's iX500 and iX100 scanners.
Travel with less hassle
"Historically, collecting receipts and matching them to a spreadsheet has been one of the most painful aspects of expense reporting. We aim to make receipt capture as easy as possible for all of our users, so the partnership with Fujitsu ScanSnap adds yet another way that users can import receipts and expenses into Expensify. We are thrilled to be partnering with Fujitsu to decrease the hassle of business travel for all," explains Expensify founder and CEO, David Barrett.
Once I scanned receipts on the ScanSnap iX100 scanner, they appeared on my Expensify account. From there, I created a professional invoice and report within minutes.
Using my Fujitsu ScanSnap iX100, Fujitsu's ScanSnap Cloud and a cloud expense management solution like Expensify, I cut various steps from creating an accurate, professional and shareable expense report that ensured that I would get reimbursed faster.
ScanSnap Cloud is available for the ScanSnap iX500 desktop scanner and the ScanSnap iX100 mobile scanner.