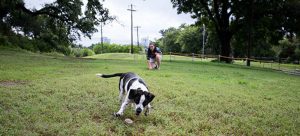 They say that pets can ground you more than kids. So much so, in fact, that pet sitting service Pawshake found in a survey last year that 56% of pet owners were prepared to cancel holiday plans if they couldn't find someone suitable to take care of their pet while they were away.
While you can take your children just about anywhere, the same doesn't necessarily apply to cats and dogs. But work trips and vacations are still part of everyday life. How can you ensure your family member is well taken care of while you're away? No one, after all, wants to send their faithful friend to a kennel for a week!
The Pawshake survey also found that 40% of Canadian pet owners have had trouble finding someone to take care of a pet. Where do you start? Here are 5 services that can help you find the perfect sitter for your animal, whether it's for daily dog walks, overnight visits, or a full week's vacation.
Rover
Famously backed by actor and entrepreneur Ashton Kutcher, Rover helps you find dog boarding, drop-in visits, doggy day cares, and dog walking services in your area. Search by your location, desired care, input the drop off and pick up dates and times and the size and numbers of dogs, and it will find local matches. While the service isn't available in Canada, it' a great way to find someone to help if you've brought your dog along on vacation or a business trip and don't want to leave it unattended (in, say, a pet-friendly Airbnb) while you're out and about. In Las Vegas, for example, there are pages and pages of results of people who will watch a small dog overnight for anywhere from $30 to $70. Each person has a rating assigned to them based on past jobs, along with reviews so you can feel comfortable that your pet will be in good hands. You can also see their preferences: for example, some may only want pets that have been spayed or neutered, or that are over a certain age.
DogVacay
Pets need "vacations," too. Similarly to Rover, this service allows you to search for boarding, daycare, house sitting, and dog walking providers in your area, including several cities in Canada. There's a community of more than 30,000 sitters, all of whom have undergone extensive vetting, and feature reviews from previous clients. You get daily photo updates and pet insurance that covers up to $25,000 in vet bills per pet. Select the perfect match, and you'll not only see the person's rating, but also get details on how much notice they need, their living situation (e.g. do they have air conditioning, and are pets allowed on the furniture), and their cancellation policy. This is great for also finding someone in a pinch, if there's an unexpected family emergency, for example.
Pawshake.ca
Homegrown in Canada, Pawshake.ca works the same way as the others, offering sitting, walking, day care, and boarding services. As with the others, all sitters are vetted and insured, with rates starting as low as $15/night. The site, which is offered in both English and French, is the product of co-founders Dries Coucke and Tanguy Peers, former executives from Kijiji and eBay, respectively. The idea came about when Coucke's father fell ill and he had trouble finding someone to take care of his parents' dog. In addition to Canada, the service also operates in 14 other regions, including Australia and the U.K.
Care.com
This Website is meant for finding caregivers of all kinds, including for kids and the elderly, plus pets. The pet care section includes a database of people who can help take care of your doggy friend, including walking, feeding, day care, transportation, and overnight sitting, as well as training and grooming. You can pare down the search by indicating how many years of experience you want the person to have, and the number of applicable nearby matches will pop up. However, unlike the other sites, you can't view more details on each person until you register and create an account.