In the battle between e-commerce and in-store shopping, and as online sales tallies continue to grow, sophisticated new technology is being used to rejuvenate – some might say save – the old-fashioned bricks-and-mortar store.
Digital innovation and powerful computer technologies are putting many retail environments through a radical high-tech makeover, turning them into immersive and interactive spaces where products and services can really be put to the test. Interactive customer-facing touchscreens, tablets and Surface-like touch tables are being used to extend the shopping experience well beyond the in-store shelves.
In fact, powerful back-end gaming engines and user interface programming software are being used in advanced retail management and successful point-of-sale systems that originated here in Canada and are now rolling out across North America.
The same engine that supports cool new virtual reality and augmented reality gameplay is used to build a visual merchandising system called the Endless Aisle, developed by iQmetrix, a privately-held software as a service (SaaS) company with Canadian offices in Regina, Winnipeg and Vancouver. The company was founded in 1999 by Christopher Krywulak, who was an independent retailer in Regina when he began to realize there's got to be a better way than having two shopping models fighting each other.
The e-commerce proportion of total retail sales is not insignificant (recent monthly e-commerce sales by Canadian retailers reached $958 million; that's barely over 2 per cent of total retail sales in Canada) and worth protecting in tough times.
So Krywulak's idea was to take an existing virtual merchandising strategy, bring it in-store, and make it functional, effective and fun. He's also a big believer in the power of metrics and big data analysis for retail strategy development and success.
Working with its technology partners, iQmetrix is installing self-serve customer kiosks in various retail locations, each equipped with a large flat-screen TV as well as an input device like a keyboard or mouse. Each individual system is connected to an online product and inventory control database, so a vendor's full line of product can be shown even without having suitable shelf or storeroom space.
The Endless Aisle concept means that shoppers can access the full range of available product choices (colour, size, style, features, price point, etc.) and ideally within seconds. In-store customers have the best of both the physical and the digital world, all at a single point of transaction. Through API integrations with shipping and distribution partners, purchases are shipped directly to the customer's chosen location.
Making the interactive on-screen experience an enjoyable one is where some of the underlying gaming engine components come into play: user interface buttons can be interactive, action timelines can be built-in, on-screen triggers can be text or graphic or photo elements. Actions can be tracked, like keeping track of Top Score or Shopping Cart contents, and social media integration can be added.
What's more, the newest Endless Aisle concept marries VR goggles to the system, giving shoppers an even more engaging experience that's designed to sell more them more product.
In fact, the Endless Aisle concept opens up one retailer's space to another's product – iQmetrix, for example, partners with Samsung on more than 200 third-party installations, each of which also opens up Samsung's consumer electronics product line to in-store shopping in a way that has never been possible before, neither on the retail floor nor on a flat computer screens.
Whether it's augmented and virtual reality, wearables or a transformed in-store experience, retail leaders agree that the pace of change will only accelerate in 2017.
In fact, iQmetrix recently unpacked its latest high-tech retail tools at Future Stores, a major retail industry conference and technology showcase. Found in the Endless Aisle was a fully interactive surf shop, where 360 video and Samsung Gear VR systems let consumers test out surfboards in ways never before possible in-store.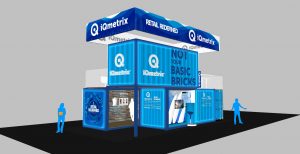 -30-