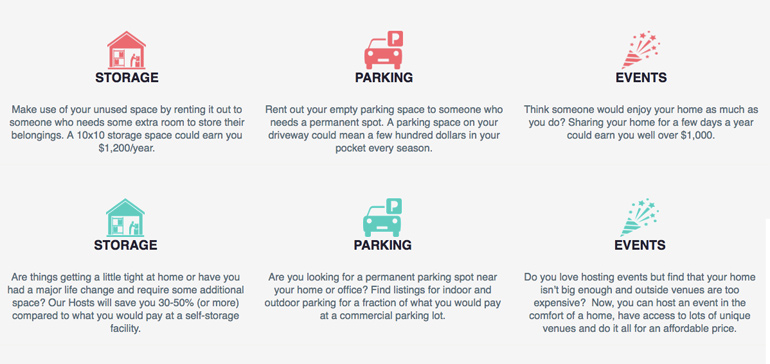 That empty space in the basement or garage — heck, even that parking space you don't use — could become a revenue stream, based on the business model new Canadian startup SpaceiShare is putting forth.
The sharing economy is largely defined by online peer-to-peer transactions where people rent out their own assets to others who need them for a certain duration. Airbnb has popularized this for short-term living and event spaces. Turo allows users to rent out their own personal vehicles to others. AskforTask lets people rent out their own unique skill sets to those who need them. Poshmark is a buy-and-sell marketplace for used clothing.
The point is that squeezing an extra dollar out of the supply and demand that fuels this emerging economic activity is possible. If you have something someone wants, there's always a chance of making a buck.
Clearing space
SpaceiShare isn't peddling a new idea, but it is doing it in a slightly different context. Forget renting out a home, why not just rent out the quarter of the garage or basement that is otherwise empty? That parking spot that sits idly by with nothing in it might also come in handy for someone else's vehicle.
Co-founded by three women, SpaceiShare launched in Sept. 2016, starting in Toronto, having since expanded to Montreal, and even a few properties in the United States. Part of what is being sold here is convenience — not just for storage, but also for the location. Self-storage has grown in Canada, with over 3,200 locations scattered throughout the country, especially in major cities. The abundance hasn't dropped prices, however, which can be expensive for longer-term rentals. One of the primary goals is to provide storage options in a user's neighbourhood, while also saving up to 50% in costs compared to a self-storage facility.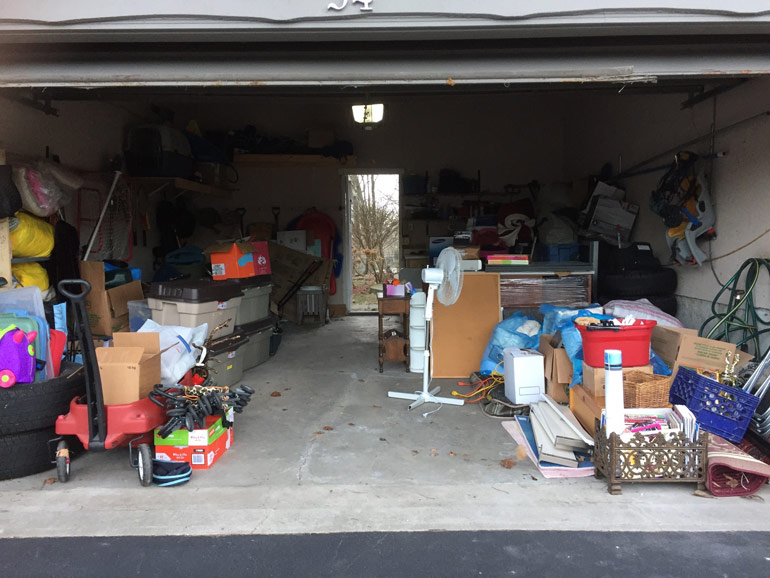 So far, SpaceiShare's storage rentals have been mainly garages and basements. Parking rentals are a mix of driveways, parking pads, indoor lots and even a few spots at a commercial property near a Toronto subway station.
Unsurprisingly, storage prices range depending on the size, access and type of space. The average cost per sq.ft./month is $1.00, so a 100 sq.ft. space would rent out for around $100/month, as an example. Parking spot prices depend on location, which is why they range from $60-$200/month, with an average around $125/month.
Pickup has been slow, but relatively steady, with close to 1,000 users currently part of the community. Users don't have to be a registered user to browse available spaces, except those who want to put up listings or rent out space do need to register.
Nearby convenience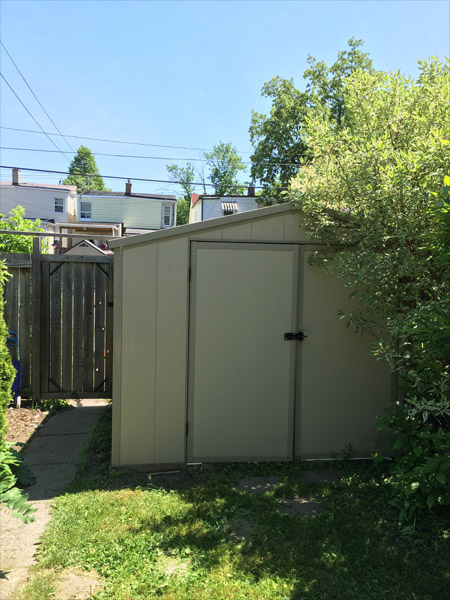 Karen Wang, one of the co-founders and SpaceiShare's COO, says the "biggest pain points are price and convenience." The three founders noted the majority of people they surveyed needed to drive up to 30 minutes to reach the self-storage unit holding their things. Those who didn't own cars were the most disadvantaged.
Parking is a different problem with a similar solution. Those needing permanent spots they can rely on that are less than a commercial lot can be appealing, except how many can there be? There is no clear number because a nearby homeowner could rent out a space only during work hours, for example. That space could be on a driveway or in a condo building. Wang says winter storage for sports cars, motorcycles and large vehicles, like RVs and food trucks, are just as commonly sought after.
Wang says "having a lot of different types of spaces in various sizes and configurations has actually been a good thing" for renters because of the variables in what people are storing. These aren't just boxes, so spaces with high ceilings, hooks, shelves and other nooks and crannies could offer more flexibility, she adds. Hosts must calculate the space they have to offer by measuring the length and width to come up with the exact square footage.
Price reduction is one thing, but convenience is a two-way street when it comes to storage like this. Self-storage facilities have long marketed their 24/7 access, something seemingly less plausible with peoples' homes and parking spaces.
Trust and liability
Then there's the trust and liability involved. Hosts dictate access into the space the renter is paying for. Some on SpaceiShare apparently include 24-hour access, like the one example of a garage where the renter has a key. In other cases, renters must give hosts 24 hours notice to gain access. Hosts going away for vacation must inform renters they'll be away and make arrangements to provide renters access in the interim. Parking is generally less obtrusive, yet still not without its own hassles, depending on the mutual arrangement.
User feedback has understandably fixated on what items can be stored and the safety and security of those items. Wang says hosts and renters fill out and sign a legal document detailing that. Renters itemize the contents and their value. Hosts outline the rules governing the space, including forbidden items. SpaceiShare's terms and conditions ban chemicals, live animals, guns, drugs, stolen goods and basically anything else that can be considered contraband or a threat to public safety.
We found it interesting that the terms stipulate hosts can inspect the items as renters move them in. Awkward, perhaps? Certainly could be, but it's the only way to assuage any fears from hosts hoping they aren't involuntarily agreeing to hold a stash of something unpleasant or illegal.
Both sides are encouraged to look into their own respective insurance companies to provide coverage. SpaceiShare does chip in with up to $2,500 of coverage, and the plan is to offer renters optional insurance for additional coverage (akin to what travel medical insurance is), but no figure has been quoted as yet.
No app for that
It might be a little surprising that a sharing economy platform like this, as fresh as it is out of the gate, doesn't have a single mobile app. It's entirely browser-based, and Wang cites the need to interact with users often initially, which wouldn't be as easy to do through an app. The website's live chat box is a popular method, she says.
That's not to say an app isn't on the horizon — she just didn't state any set timeframe. For now, the planned expansion will see a particular focus on Montreal and Vancouver, moving on to other big cities in the U.S., like Chicago, Los Angeles, Denver, Seattle, Orlando and Washington, D.C.
There are plenty of kinks to work out to get there. How sound of an idea this is will depend on how trusting users on both sides will be of both the premise and the platform providing it.