Thinking of upgrading your smartphone? For iPhone users, it can be a tough decision. Do you go for the new iPhone 7, or opt for the now more affordable, previous-generation 6S?
Here's a summary of how the two devices differ to help you make the decision.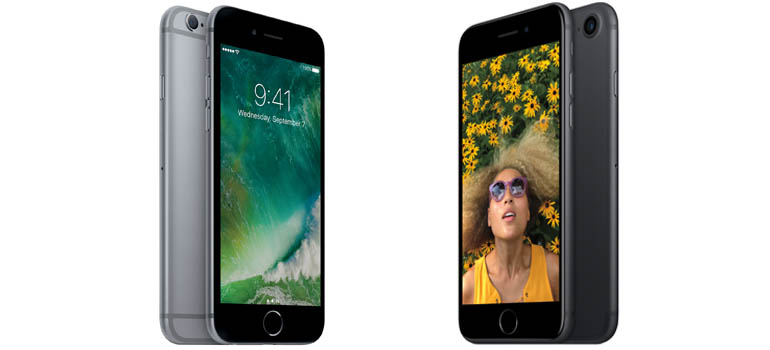 No Headphone Jack
The biggest difference between the iPhone 7 and the 6S is that the former no longer has a headphone jack. Sure, you can buy an adapter (and one comes in the box as well) that lets you continue to use your favourite wired headphones with the smartphone. But if being able to connect the device to other products using a 3.5mm port is important to you for whatever reason, you might prefer to stick with the 6S.
Water Resistance
The iPhone 7 is water- and dust-resistant, which means it can be fully submerged for up to half an hour. If this will be your work phone and you work outdoors (in construction, perhaps), or you want a device you can comfortably hand to the kids or keep poolside in the summer without worry that it will get damaged, it might be worth it to pay the extra money for an iPhone 7. That said, you can also buy a waterproof case for the 6S and call it a day.
Same Dimensions, Screen
Both devices are pretty well identical in design. This is important to note if you already own a 6S and are considering upgrading to the 7. Not only do they look the same, but the dimensions are, indeed, the same, as are the actual screens – both are 4.7" LED backlit IPS LCDs with 1,334 x 750 pixels and a 65.6% screen-to-body ratio. This means you can use a 6S protective case for the 7 and vice versa. If you've already purchased 6S cases or screen protectors, knowing you can continue to use these accessories might be an incentive to go ahead and buy that iPhone 7.
New Chip, Faster Processor
The only people likely to notice the processor upgrades are power business users, gamers, or those who use a lot of data-intensive applications, like video. But the iPhone 7 does have a new A10 Fusion chipset versus the 6S' A9 chip, and a quad-core processor (versus dual-core in the 6S). Apple says the result is 40-50% better performance. Is that worth the extra cost? For some, it might very well be.
Camera, Video
If you like to take a lot of photos and videos, you might appreciate the upgrades in the iPhone 7. While the rear camera sensors are the same at 12MP, the iPhone 7 adds a larger aperture (f/1.8 versus f/2.2) that should presumably help produce better photos in low light situations, along with Optical Image Stabilization, quad-LED flash (compared to the 6S' dual-LED flash), and a higher-resolution 7MP front camera (the 6S has a 5MP) with 1,080p recording versus 720p. Both, however, can record 4K videos from the rear camera. If you're a stickler for photography, there's also a new six-element lens, upgraded image signal processor, and better colour accuracy.
Other Subtle Differences
With the iPhone 7, you'll get a fixed touch sensitive surface with haptic feedback. The 7 is slightly lighter in weight, at 4.87 ounces versus 5.04 ounces for the 6S. Its FaceTime camera adds body as well as face detection; and the phone offers LTE Advanced up to 450Mbps: for the 6S, it's only up to 300Mbps. While there's a marginal improvement in rated battery life, it's not enough to be worth pondering as a factor.
How much?
What's the price difference? At Rogers, a 32GB iPhone 7 is currently $99 and 128GB is $229, while both the 32GB and 128GB iPhone 6S can be had for nothing with an applicable service plan. At Bell, a 32GB iPhone 7 is $198 on a two-year term, while the equivalent 6S is free on a term plan.
Keep in mind that Apple is gearing up to launch the iPhone 8, at which time the 7 will undoubtedly drop further in price. But the iPhone 8 isn't expected to be released until this September. So if you want a new device now, both the 7 and the 6S would might fantastic options. Which features and functions you value most will help you make the decision as to which of the two to buy.