As a taste of what's coming in the 21st century online world, new lifestyle preferences and modern ways to eat are feeding the food industry with an ever-increasing demand for digital food ordering and delivery services.
In fact, a new Canadian food ordering app comes out of beta testing this weekend with some solid funding and a team of restaurant partners behind it.
Mobile app developers like those at ClickDishes want to meet consumer demand and partner with local restaurants across the country by unveiling new tools to streamline food ordering, open up dine-in experiences and consolidate customer payment options with ever-easier and more capable mobile and desktop applications.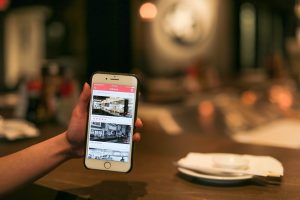 Online food is estimated to be a $6 or $7 billion dollar industry in Canada, and reports show that Google searches for online food delivery options in Canada have increased by 258 per cent over the past four years!
So e-commerce giants like Amazon, Uber and others – as well as smaller independent digital boutiques – are moving into the online food delivery space. Just Eat, a Canadian online food firm, calls Canada a "Nation of Food Delivery" partly in response to the growing stats, partly in enthusiastic advocacy of the industry itself.
Developers of the ClickDishes app (the company, working out of Calgary and Vancouver, was co-founded by Alec Wang, Tim Li, Vlad Sarpe, and Vicki Zhou, a team that also developed and released another food service app, Nomme, more than a year ago) have raised a total of $1.6 million in seed funding to support their new app development and restaurant sign-up activities.
They're ready now, with official word that the app opens up to the public this Saturday, April 1. Users can download it directly from the App Store and Google Play.
ClickDishes lets users not only order and pick up to-go items, they can use the app right in a restaurant to order and pay for meals, and even split the bill with friends.
Ordering for pick-up tools on the app include a browse function so you can check out the partner restaurants and food offerings, place your order and skip to the head of the line when picking up.
The dine-in option serves up an in-app restaurant menu, triggered by QR codes displayed at the diner's table, complete with descriptions and photographs of the culinary offerings. Orders are placed and payments are made through the app; except when the actual food is being brought to the table, no contact with restaurant servers is required.
Families or co-workers can order as a group or separately, and the bill can be split up as required, developers describe. Payment can be made with familiar charge card accounts or new mobile wallet services like Moneris.
The app is free for consumers; the developers take a small percentage of the total bill processed through the app from the restaurant as a payment commission. ClickDishes says there is no 'make-up' added on top of the meal. So, for a user the price listed on the paper menu for an item is the same as the price listed in the app. Advertising will be integrated into future app releases as a revenue generator for the company.
The app also features Customizable Profiles, in which users have a record of their orders as well as a list of favourites. Such accumulation of data may be useful for the user, but also potentially valuable to restaurants and food providers.
"Yes, this data is very handy for our restaurant partners and we understand how it helps them streamline efficiencies," ClickDishes described. "With the current version, they have access to basic data, usage, and ordering volumes specific to their location. However, we are working on expanding the reporting features in the app and will be rolling out more robust reporting functionality for our restaurant partners over the next year."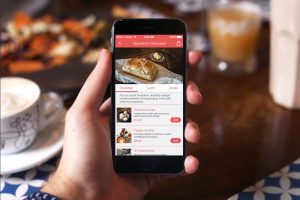 All partner restaurants get access to the ClickDishes dashboard, which  comes with a free tablet, stand, and receipt printer. As well, the service includes fast deposits, training for  staff, access to an assigned ClickDishes rep, along with straightforward back-end analytics and reporting – so  partners can easily see what's selling and popular— in real time. Data collected from users can include emails and phone numbers (for confirming an order) as well as dining and payment preferences, so direct and permission-based marketing options may open up as well.
Starting with Calgary and Vancouver, ClickDishes' developers plan to roll-out their service in more cities across Canada, and with more restaurant partners. Right now, users can order from some 50 restaurants, among them Carl's Jr., Opa and Koryo, PitaPit and Subway.
-30-