More than $5 million dollars is being awarded to some of Canada's best and brightest technology innovators, and there's even some awards for student doodlers.
These are awards from private sector companies and industry participants, and they are above and beyond the high tech development funding announced by the government itself in its most recent budget.
For example, Deloitte, ReMAP and ventureLAB just hosted the 2017 Canada Global Impact Challenge (GIC), in which two Canadians were dubbed Exponential Leaders, winning spots in SingularityU's Global Solutions Program (GSP). The prize is valued at $40,000 USD.
Meanwhile, the winners of the $5,000,000 CDN Google.org Impact Challenge have also been announced: they were identified during an exciting live judging event to select the best ideas for using technology to tackle some of the world's toughest problems.
More than 900 non-profits applied; five winning projects will each receive $750,000  in grant funding from Google, alongside a year's worth of support from both Google and its local partner, the LEAP Centre, to help them bring their projects to life. An additional five finalists will receive $250,000 in funding from Google, along with the same support program, so that ten projects will be launched in total.
From growing fresh food in the Arctic to providing a bird's eye view of disaster zones to changing the way disease is diagnosed in the developing world, the ideas highlight both Canada's talent for tech innovation and its culture of helping others.
"There are a whole lot of innovators in Canada who understand the needs of under-served populations, and who are ready to create new and unexpected solutions to address inequities," said Jacquelline Fuller, managing director of Google.org. "[T]hat comes out in these big ideas to make the world better through technology."
Among the Google Winning Projects, each of which receives $750,000, is The Rumie Initiative, which supports education and training in remote or under-served regions using custom-configured hardware and software.
Rumie works with other organizations to develop and deliver skills training, financial literacy, health and related content. A particular focus is Canada's Indigenous reserves, where stats show that only 40 per cent of students graduate from high school, compared to 90 per cent of students in the rest of Canada.
So Rumie and the LearnCloud Portal provide an offline, tablet-based curriculum to help high school students learn about Indigenous culture, history and language while gaining employment skills and financial literacy.
Tablets run Android OS and have 7″ touch screens, 24GB storage, a front-facing cameras, Wi-Fi connectivity, five-hour battery life, and audio/video capabilities. No Internet is required.
Rumie has teamed up with an Indigenous community in Nipissing First Nation, Ontario, to send tablets full of resources related to culture, health, and homework support to students in grade 1 to 12 at Nbisiing Secondary School and the Bi-gzhaadge Binoonjiiyak – Children's Integrated Program.
It is a homecoming of sorts for the technological solution: while the company launched in Canada from the digital media centre at Toronto's Ryerson University, it has been active on the world stage for a couple of years already, helping provide tablets for children in Liberia.
The company's founder, Tariq Fancy, was born and raised in Toronto to a family that emigrated from Kenya to Canada. With his impressive education (an Honours B.A. with distinction from Brown University, a year studying at Oxford, a master's degree from Sciences Po Paris, he went on to a successful career in finance, beginning as a Palo Alto-based technology investment banker in the group that led the IPOs of Google, Amazon and Cisco, later joining a NYC-based private equity firm.
"We had huge expectations for what Canada could deliver as part of this Challenge, and these projects exceeded even those high expectations," explained Sam Sebastian, VP, Google and Country Director, Canada. "Canada's capacity to deploy innovative technology in the service of social challenges is truly something to behold."
The other Impact winners, as announced by Google:
World Wide Hearing Foundation International – Globally, 32 million children suffer from significant hearing loss, the majority of whom live in countries where access to hearing care can be a significant barrier. The Teleaudiology Cloud will connect children living in remote communities with audiologists and speech therapists who can assist with remote screening, hearing aid fitting, speech therapy and parent counselling.
Arctic Eider Society – With Arctic sea ice declining at over 13 per cent per decade, changing conditions make navigation unpredictable and limits access to traditional foods for Arctic communities. The SIKU platform will provide a set of open-source tools that help Inuit communities map changing sea ice, and build a living archive of Inuit knowledge to help inform decision making for stewardship and sustainable development.
PeaceGeeks Society – It can take up to ten years for the employment rate of recent immigrant cohorts to reach the equivalent rates for those born in Canada. With information provided in their native language, Services Advisor is an application aimed at welcoming new Canadians to our shores, making it easier for newcomers to access immigrant services like mentorship and employment skill
People's Choice Award, selected by nearly 500,000 votes:
Food Banks Canada – Each year, close to $31 billion of food is wasted in Canada, yet nearly one in ten Canadian households have to worry about whether they have food on the table. The FoodAccess App diverts surplus quality food away from landfill by connecting farmers, manufacturers and restaurants with donation agencies and Canadian dinner tables that might otherwise go empty.
Finalist Projects – $250K: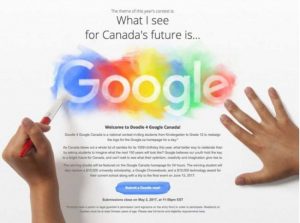 Google has offered cash awards and support in another technology competition, this one for grade school students from kindergarten to Grade 12: draw and submit a doodle, one that celebrates Canada's 150th anniversary, to be displayed online June 14, 2017.
The student whose doodle is chosen will receive a $10,000 university scholarship, a $10,000 technology award for their current school, a trip to the award ceremony in Toronto, a new laptop and a little extra national pride.
Canada has offices in Waterloo, Toronto, Montreal, and Ottawa.
-30-