The hot summer months are officially upon us, which means trading the socks for sandals, and the bulky winter coats for beach wear.
As you get ready to enjoy some fun in the sun, here are 6 great gadgets worth bringing along to enhance the experience.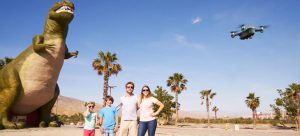 DJI Spark Mini Drone
There are tremendous use cases for drones in the business world, but it's been tough for anyone but the enthusiast crowd to latch on to the category for leisure at home. The DJI Spark mini drone hopes to change this, targeting the novice user with its easy operation, which even includes being able to control it with hand gestures. Wave your hands a certain way to send it off, take a photo, or call it back home. (Alternatively, you can use a remote control or mobile device instead.) It can fly a number of ways automatically, like along a set path or rotating around a subject, recording video all along. Able to run for up to 16 minutes per charge, it's a neat way to get the whole family involved in flying, and enjoy some backyard or local park fun (taking all rules and regulations for flying drones into consideration, of course). It sells for about US$500.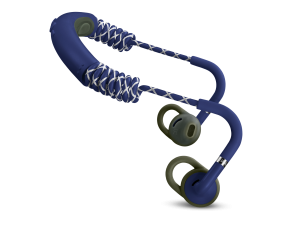 Urbanears Stadion Bluetooth Headphones
If you will be working some morning runs or evening workout sessions into your summer activities, these headphones may be a welcome companion. They are light, flexible, and fit securely in your ear using EarClick technology. Use the three buttons to control music playback, or pick up incoming calls. When you're done, wipe the headphones down – all parts are sweat-proof. With up to seven hours of play time, you should only need to recharge them once a week with a daily, one-hour workout in play. And if you run at night, the reflective details will help ensure that you're visible to others. $140.
Cosmo Connected Helmet-Mounted Brake Light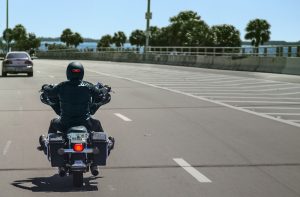 If summer to you means breaking out the motorcycle, you'll want to ensure the utmost safety. Currently running a Kickstarter campaign, the Cosmo Connected is a detachable, helmet-mounted brake light that fits magnetically to any motorcycle (or bicycle, for that matter) helmet, and shines 12 LEDs any time the rider hits the brakes. If its built-in gyroscope detects a fall, roadside assistance will be alerted, and GPS co-ordinates sent. If the rider fails to respond within three minutes, family and friends will also be contacted. A particularly handy feature: you can store important medical information in the app, like allergies and blood type. Riders can also program it to blink like a hazard light when needed. If your family tends to worry, especially with new riders, you can send them arrival and departure times through the app. The device can run for up to eight hours per charge. It's scheduled to be available some time in August, for about $175.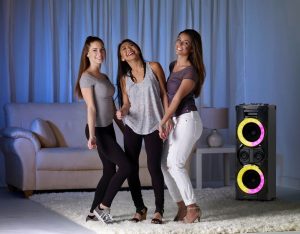 808 Audio Hex EncoreXL Bluetooth Wireless Speaker Party System
If you host a lot of parties and get-togethers at home during the summer months, and have a big backyard or property, consider this floorstanding wireless speaker, which can play back tunes wirelessly and with boosted bass, and also displays LED lights to add to that party feel. It has a built-in handle so you can easily move it from the backyard to indoors, or bring it down to the basement for storage when not in use. There are dual inputs, so you can plug in a mic for sing-a-long, karaoke parties. It's about US$400, or if you want to go a bit smaller, consider the Encore, which is US$150 and has a rechargeable battery that can last for up to 50 hours.
Samsung Gear 360 Camera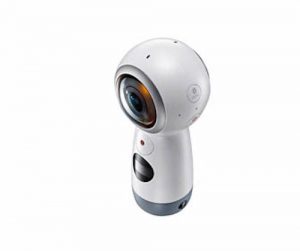 Capture your outdoor summer memories with this 360-degree camera that can take 4K videos as well as still images using its 8.4MP image sensors and dual fisheye lenses. Get a full, 360-degree view of all the action during the kids' soccer game, or backyard pool time, and share the footage live to sites like Facebook, YouTube, or Samsung VR when you connect the camera to a compatible Galaxy smartphone or computer. $350
Nikon KeyMission 80 Wearable Action Camera
If you like to go on adventures in the summer, consider upping the ante for your video recording with this wearable camera, which is waterproof, shockproof, and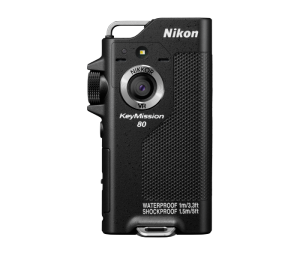 freezeproof, and comes with a 12MP CMOS sensor and 25mm 80-degree angle-of-view secondary front-facing 5MP camera for selfies. Record time-lapse videos or capture footage using the interval timer functions. It turns on as soon as you unclip it from the holder, and can be easily operated with one hand. The 1.75" touch LCD lets you adjust settings, frame shots, or play back captured content. Use it with Nikon's SnapBridge app to share videos via Bluetooth or Wi-Fi. $350.