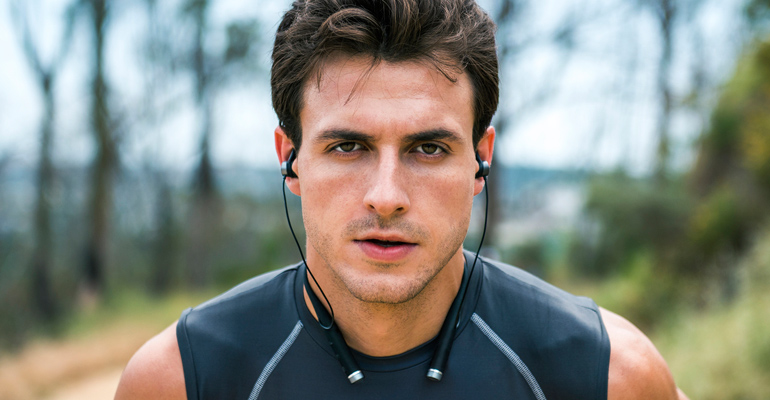 The advent of artificial intelligence (AI) can make for interesting use cases, like with Lifebeam's Vi headphones, which try hard to be a virtual fitness motivator.
The basics of the Vi headphones follow what others have already done, which is to use Bluetooth for wireless audio playback, and an app to customize performance. The neckband design has also been done before.
What's different is in the way these were designed and what they are built to do. Lightweight and a one-size-fits-all style, the Vi are comfortable to wear. Surprisingly, they settle nicely, even when being active with them. To make them sound good, Lifebeam teamed with Harman Kardon to handle audio performance.
Fitness features are driven by other components inside that can interpret your movements to verbally gauge your progress and motivate you along the way.
Fitness first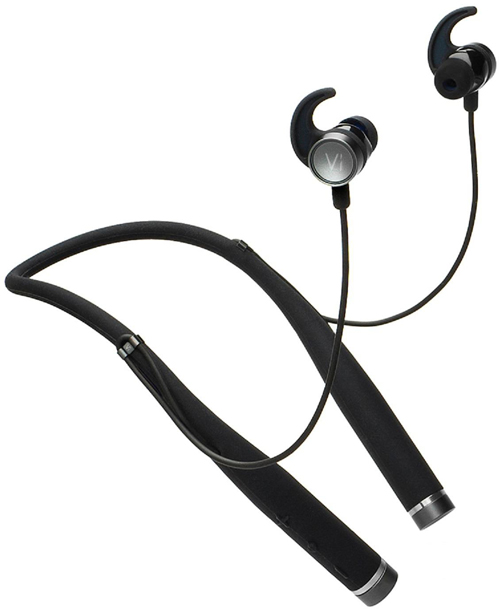 Lifebeam equipped the Vi with a heart rate monitor, six-axis accelerometer and gyrometer, barometer, in-ear detection sensor and automatic speech recognition. Of these, the accelerometer and gyrometer are the sensors that tell the headphones what they need to know. For example, counting steps and cadence is one thing, but the Vi can use the information to determine what your stride is. That helps with accuracy.
Speed and distance are tracked through the Vi app for iOS and Android. The headphones must leverage a smartphone's GPS connection to collect that data, which limits their data-tracking when used indoors. More on that later.
The heart rate monitor nestled in the left earpiece continually tracks beats per minute, and is accessible at anytime simply by asking for it. A quick, soft tap of the outer layer of the right earpiece triggers the AI trainer, which can understand certain commands.
Initially, the Vi was pretty much all about running. Lifebeam has since added exercise routines for walking, treadmill and cycling. There are no dedicated workouts, and nothing specific to weight training or other activities, like yoga or pilates, for instance. In every exercise, the app will display the duration, distance, pace and heart rate. The AI can also dictate pace, speed, steps and heart rate.
Comfort and setup
Given how much personalization is supposed to be involved here, Lifebeam has tried to include tools to tailor it for anyone. Naturally, this includes five sizes of ear gels (extra small to extra large) and wing tips to create a snug fit.
The cables attach to the neck band with clips that allow for increasing or decreasing the slack, thus accommodating looser or tighter fits. Being sweat and water resistant, the Vi is built to be rugged, but the biggest fear I had was snapping one of those cables by doing a sudden head twist. Either way, I never felt any serious discomfort wearing these. Both earbud ends are magnetic to keep them from tangling, which was nice.
Settings are reasonably deep, and that's partly because of the integration involved. The Vi will work with Apple's HomeKit, as well as Google Fit and Strava to sync tracking and data, should you choose to use any one of those. Third-party app support is otherwise limited, but still possible.
Turning on the "third-party mode" can sync the Vi's heart rate monitoring to other fitness apps, helping crossover functionality on both sides. Distance, speed and other tracking metrics would still have to be managed by the third-party app. No matter how you go ahead, you will need to bring your phone along.
From the outset, Vi literally asked what my goal was. The choice was between improving fitness, maintaining fitness, losing weight, reducing stress or improving performance. Choosing one steers the AI into knowing how to best help you.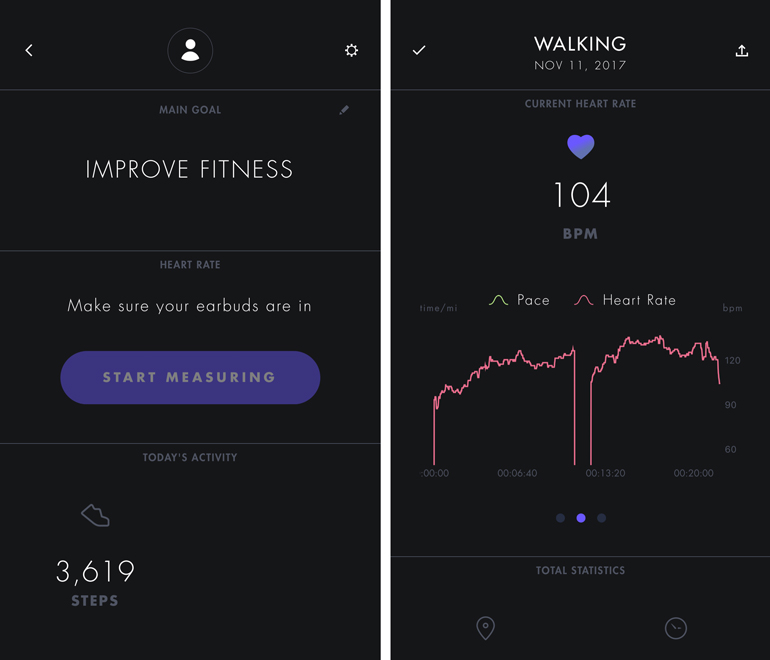 Working out
It takes about two hours of activity before the Vi really kicks in with its personal training chops. Once it grasped how I was working out, it started to chime in with suggestions and encouragement as I went along.
I was able to inquire as to how I was doing or what my heart rate was by tapping the right earpiece and asking for it. There were times I liked the voice assistance, and others where I cursed it in frustration. For example, it routinely understood when I wanted to know my heart rate, but failed often to end a workout when I told it to. It confused the word "pause" for "pace." Granted, pause is not a word it understands because it's not in the preloaded list of commands, but comprehension was hit-or-miss in most cases. It also had trouble hearing me sometimes, forcing me to repeat myself often before doing what I asked.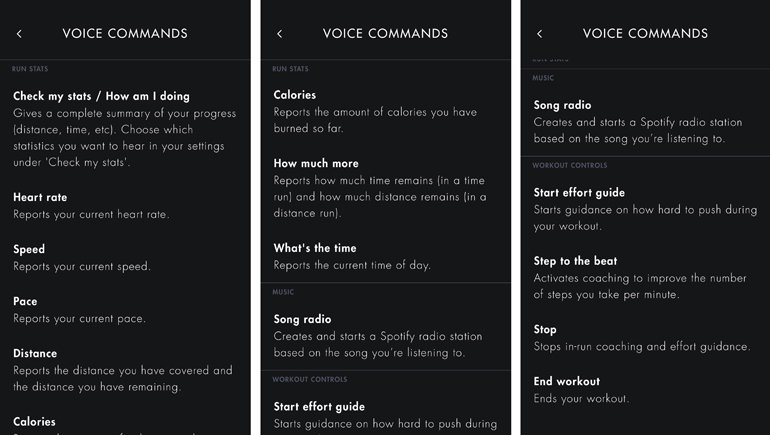 I was impressed at how it would lightly admonish me for having not worked out for several days, or in how it pulled information about the weather to suggest a long run outside. It just never really felt like it could be a two-way conversation. Maybe that's how it normally is with human personal trainers, but feedback is not extensive.
If the AI got to the point of talking too much, I could reduce the "chattiness" level in the app settings.
I lamented the limited number of exercises, mainly because they aren't varied enough. I would have liked to see an elliptical included, and regimens that mixed exercises together for a more dynamic workout befitting of my chosen goal. People pay personal trainers to tailor workouts for their goals, so seeing some expansion here — even at the expense of some voice integration — would take the Vi further.
Music
Sound quality is quite good, as far as Bluetooth earbuds go. I would recommend turning on the bass boost option in the settings to bring out a more balanced audio spectrum though.
By default, the Vi reduces audio volume by 30 percent whenever removed, but I switched that off because it would do that when I was only adjusting the fit of one of the buds. Whenever the AI chimes in, the music lowers, rising back again after she's stopped talking.
The main button on the neck band can play or pause, while the volume buttons control both volume and track navigation.
If you are a Spotify Premium subscriber, you can take advantage of integrated support in the Vi app. I was able to select playlists to play, or have the AI select something itself based on the pace I was at, or the exercise I was about to do. It can't tie in to songs you recently played, nor songs or albums you saved. Only playlists worked, or asking it to start a Spotify radio station based on a track I was listening to.
Songs saved to Apple Music on the iPhone, or Google Play Music on Android are also accessible, and includes playlists and artist lists.
In addition to music, the Vi can integrate with Siri on the iPhone, or Google Assistant on Android devices. You can make or take phone calls this way too, and quality was excellent in my testing.
Conclusion
There's real potential for what Lifebeam has done with the Vi, and it's a commendable effort for a first time out in the market. But they are expensive at over $300 (available at Sport Chek and Amazon.ca), and clearly lean towards runners. If you aren't running on a regular basis, then the Vi isn't quite ready for you yet. Adding a few exercises was a good first step, but more has to be done to put this AI into more ears.