Here's a look at 6 portable Bluetooth speakers that can operate in any weather, allowing you to enjoy tunes during a backyard winter party, while building a snowman, sliding and gliding on the ski hill, singing in the rain, or sitting poolside.
Braven BRV-Blade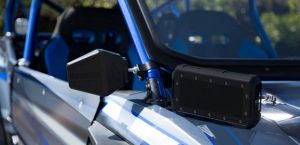 The Braven BRV-Blade is perhaps the mother of all rugged speakers, as it's intended for us during the most extreme sports. The shockproof ABS housing allows it to withstand the elements, so you can use it while doing everything from going on a dune-buggy to jet skiing, snowmobiling, or 4×4 racing. Boost Mode cranks up the volume, providing the perfect musical accompaniment to your high-energy activity. Yet the speaker is still ultra compact, able to easily fit into a backpack or the glove compartment of a car. Plus, it doubles as a speakerphone for making calls, and has a built-in 4,000mAh power bank to charge USB devices, nylon strap, and even a bottle opener. The Blade's battery itself can run for an impressive up to 22 hours. $290
Grohe/Philips Aquatunes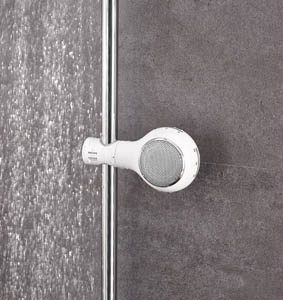 The Aquatunes speaker takes the idea of listening to music anywhere to another level, by allowing you to bring your favourite soundtrack with you into the shower. Yes, it can wirelessly pair with your smartphone that's up to 10 metres away (like safely on the bathroom counter, or even in your bedroom) and play back tunes from the device's library, or a streaming service. Attach the speaker to the wall easily via the adapter, and a push and turn mechanism locks it into place, and releases it once you're done. Don't like the song? Tap the next/previous track button on the speaker to change it. Sure, Aquatunes is technically a shower speaker, but there's no reason you couldn't use it elsewhere, like in the kitchen, on the porch, or by the pool. If you do wish to keep it mounted in the shower, the speaker can run for up to eight hours per charge – enough for everyone in the family to get their fill of music while getting ready in the morning for an entire month. (If everyone sticks to those ideal five-minute showers, of course.) Approx. $160
Ecoxgear Ecopebble
Weighing just 8 ounces, the super-miniature Ecoxgear Ecopebble speaker is fully waterproof, allowing you to bring it along for any adventure. In addition to being waterproof, it's also drop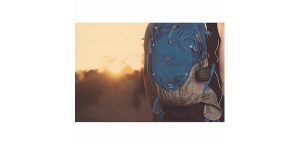 and dust-resistant, and can even float, making it a perfect companion while kayaking or canoeing, or while enjoying tunes in the pool. Add the optional suction and bike mounts to keep it secured where you want it, or hook it to your backpack or bag via the included carabiner clip. It can ran for up to seven hours per charge. Approx. $65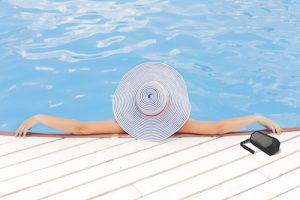 Soundcast VG1
With a shock-absorbing and waterproof design, the Soundcast VG1 comes in a package that weighs a single pound, and includes a built-in microphone for making hands-free calls. You can use one for tunes while on the go, or pair two to play in stereo, at a campsite or in the backyard for a pool party, for example. Control volume and playback via the on-board controls, or use Siri for hands-free control. It can run for about 15 hours per charge. $200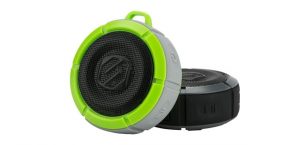 Scosche BoomBuoy
As its name implies, the Scosche BoomBuoy portable speaker is not only waterproof, making it ideal to take with you on any adventure, but it's also buoyant, which means it can float in water while you listen to tunes in the pool, or enjoy a ride in a canoe.  Use the side panel buttons to control play/pause, skip tracks, and volume. The rechargeable lithium-ion battery provides up to seven hours of playtime, while the carabiner clip lets you attach the mini speaker to a backpack or other item. If you're looking for a last-minute music option, the BoomBuoy comes pre-charged, so it can be used right out of the box. Approx. $40.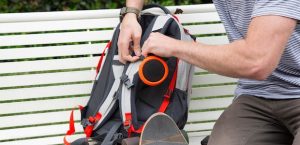 Braven Audio Active Series 105
This Bluetooth speaker is so portable, that you can simply clip it to your backpack, or onto your bicycle handlebars via the elastic strap, and enjoy tunes while hiking, skiing, or enjoying any other outdoors activity. It's fully waterproof, able to take everything from sweat to rain, mud, dirt, and sand. Once charged, it will run for about eight hours. Add the Action Mount to the setup, and you can mount it to other devices; it's also compatible with GoPro accessories. Pick one up in a variety of colours, including black, electric, alpine, periwinkle, energy, sunset, and raspberry. About $70