There's plenty of hype these days around voice control, smart speakers, and artificial intelligence (AI) assistants. How do they work? What do they do? And what options are available?
AI voice assistants help you accomplish tasks, or can trigger certain actions, all through a simple voice command. Rather than flicking a switch to turn on the lights, for example, you can ask an AI assistant, through a host device like a smart speaker, computer, or phone, to do it for you. You can also use a voice assistant to read news, traffic, or weather updates, call a contact in your phone, play music, or check if you have any appointments. These days, the possibilities, and options, are endless.
Why bother? It's all about convenience, seamlessness, and let's face it, cool factor. According to ComScore, 20% of all online queries today are made using voice, and the number is expected to jump to half by 2020. In a recent Parks Associates report, 360 View: Residential Security & Smart Home, the firm found that the penetration of voice assistants rose from just 5% in the fourth quarter of 2015 to 12% in Q4 2016.
While most smartphones have some kind of voice assistant (think Apple's Siri), the technology is finding its way into a new category of device called smart speakers. These small-sized speakers are placed in the home, and can be always on so you can ask them at any time to do something for you, or answer a question. That might be to play some top-40 hits while you get dinner ready, turn on the lights, or advise when a particular movie is playing.
The market leader in the category is Amazon and its Alexa-enabled Echo products, which include the Echo and the smaller Echo Dot, among other new and upcoming iterations. The Echo launched in Canada on December 5, but faces some fierce competition from Google Home, and a few others that will be coming soon. Here are the most high-profile smart speakers to date.
Amazon Echo and Echo Dot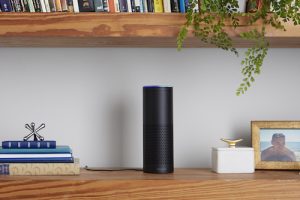 The Amazon Echo is that tall, cylindrical device you've likely seen in commercials and strategically placed in movies and TV shows. Simply say "Alexa" and it will begin listening for a command. Because of the tie-in with Amazon, you can use the device to order products directly from the unit. The smaller Dot, which is about the size of a hockey puck, contains all of the same functionality, but is meant to work with other speakers versus functioning as a standalone speaker like the Echo. There are a growing number of Alexa "Skills" that allow you to pair the Echo with other smart devices and apps to perform functions. A Sonos Skill is coming soon that will allow you to control your Sonos speakers through Alexa voice commands. Despite all this, it seems the simplest commands are the most popular: according to Statista, 84.9% of Echo users use Alexa to set a timer, and 82.4% to play a song. The Echo sells for $100, and the Dot for $50.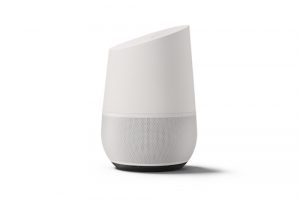 Google Home
Introduced last October, Google Home works just like the Echo, except instead of calling for Alexa, you say "OK, Google" then proceed with your command. Because of Google's vast knowledge base thanks to its massive search engine business, you can pretty much ask Home anything and get a useful answer. For example, I asked it to tell me the opening times of Durham Region's Waste Management Facility to drop off garbage from a party, and not only was it able to tell me the opening time, but also the full address and closing time. In addition to the basic smart speaker functions, and the ability to connect to devices like the Nest thermostat and Philips Hue lighting, you can also use Google Home to cast content to a TV via voice, and connect to Chromecast. Buy a single unit and several bases to place on different levels of the home, moving the Home with you as needed to ensure that it's always within earshot of a command. At $180 in Canada, Home's pricing is a bit higher than the Echo. You can also grab the Home Mini, which works similarly to the Dot, for $50.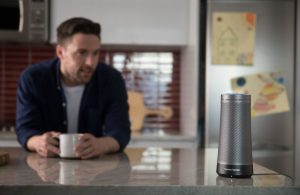 Harman Kardon Invoke
Through a partnership with Microsoft and its Cortana voice assistant, Harman Kardon has come out with its own smart speaker called Invoke, which is available in the U.S. for $100. HK's advantage is on the audio side: given that the company is an audio specialist, we can expect high-quality sound from this speaker, which serves as a music playback device as much as it is an at-home assistant that can be controlled through voice. It can do things like play back music, manage calendars and activities, set reminders, check traffic, deliver the news, and control a smart home, just like the others. A differentiating feature, thanks to the involvement of Microsoft, is Skype integration. The Invoke can be used to make calls to Skype-enabled devices, including computers, cell phones, and landlines. With the Cortana AI being used already by more than 145 million people, according to Microsoft, on devices like Windows 10 PCs and Windows-based smartphones, this device shows serious potential. It comes in pearl silver or graphite.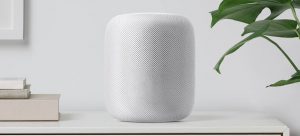 Apple HomePod
The smart speaker people are arguably most curious about is the Apple HomePod. The company announced its first Siri-enabled smart speaker at its annual Worldwide Developer's Conference (WWDC) last month. What will set this one apart is seamless integration with Apple Music (and, of course, other Apple HomeKit-enabled devices), as well as spacial awareness that can sense the speaker's location in a room, relative to other objects, and adjust audio accordingly. (Think Sonos Trueplay). Apple refers to the 7" tall device that resembles a microphone (and itself has six) as a "musicologist," due to its ability to learn the user's preferences and tastes, conduct advanced searches within a user's music library, and even answer questions about songs that go beyond the basic "who's singing." Users can also create a shared Up Next queue so everyone in the home can check out the playlist. It will be released in the U.S. (no word on Canada yet) in 2018 in white or space grey for US$349.
Worth a Mention: Samsung Bixby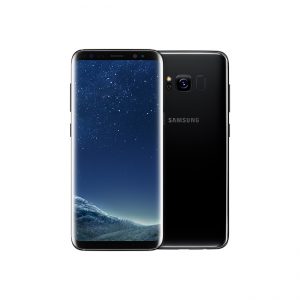 One of the latest players in voice AI, Bixby, doesn't actually come as a function of a dedicated speaker, but is part of the Galaxy S8 and S8+ smartphones – to start, at least. The plan is to expand Bixby across many Samsung devices, which cover a wide range of categories, from phones to appliances. So it wouldn't be surprising to see Samsung eventually come out with a Bixby-enabled smart speaker, or at least a Bixby skill that would integrate seamlessly with Google Home and/or other platforms.
Related: