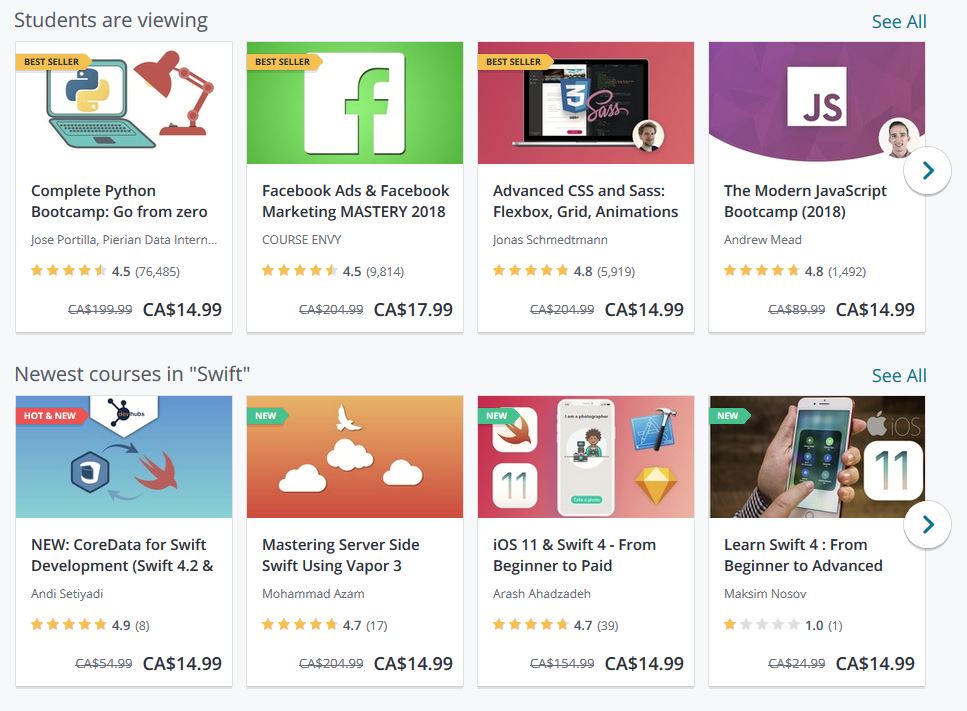 By Gadjo Cardenas Sevilla
For people in between jobs, considering a career change or simply wanting to improve their skill set, online courses are worth checking out.
Depending on what you need, there's a plethora of available online courses that can give you world-class instruction for learning how to code in a new computer language, master designing in Photoshop or simply getting a leg up on machine learning and A.I.
The advantage of online courses is that you can take it at your leisure. You're free to take a few hours a week or your can immerse yourself through the well-spaced modules to complete it much sooner.
Most of the time, all you'll need is a PC and an Internet connection as well as some applications to download. Most of the applications a freeware or shareware with more expensive and complete versions available should you want to invest in it after the course is completed.
Udemy, Coursera and Lynda.com (now part of LinkedIn Learning) are three of the leading online repository of courses worth checking out.
Udemy
Udemy has hundreds of reasonably priced courses that are geared towards more technical subjects. I've taken a Web Development cours, an introduction to the Python programming language and a basic course on Progressive Web Apps (PWA).
I found Udemy's approach to be great for all levels of students. You play video modules that guide you step-by-step through the course. The teachers take time to explain the principles as well as tackle common mistakes and they even offer a way to communicate with the instructor for any clarification. Udemy's approach makes it easy for everyone to get onboard a new subject or course.
Coursera
Partnering with leading US and international universities has made Coursera a viable option for anyone looking for official certification if desired (provided they are open to paying the higher fees).
Coursera has a wide range of subject matters both technical and academic in nature and courses take on the style and presentation expected from Ivy League educational institutions.
Coursera now offers 7-day trials so people can see if the course suits them. If you're working towards credits or certification, Coursera is definitely worth considering.
Lynda.com by LinkedIN
Lynda.com, now a part of LinkedIN, has 10,000 expert-led courses ranging from technical programming and design courses available through a subscription service that costs $30 a month.
Now integrated into LinkedIN, the service integrates personalized course reccomendations, the ability to assess progress with quizzes and even the potential to earn certification once the course is complete.
Ideal for visual learners, Lynda.com's treasure trove is unlimited access to more than 80,000 videos on a broad range of different subjects.
These are some of the best resources for using the Internet to learn marketable skills on your own time.