Running a bus company may appear to be a very traditional and straightforward business but  Vancouver based Tofino Bus Island Express looked to a cloud solution to improve their business.
The Tofino Bus Island Express provides daily express ground transportation service between Vancouver, Victoria and Nanaimo, running to and from Port Alberni, Tofino and Ucluelet on Vancouver Island.
The company sells tickets from several bus stops and needed a better way to quickly collect and organize their documents to invoice customers.
Fujitsu ScanSnap scanners, in combination with LedgerDocs document solutions, enabled them to solve this challenge.
The result was a dramatic decrease in invoicing time as well as a more streamlined workflow bringing them closer to a paperless operation.
Solving the billing challenge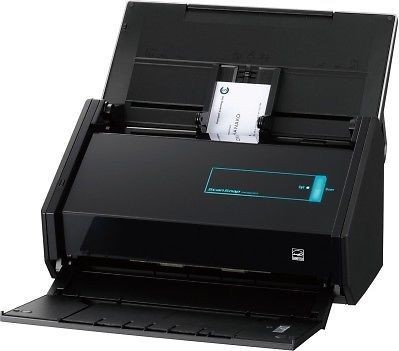 Before the Fujitsu ScanSnap solution and LedgerDocs integration, Tofino Bus Island Express would invoice clients monthly. "If any documents were missing, we had to follow up or make sure to send them through the mail. It was a time-consuming process," explains Dylan Green, owner of Tofino Bus Island Express.
As with all businesses, time is money. Tofino Bus needed a better solution, but it also needed to work within its physical and personnel limitations.
"We're a small local company and we've got bus stations all over the island. We have staff in many locations and trying to collect the accounting documents from each location can be quite a challenge," Green points out.
Invoicing goes from monthly to daily thanks to ScanSnap
Green says this billing challenge is especially true for wholesale clients whom Tofino  Bus regularly bills. "We have companies that regularly travel with us, like Health Canada or some of our First Nations communities. We want to get those travel warrants immediately so we can invoice them. We put a Fujitsu ScanSnap scanner in each of our eight bus stop locations."
Green adds, "immediately after a bus station sells a ticket to our accounts, they can upload the voucher, so we can invoice immediately."
Tofino Bus was already using ScanSnap as a solution in their head office to upload payables to the cloud. Deploying ScanSnap scanners in each of the bus stations was an extension of a familiar tool. Green says this has made the company more efficient.
"Our accounting staff work now on things as they come. This is a much easier workload than waiting at the end of the month for all supporting documents to arrive. Now, those supporting documents are uploaded every day."
LedgerDocs helps by tailoring solutions for specific needs
LedgerDocs, based in Vancouver, assisted Tofino Bus to improve the way documents were being collected. Tofino Bus scaled up and went from sending all the documents to one account to creating multiple accounts, one per bus stop.
"Thanks to LedgerDocs, we have an account for each location. Everything from Nanaimo now goes to the Nanaimo account, all the files for Port Alberni go to the Port Alberni folder," says Green.
Setting up specific location-based accounts is a more expedient solution for Tofino Bus which went from having a bottleneck of files going into a singular account and into multiple accounts. This is the advantage of a configurable software and cloud-based solution that can tailored to meet client's needs.
More efficient paperless transactions
Using ScanSnap and LedgerDocs has also helped Tofino Bus Island Express cut down on paper usage. "We don't need all that paper anymore. No more mailing all those supporting documents – we now have them in LedgerDocs. This speeds up how we can invoice our customers. Customers appreciate this as the data is more current," Green says.
Thanks to the cloud storage system, they can easily access all their documents online. LedgerDocs also connects to their accounting program, QuickBooks Online.
"We can create invoices right from QuickBooks Online and can even attach the original scan of the warrant as a supporting document. Giving that level of documentation to the customer makes it easy to invoice faster," Green says.