There's a big push towards STEM tech, with the fields of science, technology, engineering, and math becoming of greater and greater importance. You're never too young to start understanding the basic concepts of these subjects, and things like coding. And there are plenty of cool STEM toys that are both fun, and have a valuable educational component that parents will appreciate.
Here are some great tech toys worth considering for kids of all ages on your Christmas shopping list.
Kano Computer Kit Touch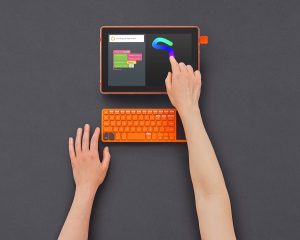 It's a small, tablet-sized computer with Raspberry Pi. But what really makes the Kano Computer Touch Kit an awesome gift is that kids aged 5 and older have to put it together themselves before they can use it. Cute, pictorial instructions are included that show, step-by-step, how to connect the pieces together. Each step also explains why one piece connects to the next, how it works, and what it does. Once complete, kids can work on coding-related activities using the educational Kano OS and multiple programming languages, as well as access sites like YouTube. They can do things like hack Minecraft, and create their own artworks using block-based coding. It comes with a USB board, sound sensor, wireless keyboard, and 10.1" touch-sensitive screen; and has a 16GB capacity for storing files. It's normally $380, but on sale for the holidays for $330.
Tech Will Save Us Synth Kit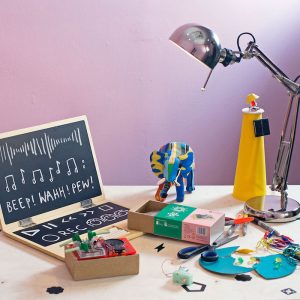 Designed for kids aged 12 and up, this STEM-based kit helps them build their own synthesizer. They can make three synths: Dub Sire, Stutter, and Atari. It comes with everything they'd need, including three potentiometers, essentially knobs that control volume, pitch, and frequency, and a circuit. Once complete, kids can experiment with making their own electronic music. But the underlying focus is helping them understand how the parts interact to make a range of cool sounds. US$25
UBTECH Robotics Mythical Series: Unicorn Kit
Ideal for getting young girls into STEM, this kit combines two things many school-aged girls today love: building and unicorns. It comes with 440 pieces that snap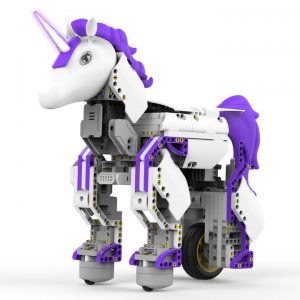 together, along with connectors and fasteners, smooth motion robotic servo motors, DC motor, RGB light, colour sensor, main control box, eight colour cards, and a USB cable. Access the 360-degree instructions from the free Jimu app to build the unicorn robot. Then, code and control it from a compatible Android or iOS device using the Blockly coding platform, including changing the horn colours, creating sound effects, having it navigate obstacles, and even create emotions for the new friend. It's ideal for kids aged 8 and up. US$120
Sphero Bolt Robotic Ball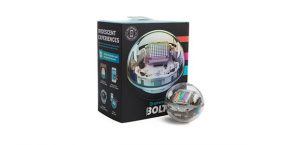 Kids can code this robotic ball to perform various actions, experimenting with movements and lights, playing games, and more. It works with the Spheru Edu app, and includes an Auto-Aim feature and ambient light sensor. $189.95, but it also comes in a classroom pack for schools that includes 15 robots and accessories for $3,499.
littleBits Avengers Hero Inventor Kit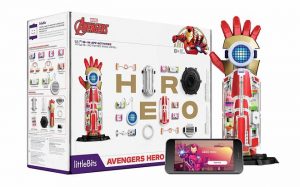 What kid doesn't like superheros? With this kit, which was developed in Canada in partnership with Marvel, they can make their own hero gauntlet, complete with wearable tech sensors. Use the instructions and video tutorials to build and design it, then in-app block coding to create customizable LED matrix light designs and authentic sound effects. A range of Marvel characters are available, including Iron Man, The Hulk, Black Widow, Black Panther, and Shuri, and each kit includes nine Bits, seven hero gear parts, and two sticker sheets. Once the superhero is created, kids can also play 18 different activities in the app. $200, and the app is free.
Kano Harry Potter Coding Kit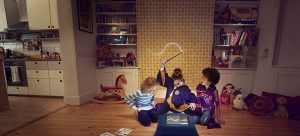 For kids obsessed with Harry Potter books and/or movies, this would be the ideal STEM tech gift. The kit consists of a wireless wand they put together, then use with the free app to program different actions using it and the mobile device's screen. This might include capturing their movements to make digital serpents slither, toads transfigure, fires flow, feathers float, and more. There are more than 70 challenges, all inspired by the wizarding world of Harry Potter. The wand works over Bluetooth, and with iOS and Android tablets, as well as Windows and Mac computers. It usually sells for $129, but is on special during the holiday season for $110.