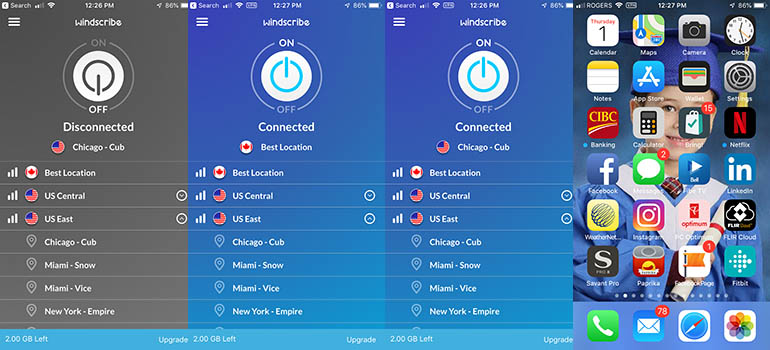 A Virtual Private Network (VPN) can come in handy when you want to access sensitive data from a smartphone in a public place, using a public or unsecured Wi-Fi network. But there are other reasons why a VPN might be useful.
What is a VPN?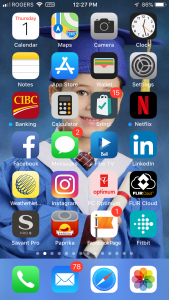 A VPN encrypts the traffic sent and received between your device and the VPN server, making it more difficult for hackers to infiltrate the data being transferred among devices, and/or over the Internet. It hides your IP address and location, allowing you to browse confidently on Wi-Fi networks and use public hotspots without worry about being monitored or tracked. This is especially useful if you want to shop online with your credit card while at the local coffee shop; or access sensitive company data on your laptop from the airport lounge, or while working outside of your home or office.
A secondary benefit of a VPN is using it as a proxy to surf the Web anonymously. Have you ever tried to access a video on a Website, for example, and got hit with the annoying "this video is not available in your country" notice? If it's a short clip from a television series you want to show a friend, or a movie trailer, a VPN can help you get around that region blocking.
Tips for Using a VPN
First, select a reputable provider, and download the app to the mobile device on which you want to use it. I usually use Windscribe on my iPhone, but there are lots of others that come highly rated, and are tested and endorsed by reputable sites like CNET.
Look at the provider's attention to privacy. For example, do they offer built-in protection against things like malware and spam? Make sure the provider doesn't log your connection data, or activities. Not only is this an invasion of your privacy, but the data might be used for advertising purposes, so take the time to read the fine print.
Look at speed options. Some VPNs might operate more slowly than others, especially for their free tiers. If you plan to use it a lot, you'll want to find a provider that doesn't sacrifice on speed when you're surfing using the VPN, or explore upgrading to a paid plan.
With paid plans for frequent use, check pricing options, and what you get with each, in terms of bandwidth allowance and speed. Many VPN providers offer different tiers, from free for limited use, to more robust plans for businesses.
The Internet is a wonderful resource, and there are a number of reputable news sources that have listed their top VPNs for mobile devices for 2018. Do your research before deciding on which one to use and downloading it to your phone.
How Does it Work?
Using a VPN on your phone is a lot easier than you might think. Download the app, sign up for an account, then turn it on when you want to surf privately, and off when you're done. It's as easy as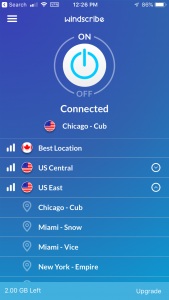 flipping a light switch on or off.
With most VPN apps, just tap a virtual Power button to the "On" position to activate it. It defaults to your current location, the last one you used, intelligently finds a logical one for you, or you can select from a list of locations.
If you're trying to access something that is region-blocked, select a location based on where the content you want to watch originates (e.g. US Central, United Kingdom, etc.), and tap Connect. Once connected, begin browsing, with your real location masked. When you are finished, open the app again, and switch it "Off."
Keep in mind that VPNs aren't foolproof when it comes to accessing geo-blocked videos, particularly with free options. Sometimes, network location settings might prevent you from being able to connect. With Windscribe, I received a message when trying to access an episode of a TV series on a U.S.-based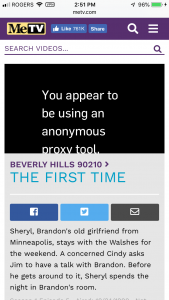 Website that it "appeared I was using an anonymous proxy tool." Another noted that there was a problem with my network settings. But when I tried accessing the same videos using the paid ExpressVPN service instead, both played immediately.
One thing worth noting: steer clear of using a VPN to access U.S.-exclusive services, like the American version of Netflix, or geo-locked videos from YouTube – at least if you don't want to be in violation of those services' terms and conditions. The content I viewed for this report were only accessed briefly for testing purposes.
Follow the same instructions if you want to use a VPN to mask your location for added protection while accessing sensitive office data online, or making purchases while connected to a public or otherwise unsecured Wi-Fi network. For many, this will be the main reason for downloading a VPN app, and it can come in really handy for added security.
Plan options can vary in pricing, based on the number of locations you can access, speed, and amount of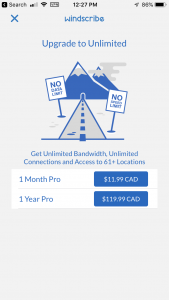 bandwidth you want to use. With Windscribe, get 2GB of bandwidth for free, or upgrade for unlimited bandwidth, unlimited connections, and access to more than 61 different locations for $12/mo. or $120/yr. While it doesn't have a free tier, you can try ExpressVPN for seven days, after which it's US$12.95 if you want to pay monthly, US$9.99/mo. if you commit to six months, or US$6.67/mo. on promotion when you sign on for 15 months (one year plus three free months).