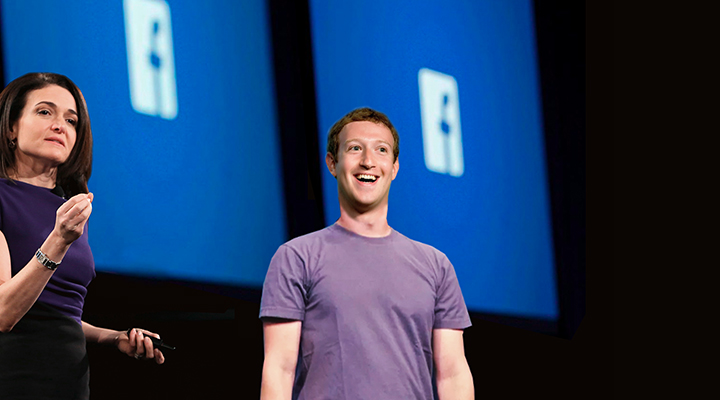 Facebook CEO Mark Zuckerberg wrote a long blog post exclaiming the social network's new vigour towards building a "privacy-focused communications platform," but it's what he hasn't said that speaks louder.
In the 3,200-word post, Zuckerberg tries to explain how encryption will be a bedrock to the world's largest social network going forward.
I believe a privacy-focused communications platform will become even more important than today's open platforms. Privacy gives people the freedom to be themselves and connect more naturally, which is why we build social networks.
This statement struck me as highly disingenuous. Facebook's growth was for entirely opposite reasons. It fostered the idea of openness and incessant sharing, monetizing the data all those users posted to become immensely wealthy. At times, the company has been evasive and opaque in how it operates.
As the Cambridge Analytica scandal proved, Facebook had few qualms in opening doors to user data so as not to cut off a revenue stream. Features it previously claimed were coming to increase transparency and privacy all at once never saw the light of day. It seems the company is always one step behind in everything.
With all that in mind, this particular passage is one of several that stood out:
I understand that many people don't think Facebook can or would even want to build this kind of privacy-focused platform — because frankly we don't currently have a strong reputation for building privacy protective services, and we've historically focused on tools for more open sharing. But we've repeatedly shown that we can evolve to build the services that people really want, including in private messaging and stories.

I believe the future of communication will increasingly shift to private, encrypted services where people can be confident what they say to each other stays secure and their messages and content won't stick around forever. This is the future I hope we will help bring about.
This new belief in privacy and encryption was foisted onto Zuckerberg and his executives, like Sheryl Sandberg, by the scandalous details that went so public in 2018. It wasn't some altruistic ideal or renewed sense of purpose. For a company of its immense size and scope, it's worrying that no one at the top was proactive enough to think that pursuing increased privacy might actually be a good thing in the first place.
The only messaging app under its auspices with any modicum of privacy is WhatsApp, and that was through an acquisition. Rather than come up with a useful alternative, they just bought it instead, choosing not to mess with it too much, lest users abandon it and regulators start asking questions. WhatsApp had initially become popular for two reasons: it was a text messaging alternative back when texting cost money, and it offered a decent level of encryption and privacy.
In fact, Zuckerberg cited WhatsApp as an example to follow for this new pivot on the very encryption and privacy I just noted. That's an interesting move, considering he once promised European regulators he would keep the popular messaging app's data separate from the social network.
He then hedged on it all by writing, "If this evolution is successful, interacting with your friends and family across the Facebook network will become a fundamentally more private experience."
That's a big "if" — and it doesn't necessarily jive with some of the other details, both in and outside the post, that speak to what the company is up to. In other words, he's saying that this push toward privacy and security would make melding together WhatsApp and Facebook innocuous. Not only that, but the plan is to make Instagram Direct part of this, so that messages can go between the three platforms.
Reading between the lines throughout, Zuckerberg drops a few other clues as to what his motivations are. The word "payments" is casually thrown in, but it's there for a reason. Facebook has wanted to get into digital payments for some time, and with a user base exceeding two billion accounts, the potential windfall is enormous.
So, is he interested in increasing privacy for the sake of Facebook's users, or to set the stage for getting them to trust the brand as a payment platform? My money's on the latter because the company's entire existence has been about monetizing anything it can get its hands on. Users may not be keen to start exchanging money on the social network if questions over data privacy continue to dog it.
Indeed, at no point did he even broach the company's business model. As he told a U.S. Senator at his hearing in Congress last year, "Senator, we sell ads." Yes, they do, and what's unclear is how that model would continue to be so profitable if users exert greater control over their own data and who gets to use it.
Beyond borders
Zuckerberg's proclamations included pulling out or avoiding countries with poor privacy or human rights laws. It wouldn't store data in those places, nor enter countries who insisted on storing local user data locally.
There's an important difference between providing a service in a country and storing people's data there. As we build our infrastructure around the world, we've chosen not to build data centers in countries that have a track record of violating human rights like privacy or freedom of expression. If we build data centers and store sensitive data in these countries, rather than just caching non-sensitive data, it could make it easier for those governments to take people's information.

Upholding this principle may mean that our services will get blocked in some countries, or that we won't be able to enter others anytime soon. That's a tradeoff we're willing to make. We do not believe storing people's data in some countries is a secure enough foundation to build such important internet infrastructure on.
He's right. There is little doubt that certain regimes would be all for intercepting user data stored locally. That whole premise essentially negates Facebook entering China anytime soon, which is a blow to Zuckerberg, personally, since he's wanted that market for years. He's also suggesting the company is fine with being blocked out of a number of different markets, altogether.
Except, there's a problem with this narrative, too. Facebook previously lobbied several governments to actually relax international privacy and data regulations, and Canada was among them. Based on court documents related to the Cambridge Analytica scandal, the U.K.'s The Guardian reported that Facebook executives offered a quid pro quo: they would open a data centre and create new jobs in the country, so long as the former Conservative government under Stephen Harper agreed to exempt data from non-Canadian users from federal privacy regulations.
These allegations haven't been proven in court, but the perception is damning, nonetheless. Dozens of countries, including the U.S., U.K., Australia and the entire European Union were among those lobbied to take similar paths. It was Sandberg who spearheaded the effort to gain government support, especially since she reportedly perceived the new GDPR (General Data Privacy Regulation) enacted across the EU as a threat.
Stricter rules went into effect in November 2018 for Canada's Personal Information Protection and Electronic Documents Act (PIPEDA). The Privacy Commissioner launched an investigation amid last year's scandal, but details of the company's lobbying efforts only seem to make things look worse.
Zuckerberg didn't address any of these issues, nor even appear contrite in how Facebook may have been aggressive in its drive to access data under laxer laws. I understand why he would avoid it, but as has been the pattern to date, introspection only comes to him and his senior staff when outside pressure forces it.
Years in the making
Other than saying "over the next few years," Zuckerberg offered no real timeframe or outline as to when or how these changes would roll out. Either way, Facebook has its work cut out for it, given its atrocious reputation for dealing with all things privacy.
Now that he's gone public, Zuckerberg is committed to seeing it through — or at least he should be. The company has talked about features before, and despite saying they were coming, they never did. This is different, however, because he's talking about the company's entire mantra. It's not one feature, it's Facebook's very ethos that's on the line.
So, for now, he's bought some time. Unless another scandal comes up to derail this train wreck even further.