The two leading voice assistants have screens to go with their voices, but which of the latest models is a better fit depends on a few key factors.
Whenever two good products match up together, it's usually a win for consumers. In this case, the Google Nest Hub and Amazon Echo Show 5 are almost mirror images of each other. Both are smart speakers with screens attached, designed to be part of a daily routine in gleaning information on demand.
The fact they have screens is to also push engagement. It's one thing to talk to a smart speaker, but it's another when it has a display to give you something to look at. Both of these devices work on that premise, but with some distinct differences that could be enough to decide between them.
Two voices
The most obvious difference is the voice assistants themselves. With the Nest Hub, you are talking to Google Assistant. With the Echo Show 5, it's Alexa. If you have already committed in some way to either one of these platforms, it may be an easy decision off the bat.
Amazon has been down this road before with the 2nd-generation Echo Show, launched in the fall last year. Its 10.1-inch display and relatively loud speaker made it ideal for everything from watching video, listening to music and doing video calls.
The Echo Show 5 is like a miniature version of all that. It sports a 5.5-inch display with rear-firing speakers and a front-facing camera that you can black out with a simple toggle switch. To get to this size, Amazon had to cut a few corners. One is the Zigbee integration the larger model has, which would allow direct communication with compatible smart home products.
In that scenario, you wouldn't need a hub to route through, but in fairness, this omission doesn't strike me as a deal-breaker. Most smart home products come with a hub to enable connectivity over your home Wi-Fi network. I'll get to more of the trade-offs further down.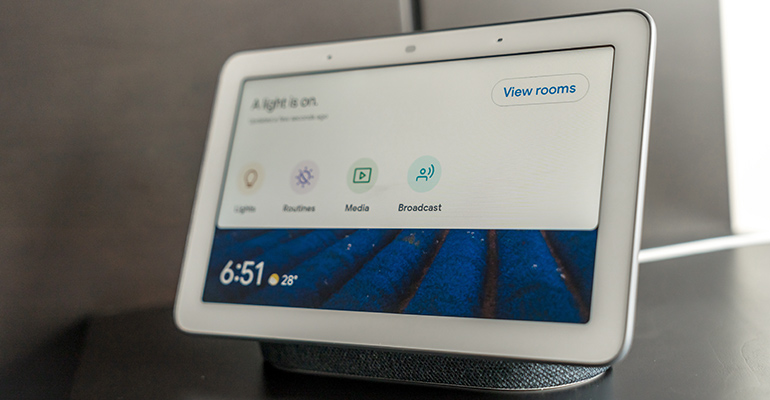 Google's Nest Hub has a larger 7.7-inch display with volume buttons in the back and an ambient sensor to dim or brighten the screen. It has no other ports or physical connections beyond its power adapter. Nor does it have a camera, killing any prospect of video calls with loved ones.
Well, technically, you can still do video calls, only that it would be one way. You can see them, but they can't see you. That does relieve any fear of someone somehow spying on you through the camera, but it does negate the chance to enjoy some face-to-face communication. Plus, video calls only seem to work with Google Duo, so scratch out other options.
Like the Echo Show 5, the Nest Hub has a button to mute the microphone so as to avoid any accidental recordings. Google claims the device never records unless asked to via a voice command. Alexa is more prone to accidental triggers, though that tends to be the case with any Echo product, in my experience. You can get around that by saying, "Alexa, delete everything I said today," to remove all recordings. Or you can say, "Alexa, delete what I just said," to only remove whatever it mistakenly recorded.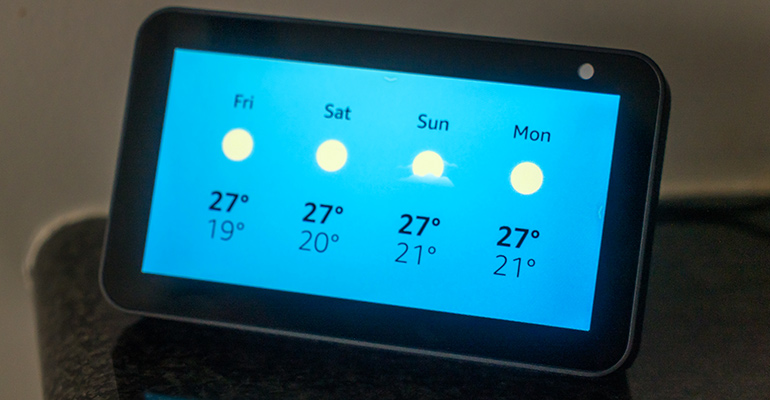 The differences
Both devices focus on offering contextual visual information. Ask about the weather for the day or the week, and you see the forecast pop up. Seek a recipe for a specific dish, and both will oblige. Want a song or playlist from a supported music platform? That's easily done too.
The visual element is what makes these different from their speaker-only brethren. Where these two diverge between each other, beyond their respective voice platforms, is in what they support and how they execute.
For example, the Nest Hub offers up YouTube as its own app, making it easy to watch whatever you like on it. The Echo Show 5 doesn't have a YouTube app, relegating access to one of the onboard web browsers, Silk or Firefox. Prime Video gets the (obvious) preferential treatment on Amazon's device, though I didn't particularly like hunching over to look at a stationary screen that was smaller than my smartphone.
You can tie in the Echo Show 5 to a wide variety of security cameras, so you see what they see on the display itself. The Nest Hub only does that with Nest cameras, limiting the range of such a cool feature.
The Nest Hub also utilizes some of Google's apps, which is why asking for directions will pop up the route map and send it to your phone before you leave. Amazon doesn't have that kind of clout, and can only make the Echo Show 5 announce an expected time of arrival to the destination.
I liked the Nest Hub's screen for both its size and function as a digital photo frame when idle. Had I taken more time, I could've created a large library of images I shot myself to display on it. As is, it can access your Google Photos library or run through curated photos and art. Amazon didn't really do that with the Echo Show 5, using it more as a clock when idling. Not to say the Nest Hub doesn't display time itself, just that it has more space to show more at one time.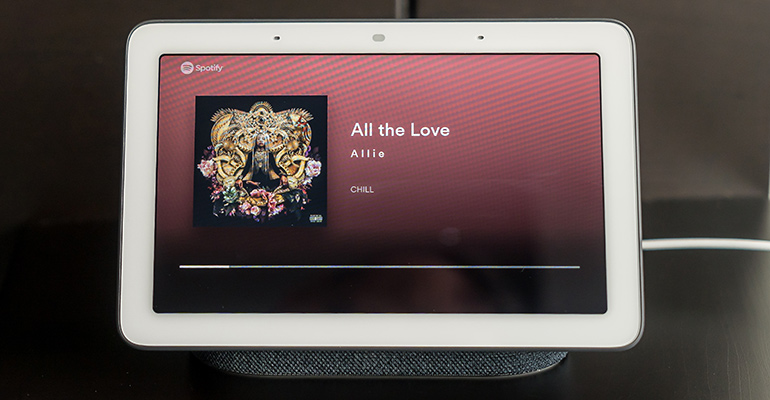 Getting things done
One thing I liked about the Echo Show 5 is that it has a headphone jack in the back, letting me plug in a larger speaker to offset its audio limits. Listening to music on the Nest Hub was better on its own, though it's a low bar, to be honest. The Nest Hub isn't equipped with good drivers, and I do wish I could connect it to another speaker, except there's no way to do so.
Since both have touchscreens, there's a learning curve to how the layouts actually work. Swiping down shortcuts to settings and quick actions on both units. Swiping left on the Nest Hub shows a series of cards, sort of like open apps, that shortcut to things like news stories, YouTube, weather and more. The Echo Show is similar, with a shortcut pane followed by some cards to other features or functions.
What I found odd about both is that voice commands don't necessarily parse the interface to any large degree. I can tell the Nest Hub to play something on YouTube, Google Play Music or Spotify, much like I would any other Home speaker. I just couldn't tell it to show me a certain part of the menu.
Part of the reason for that may come down to what are called Routines, of which Alexa also uses its own rendition. These are grouped commands that control more than one action at once. For instance, if I were to say, "Ok, Google, goodnight," I could stop music playback, turn off all lights and set an alarm simultaneously. Alexa has long had similar setups, and since they are managed on the Google Home and Alexa apps, you can customize routines or create new ones.
Google did a better job in presenting connected smart devices onscreen, allowing me to control or adjust something about them. The Echo Show 5 does the same thing in a much better way than it did before, and since Alexa is more adept at controlling smart home devices, I didn't mind doing some talking. The sheer number of Skills and Alexa's ability to understand commands for those skills only gets better with time.
Google Assistant, on the other hand, is better at understanding natural language. It's good at offering some basic information on any person, place or thing via Wikipedia, whereas Amazon tied in Wikihow to the Echo Show 5 for hands-on demos.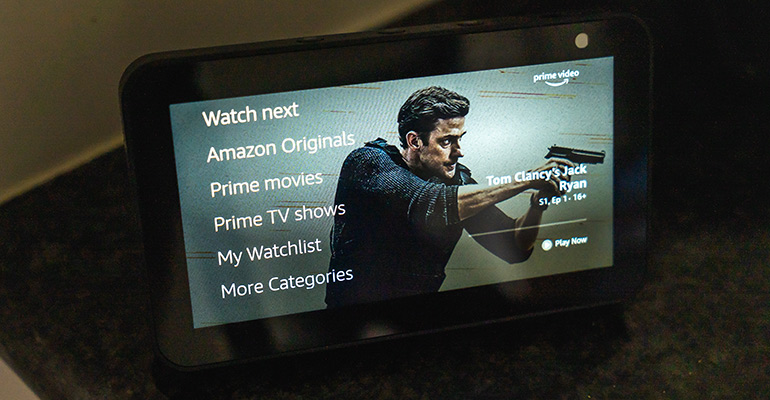 Making a choice
There's plenty to like with both of these smart speaker screens, and your choice may simply come down to which assistant you're more comfortable talking to. The products as they are today will inevitably improve through software updates. Getting the most out of them, however, does take some time. Each day, you will probably learn something new you can say or do.
What makes the choice a little murkier is what else is available. Google has already confirmed a Nest Hub Max is coming later this year, but it's unclear when Canada will get it. With a built-in Nest camera, better speaker and built-in camera, it looks to be a noticeable step up from this model.
Amazon has already gone bigger with the Echo Show 2nd-gen, so the Show 5 is a smaller alternative. If you want the bigger screen and better speaker, go with the Show 2. The Show 5 is small enough to place anywhere, and its camera integration alone might be worth the $100 price tag.
The Nest Hub is $170, so a fair bit more. It also comes in four colours: chalk, charcoal, aqua and sand. The Echo Show 5 only comes in charcoal or sandstone variants.