Now available in Canada, a new entry-level smartphone from Nokia has the features – and the price point – that most entry-level users should want or need.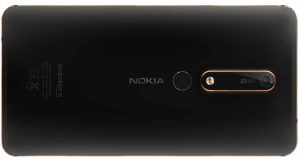 The Nokia 6.1 is easily set-up by first-time users, it's compatible with multiple cellular and Wi-Fi carrier networks, and its medium-size (5.5") full colour and HD screen gives good visual access to the smartphone's many other features, including capable still and video camera functions, web browsing, media streaming and more.
Running Google's Android One operating system with the new Snapdragon 630 multi-core CPU (and three GB of RAM) at up to 2.2 GHz, it's plenty fast enough for most uses: certainly there are faster smartphones out there, and users who demand blazing speed at all times will want to look to other models.
But the fact that a new mobile consumer or entry-level smartphone user can get into the game for the announced retail price point of $179 (CDN) means there's a way to get the perceived convenience and reliability of higher-end devices without a higher-end investment.
Thinking of the unit in that light, as someone without previous hands-on smartphone experience, the handset's attractive price point and capable functionality are easy to handle.
The 6.1 itself is physically easy to handle, too: it sits comfortably in the hand (the overall dimensions, including camera, are 148.8 x 75.8 x 8.6mm), with two push keys on the edge positioned for thumb control: one is the basic power and unit lock key, the other a rocker-type key for controlling sound (changes in volume up and and down are also reflected on the screen by a small graphic overlay).
That — and the fact that pre-paid month-by-month wireless phone services are also very economical and easy to access — reduces the possible barriers to purchase and use. A $25 mobile account (providing unlimited cross-Canada calling, international text and messaging, as well as voicemail) and simple installation of the basic SIM card gets you up and calling.
Placing calls is simple enough with the 6.1, and you can begin to set up your phone book right away, with quick access to friends, family and other oft-called numbers that you program in yourself. Just tap on the phone icon on the home screen, and a green phone icon reassures that you now can use the familiar ten digit pop-up screen to dial a number (or select from your phone book). Tap the red phone icon to hang up.
As mentioned there's a rocker button on the edge of the unit for volume control (music playback and phone volume), and depending on the listening environment, it's probably on full. A pair of included earbuds are an improvement over the sound from the unit's bottom-mounted external speaker.
A smartphone's camera is often its most used feature, and in fact getting to the camera is one of the fastest and easiest things you can do with the 6.1: a quick double tap of the power key (even in sleep mode) or a finger-swipe up from the camera icon on the bottom of the home screen and you are ready to shoot.  Kinda.
First-time mobile device users may be surprised to see a rather obtuse warning message pop-up on the screen when they first try to take a photo. It seems the 6.1 camera really, really wants to be connected to its microphone! And its GPS setting! In fact, it won't let a user take a picture without those features and setting being ON, or on the right mode. You may not want to narrate your pictures, and you may not want to embed GPS location data in them, but the camera seems to insist that you do.
For a newbie user, a vague warning about permission settings not being in the right place can be frustrating and confusing. The camera does not seem to prompt specific messages about what setting needs to be set where, and for a first-time phone user, that is certainly a challenge to overcome.
A more informative and user-friendly set of on-screen commands and setting suggestions could be very helpful to entry-level consumers.
Once the camera is set to take pictures (and videos, of course), the 6.1's 8 MP front and 16 MP rear cameras with Zeiss optics are ready for quick snapping with an auto-exposure mode, or the unit offers a Pro mode with digital controls over traditional photographic settings like aperture, shutter and ISO speed. There is also a panorama mode which can stitch together multiple shots into a very wide scenic montage.
Daylight photos look clean and crisp on-screens; low light images seem a bit faded and flat, although importing them into a PC-based image processor (or simply a viewer) improves them right away.
The 6.1 is ready for selfies, of course, but Nokia has upped the ante: it can take "bothies" in which the image and display are split in half, and a photo is taken using front and back cameras simultaneously.
Photos are stored internally (there is a memory card slot on the 6.1 for extra space) but somewhat confusingly, they are not stored in the Pictures folder.
Rather, once the 6.1 is connected to a computer through it supplied USB-C cable, the unit's directory system has a folder labelled DCIM. For an entry-level or first-time user not familiar with the acronym, that's not the most intuitive place to find the picture you just snapped.
But in the DCIM folder, there is another folder called Camera, and it is there the photos are stored.
Video capabilities include 4K and 1080p recording, but user will want a steady hand (no optical image stabilization in some settings) and lots of light to get the best that these features have to offer.
The Nokia 6.1 comes with a 3,000 mAh battery, and once fully charged, it can last up to eight hours if usage is moderate (don't try to make a one-hour long 4K video program). Battery levels are always on display with the 6.1, so you know where you power levels are at. Recharging is simple enough (plug into a wall socket or USB port).
As mentioned, Nokia 6.1 is an Android One phone and the Android OS it runs on is said to have had its "bloatware" removed for faster updates and options.
There are, in fact, a lot of apps still included with the 6.1: maps, calendar, calculator, of course, as well as other Google-related apps and services like file storage, app purchases, notetaking, etc. Perhaps not surprisingly, many of the apps want to be updated when the phone is first turned on and connected – in my case, 22 of them signalled their needs at first boot-up. Many of these services require network connectivity, of course, and so entry-level users may want to disable any apps they do not use (they can always be enabled later) to avoid using up data or cellular bandwidth.
One app that is a nice add-on for the 6.1 is FM Radio – the app can auto scan for nearby stations (it may find a lots of noise at certain frequencies and think that is a legit channel) but there's also a nice slider along the FM dial to quickly finger-swipe to the stations you know and like. That being said, the Nokia 6.1 failed to play back some music files that were transferred to it from a PC.
The Nokia 6.1 is positioned as a capable and economical alternative to many smartphones now on the market, and rightly so. Users with moderate expectations and requirements will find it does the trick in many cases, opening the door and securing those first couple of steps into the mobile world.
It is now available for open market purchase through HMD Global, as well as Best Buy and London Drugs retailers in Canada.
-30-