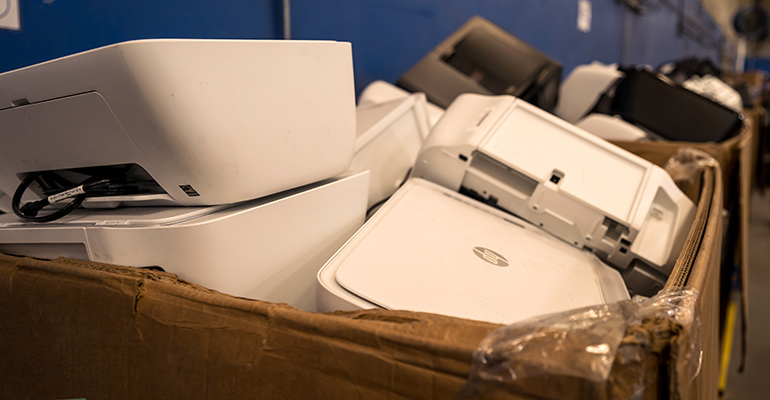 HP says it is serious about fueling its reinvention through a strong recycling policy it calls Sustainable Impact that aims to meet some lofty goals.
The company invited members of the press across the Americas to witness the process in which old HP printers, cartridges, laptops, desktops and other products bearing its logo undergo a recycling regimen. I was among those who got to visit these facilities in a suburb of Nashville, TN and catch a glimpse of just how much recovered material they deal with.
To be clear, HP doesn't own the facilities themselves. They are actually run by Sims Recycling Solutions, the world's largest electronics recycler in the world, with dozens of locations across five continents. HP partnered with Sims years ago to help with its takeback programs for ink cartridges.
In recent years, it tasked itself with making global operations run on 100% renewable energy by 2035 as part of the RE100 campaign set by The Climate Group. To date, HP says it has already accomplished the task in the United States.
More pertinent to the product side of the equation, the company's major goal is to use 30% recycled plastic throughout its product line by 2025. It currently sits at 7% — meaning it will have to find a way to increase recovery and output at least four-fold to make it that far in about five years time.
As a for-profit enterprise, HP is trying to walk the line between aggressive sustainability practices and making money as a viable business. In order to do both, it will have to source more material from consumers and beyond.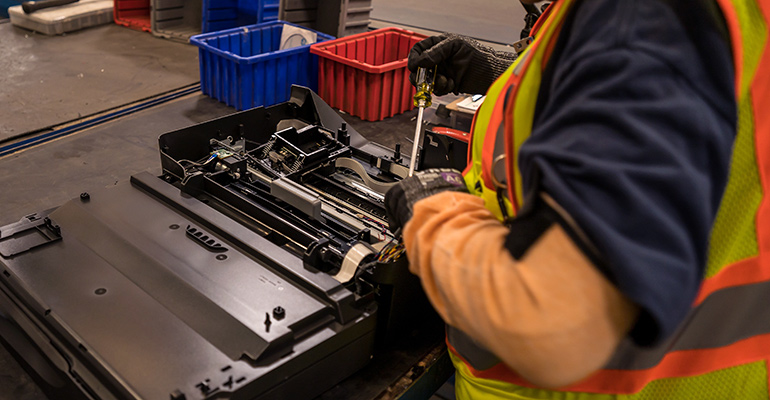 How the recycling process works
When consumers drop off ink cartridges, printers, laptops, monitors and whatever other products are accepted by HP partners, like Staples and Best Buy, as an example, or send cartridges via prepaid envelopes, they end up at facilities like the Sims plant in Lavergne, TN, southeast of Nashville.
While employees prepare the collected items on various conveyor belts, automated machines do the work of separating the different materials inside. This way, they can shred them and separate plastics from metals, ink, glass and foam, among other things. The sorter I saw also dropped 12 different inkjet cartridge types to specific boxes, ensuring everything was uniform. Employees on hand confirmed the sorting machine was processing 250-300 cartridges per minute.
The shredder then chops up the plastic into small pieces for shipment to another processor. In a bit of irony, Sims ships those plastics to a company called Lavergne Group in Montreal, who uses a proprietary process to mix the recycled plastic with virgin material. So yes, the recycled plastic goes from a town called Lavergne in Tennessee to a company called Lavergne in Quebec, even though they have no relation otherwise.
Shredded plastic from water bottles and clothing hangers also make up the source material to increase volume — and ideally — make an environmental impact. One such project involved HP partnering with informal local collectors in Haiti to bring in water bottles discarded in canals and rivers to keep them from entering the ocean. The program has created 1,100 jobs for Haitians, with another 1,000 expected as HP continues to ramp up its demand.
It's the PET (polyethylene terephthalate) plastic water bottles that HP wants the most, and the company claims it has used a total of over 35 million of "ocean-bound" PET plastic bottles from Haiti and other countries. Some of that plastic was at the same Sims facility in Tennessee.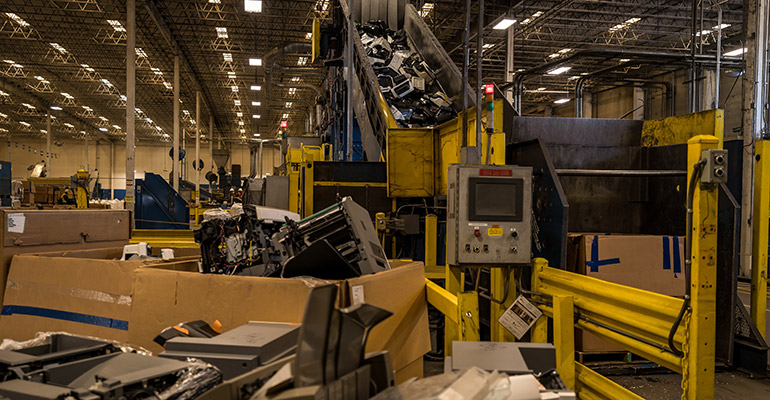 The carbon footprint involved
HP says it recycles 40 million ink cartridges per year, with 830 million since it first started the takeback recycling program in 1991 for laser and 1997 for inkjet printers. All told, with other products included, it amounts to 3.3 billion pounds of material, or the equivalent of 8,000 blue whales, the largest mammal on Earth.
All of the material sent to Montreal eventually goes to HP manufacturing plants in Ireland and Asia to make new cartridges, and as the plan evolves, other products as well. The HP Tango Terra printer is another example as a U.S.-only pilot. It's not only partially built with recycled plastic, but also comes bundled with the company's eco-fishing paper, which is thinner than standard stock. Setup instructions are printed on the box, and there is no plastic wrapping or any other plastic foam in the packaging itself.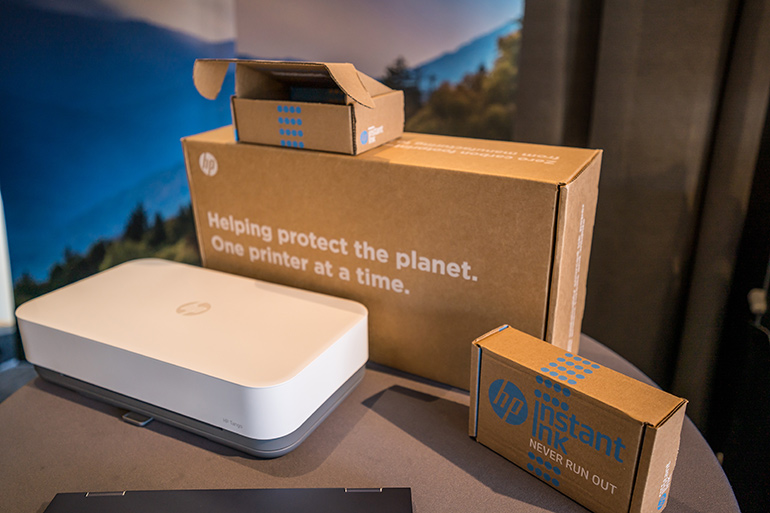 HP's Elite Dragonfly will also be the first laptop to be made from ocean-bound plastic, though it only accounts for 5% of the diverted material. The speaker enclosure is made with 50% recycled plastic.
Collecting all the material and then shipping it away to places like Montreal and Ireland mean there are logistics and transport involved. Despite the carbon footprint of that supply chain, HP says it has reduced that footprint of the plastics by 30%, including a 60% reduction in fossil fuel usage and 39% reduction in water usage.
There was no way to verify those numbers, but it is hard to believe the company would double down on its Sustainable Impact strategy if there weren't some cost-savings along the way.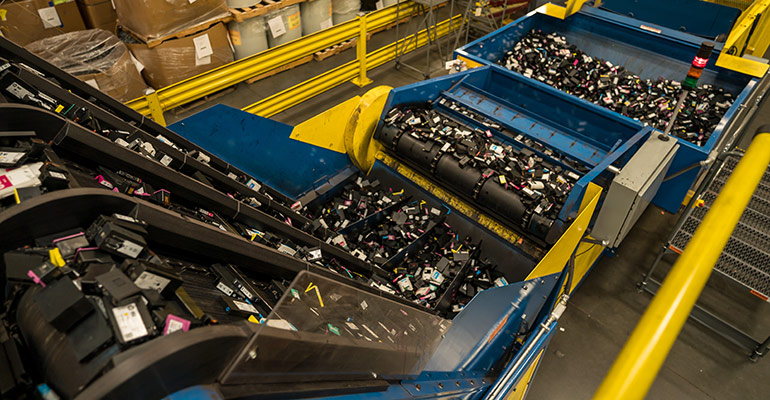 Finding new material
Not surprisingly, HP isn't enthusiastic about cartridge refillers and sees them as contributing to e-waste, since they often have no takeback programs. The company didn't single anyone out, specifically, but said third-party reports back that up, including lower-quality ink and toner that leads to poorer print quality.
It's estimated that up to 375 million ink cartridges end up in U.S. landfills every year, but there are varying numbers as to how many of those may be refilled or remanufactured ones. Either way, that is a very high number that HP would need to tap into to bring more in to meet the overall recycling goal.
Between that and all the plastic that can be collected, there is a lot of source material available, though HP will have to ramp up logistics to bring it in. That also includes incentivizing consumers and businesses to comply in ever larger numbers. Without them sending back cartridges, printers and other products, meeting that 30% goal seems more elusive.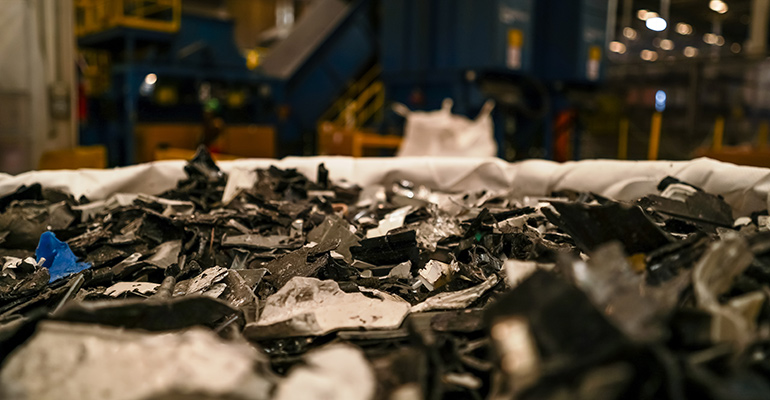 HP does partner with some retailers, like Staples and Best Buy, to collect old cartridges and products, on top of those collected through mail-in programs the company offers. HP's Instant Ink subscription service provides ink cartridge replacements by remotely noting when a printer's levels are low through its Wi-Fi or Ethernet connection. Prepaid shipping envelopes come with the package so members can send the old cartridges back.
HP could also move away from cartridges altogether and embrace ink tanks instead. Rivals, like Epson, have reduced cartridge use by offering ink tank printers refilled with bottles. HP's Ink Tank 110 is an example of a printer that does the same thing, though it's not clear if the company wants to completely abandon the cartridge-based designs that go back to the 90s.
The biggest challenge isn't meeting the 30% goal itself, it's bringing in enough material to recycle and build with to get there. HP hasn't revealed how much all of this costs, but it will be spending more to expand the flow of plastic coming in to its supply line. Company executives believe the revenue streams will only grow as the program increases in output and efficiency.
Time will tell. The process looks impressive when viewed firsthand, but the scope of the problem is one the entire tech industry needs to tackle.