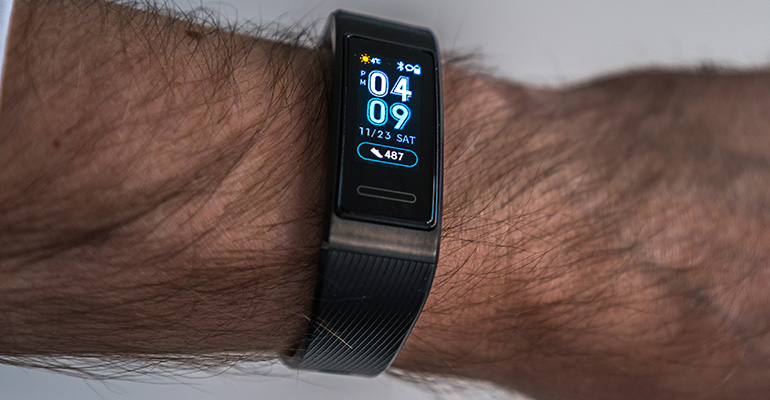 Huawei's pedigree in Canada may be better known in the smartphone arena, but the company's latest Band 3 Pro tries to make the same case.
The Chinese giant has played in this sandbox before, only this time, it's clearly taking aim at the likes of Fitbit and Garmin, among other vendors. This isn't the company's Watch GT smartwatch, which shows real promise, but rather a much more affordable option for those seeking to track daily activity.
Design and setup
That the Band 3 Pro looks like a Fitbit is probably not an accident. A thinner frame with a 0.95-inch rectangular AMOLED screen, the one obvious difference from the start is that this screen also has colour. Lightweight and easy to wear, the overall design is both tasteful and functional. It's one of those bands you won't always realize you're wearing.
Beneath the vertical screen is an outline that acts as a touch-sensitive button. If scrolling through the menu, tapping it takes you back home. The interface runs vertically, rather than laterally, which does feel natural for this particular device, though I sometimes accidentally hit the outline taking me back to the home screen.
Huawei also built this to be a swim tracker, courtesy of the 5ATM waterproofing. That means the Band 3 Pro can handle depths of 50 metres and offer tracking for swimming. Without a physical button, however, you need to start your session before getting into the water. Touchscreens become unresponsive while submerged, and that can be problematic when trying to pause or stop a session. You may be able to manage somehow while still in a pool or beach but don't be surprised if you have trouble with that.
One of the biggest surprises is that the band has GPS built-in. Not a common feature for fitness bands, but here it is, letting you track distance and routes without having to leverage the paired phone.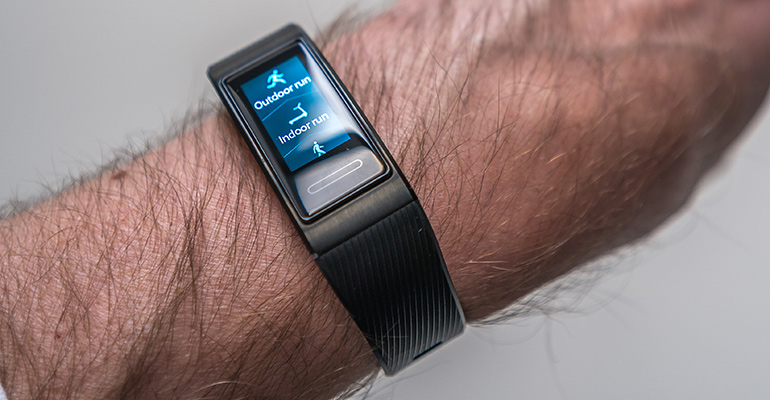 Tracking and performance
There isn't a great deal of complexity to how the Band 3 Pro looks or what it does. You have few options to customize the interface or give it a more personalized look. Scrolling through the menu gives you about seven different paths to follow, like steps, heart rate, sleep, workout, messages and more.
I wouldn't go as far to say the software looks great. It's passable, but hardly inspiring — an issue dogging Huawei across its hardware devices. Keeping things basic also maintains a level of performance that you can understand. Integration, however, is fairly limited. I did like when seeing incoming calls, texts and email, but had no actionable way to do more with them.
Tracking also varies by what you're doing. Typical step tracking is easy enough, and its accuracy isn't that bad. Just bear in mind that GPS tracking takes far longer than you might expect. I thought it would know where I was in mere seconds, but instead, I waited up to a minute before it locked on. I'm not sure why, but it was a routine thing, so clearly not an anomaly in my testing.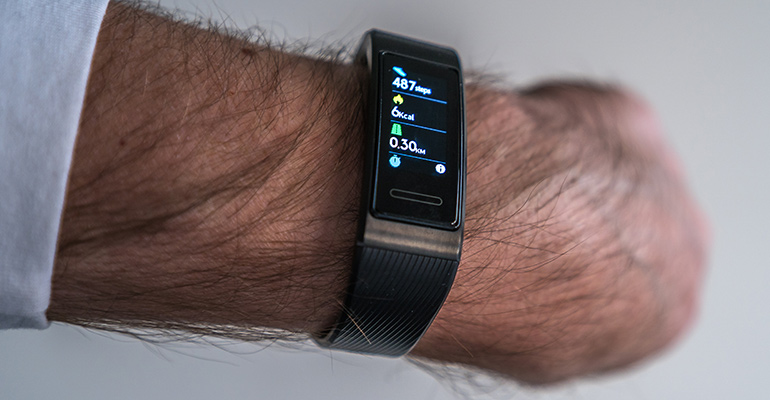 That may sometimes mess up actual steps or activity with the associated route, though I can't be certain that would happen every time out. I don't run, preferring to use the bike or elliptical machine at the gym. Indoors, distance tracking doesn't matter as much, but I did find the band was in the same ballpark as the machine I used.
The heart rate monitor is fine, and sleep tracking is on par with what Fitbit tracked for me, so nothing too different in that regard.
Battery life is stellar, lasting a good five days on daily exercise tracking. Wearing it passively will stretch that out beyond a week, based on my testing.
Huawei's Health app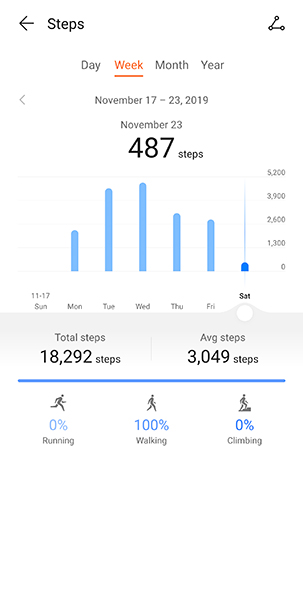 The Health app is free to download for Android and iOS, so you aren't limited to using a Huawei device. The app also funnels firmware updates to the band, making it a key part of the device's overall features and functionality. It's a good sign that I noticed a slight improvement after one of those updates.
Unlike other software from the company, the app is actually laid out fairly well. It maintains a log of a variety of metrics for runners, including stride length, pace, speed, cadence, heart rate and even aerobic training effect.
That's all great, but there needs to be more customization. I couldn't add elliptical as an exercise, so had to do it under the more generalized "train" option. Compared to the depth Fitbit offers, Huawei has a lot of catching up to do in spreading features out.
Conclusion
It's hard to find a fitness band that has built-in GPS and swim tracking. For those reasons, I see the Band 3 Pro being more ideal for runners and swimmers. Everyone else can assess based on what they value most in a tracker. Fitbit speaks to a wider base that way.
Then there's the price, which undercuts Fitbit at every turn. It's currently cheaper on Amazon than any other retailer I've found. You can often find it for $100 or less from other sellers.
Enter our contest to Win a Huawei Band 3 Pro All-in-One Fitness Activity Tracker