More than six million Canadians aged 15 and older (that's 22 per cent of the population) identify as having a disability.
It's said the actual numbers are likely higher.
Counting aside, everyone should be able to participate fully in a society without barriers. Efforts to help anyone with a disability overcome any physical, virtual or attitudinal barriers in their way should continue to increase, both in the private and public sectors.
Those efforts can often result in the development of special hardware and software tools, collectively called assistive or accessibility technology, bringing real value not just for the impacted individual but to the overall economy.
According to the 2017 Canadian Survey on Disability, just 59 per cent of Canadians with disabilities aged 25 to 64 are employed (the figure is 80 per cent for Canadians without disabilities). People with disabilities earn less than Canadians without disabilities: 12 per cent less for those with milder disabilities and less than half as much for those with more severe disabilities.
So at least a start in addressing the issues we all face as a result of disabilities is a small announced fund of some $22 million put together by the federal Accessible Technology Program to support people and companies in Canada developing assistive and adaptive digital devices and technologies.
One project being funded is called AccessNow; it's an online platform with crowdsourced information and an interactive map about public services (transit, retail outlets like restaurants and other businesses) that are accessible to persons with disabilities. The company was launched out of Ryerson University's DMZ start-up incubator. Today, more than 26,000 locations tagged across 35 countries can be sourced through the website and companion mobile apps.
In the year called 2020, clear vision for all could be an obvious goal.
But according to a study conducted by the National Coalition for Vision Health (NCVH), the cost of vision loss in Canada is projected to reach more than $30 billion by 2032. Additionally, one in nine people develop vision loss by the age of 65, a figure comparable to an emergency epidemic in terms of a society's overall health.
Those facts drive a Mississauga-based company known as TrySight, which received a grant from the Accessible Technology Program to develop artificial intelligence-based glasses for people with low vision or other visual impairments. TrySight's new virtual reality-type headsets, embedded with text recognition and synthetic speech software, seek to bring some clarity to those with sight challenges by "telling" the user what's around them.
Similar audio-enabled assistive technologies can incorporate the human touch.
New mobile apps and smart glasses let users talk to live agents who can help the user navigate an environment or identify an object in real time. The trained agents speak directly to the user, providing a personalized way to get information that helps them get what they need or where they're going.
Travellers who are blind or have low vision now have access to this assistive technology when they go through Winnipeg Richardson International Airport.
The platform in use there, and in many other large venues like airports, transit systems, shopping malls, even sports stadia, is called Aira. The service also uses live agents who are able to see the user's environment through mobile phone cameras and describe objects, read signage, provide navigation, take and label photos and more.
Winnipeg's Airport Authority partnered with Aira on the project, and Aira teamed up with Microsoft (and its Azure Maps) and the mobility service provider Moovit to power the platform.
Also deeply involved in helping develop assistive devices for people with low or no vision is the Canadian National Institute for the Blind, of course.
CNIB works with many system developers like Aira and it has staff directly involved with developing, licensing and implementing various accessibility solutions
Such as the electronic eyewear system called eSight. Its tech specs almost read like a state-of-the-art digital media production centre, but its purpose is way beyond entertainment.
The wearable electronic eyewear (like a slim VR headset) has an integrated 21.5-megapixel camera with a 24 times zoom range, auto focus and remote cont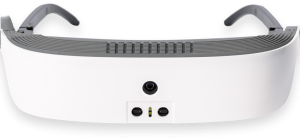 rols over image quality, contrast and colour.
The system can take photos and play video, and it has Wi-Fi, Bluetooth, HDMI and other input/output connections (users can connect with device coaches and live technical support). All this in a lightweight unit with a patented bioptic tilt feature that gives the wearer mobility and broad range of vision.
Some people with very severe disabilities cannot easily take advantage of sophisticated assistive devices; it can be a challenge just to use a computer mouse and keyboard.
So another funding commitment is to the Tetra Society of North America and its netClé switch-control platform that gives control of certain devices to people with limited physical capabilities.
It comes with a variety of sensors so users may signal their intent with a simple touch or the movement of just one finger (or their limbs or their neck and head, depending on their ability). The system captures touch, movement, light and other signals from the user and converts them into data the digital device can use. Infrared and other wireless signal sensors, sound and light indicators and more are used to understand a user's request and signal compliance or action by the device.
Assistive digital devices are useful, capable and powerful supports for people with disabilities, certainly.
But sometimes, a clearly spoken word or two is all one needs to feel included and respected.
That's why the Canadian Down Syndrome Society has been working with Google to improve its voice-recognition technology and enhance accessibility to the digital world. They've been encouraging people with the condition 18 or older to record phrases online as a way to train the tech giant's technology to better understand those with speech impairments. This builds on a three-month trial in which ten people with Down syndrome recorded an average of 1,500 phrases each into the online platform.
From advanced, artificial intelligence-enabled systems to basic physical and mechanical supports, technology can and should be used to help people overcome disability challenges and to participate more fully in a world without barriers. Sometimes, it's our own attitudes that must be overcome, and that may be the bigger obstacle.
-30-