If you're looking at buying a new laptop, you might have very specific needs. Or maybe you just want a reliable workhorse that can help you get everything done. Whatever your desire, while this year has just begun, we're already we're seeing tons of great new laptops coming to market.
Here are a few of the most interesting ones we've seen or read about thus far, including some concept models that were on display at CES 2020 in Las Vegas earlier this month.
HP Elite Dragonfly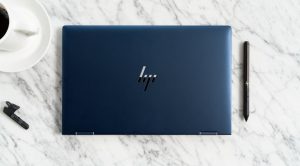 Technically introduced towards the end of 2019, this ultralight, premium convertible PC is great for on-the-go business travelers. Weighing under a kilogram and with a 13" screen, it boasts a super-long 24.5-hour battery life that means you can take it with you and use it all day then recharge at night. A neat inclusion: HP WorkWell personal wellbeing software that encourages you to take breaks and celebrate a better work-life balance. With Wi-Fi 6 for enhanced wireless connectivity, it sells for $2,500.
LG Gram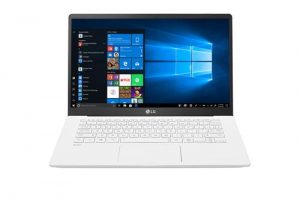 Just arriving in Canada last month, LG's Gram laptops come in 17", 15", and 14" screen sizes, each of which weighs under three pounds. The largest 17" model has an IPS display that fits into a 15.6" body size and can run for up to 17 hours. With the 15" model, you get a touchscreen LCD. All three are powered by the 10th Generation Intel Core processor, Iris Plus graphics, and up to 24GB dual-channel DDR4 memory. With Wi-Fi 6 and a Mega Cooling System, they start at about $1,600 for the 14" model.
Dell Alienware Concept UFO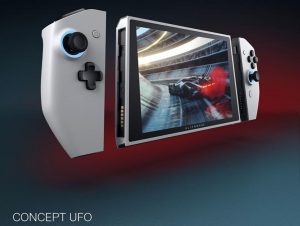 It's just a concept product right now, but Dell's Concept UFO is pretty neat. It basically looks like an oversized Nintendo Switch portable gaming console with an 8" screen and removable gamepads on either side. Like a Switch, you can even dock it to a TV to get a larger on-screen experience. Powered by Windows 10, it's more a gaming PC than anything else. You can also dock the two gamepads together and use them that way with an optional accessory. But it's an interesting look into the future of specialized computing. Forbes calls it the "Nintendo Switch killer PC gamers want."
Dell Concept Ori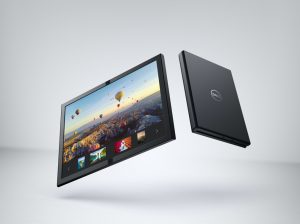 For more traditional computing, Dell also showed its Concept Ori prototype at CES, which is a foldable PC with an about 13" screen and QHD+ resolution. There wasn't much more revealed about the concept product, which basically folds up like a book. Many reporters suggest still seeing a noticeable crease when unfolded. But these are kinks Dell will likely work out should the device actually come to market.
Acer ConceptD 7 Ezel
Another concept laptop that is worth mentioning here is the ConceptD 7 Ezel, which is designed for creators with support for Wacom pen and 100% coverage of the Adobe RGB colour space. The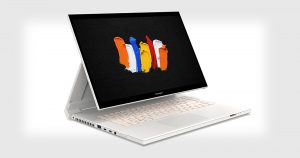 transforming design, which allows it to adjust into five different viewing modes, makes it easy to use the display for drawing and editing photos, and many other tasks. Processor options range up to Intel 10th Gen Core H, with Nvidia GPUs, up to 32GB of DDR4 memory and up to 2TB NVMe PCIe SSD storage. It will come with a 10th-generation H-series CPU, NVIDIA GeForce RTX GPUs, up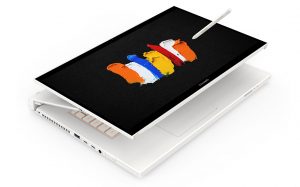 to 32GBs of RAM, and up to 2TB SSDs for storage for the entry-level version, with more graphic-intensive features in a Pro edition. It will start at US$2,700
Lenovo ThinkBook Plus
This laptop has a 13" screen inside, but what really sets it apart is the e-Ink writable cover display that shows up when the laptop is "closed" so you can keep an eye on important notifications without having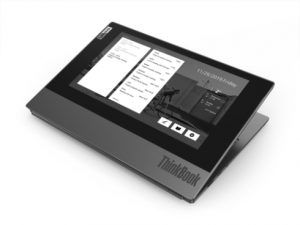 to open and boot up the computer. This allows you to reply to important messages during a meeting without getting too distracted, take notes on the e-ink screen without getting interrupted with other notifications, and more. It's the perfect laptop for notorious multitaskers.
Related:  Laptops