Applications are now open to participate in the fourth edition of the Movin'On Start-Up Challenge, which will take place at the Movin'On Summit in Montreal from June 3 to 5, 2020. The Movin'On Summit is a world conference on sustainable mobility. The theme this year is "goods transportation and people mobility."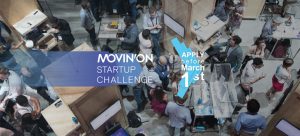 Created and inspired by Michelin, Movin'On aims to develop real-life solutions to the challenges of sustainable mobility. Movin'On and its partners are immersed in the ecosystem all year long — notably via the Movin'On Lab, its "think and do tank" — working to move from ambition to action.
The Movin'On Start-Up Challenge will award 40 early-stage companies with an opportunity to pitch at the Movin'On Summit. The selected start-ups will present their innovative solutions to 5,000+ decision-makers in the sustainable mobility space.
"Quebec is a hub between Europe, America and Asia, and allows all key players in mobility to connect and work together, in order to go from intention to action," remarked Nicolas Beaumont, Director, Movin'On Summit.
"The summit stems from the belief that we need to work together to achieve the following goal: more mobility with less impact, in order to better our society. This year, the summit will take place at the prestigious McGill University…. This will allow us to extend our thought and action fields by introducing students from all over the world to the work of renowned experts."
Which start-ups should apply?
Movin'On is looking for start-ups that align with its mission and offer concrete solutions to make mobility 100% sustainable, protect the planet and advance society.
Participating start-ups should fit within at least one of the five Movin'On themes:
Combating global warming and air pollution
Preserving resources
Ensuring safe and accessible mobility
Improving multimodal mobility (multiple and complementary mobility solutions)
Designing new global transport efficiency
Why participate?
The winners will be able to:
Showcase their projects to a group of high-level expert judges
Attend the Movin'On Summit 2020 in Montreal for free
Expose their innovation to 5,000 summit attendees: large corporates, local governments and cities, academics, international organizations from around the world. Past participating cities include Los Angeles, San Francisco, Detroit, Boston, Portland, Kansas City, Shanghai, Buenos Aires and Singapore
Pitch their products to the leaders of sustainable mobility, the media, potential partners, clients or investors
Network with and get inspired by world-renowned speakers, to change the world through a new sustainable transportation.
Candidates must upload their application on the challenge platform before March 1st 2020. For more information about the Startup Challenge, visit startupchallenge.movinonconnect.com
Summit Sustainability
The Movin'On Summit is promoted as a 100% carbon-neutral event. Interestingly, the summit has set its own sustainable objectives:
Limit the total amount of final waste per participant per event day to 2 kg
Achieve a diversion rate of at least 70% during the event
Offer menus WITHOUT red meat, and fight against food waste
Reduce the proportion of fossil fuel machinery required for site construction to less than 40%
Offset all greenhouse gas (GHG) emissions generated by the event by granting carbon credits
Obtain level 3 certification under theBNQ 9700-253/2010 standard, with a score greater than or equal to that of 2018.
And, summit organizers are asking its participants to do their part:
Bring headphones, a reusable water bottle and a coffee cup.
Use the provided low-carbon transportation options (shuttle bus, public transit, car-sharing, bike).
Choose vegetarian options.
Place cigarette butts in the ashtrays provided in the smoking area.
Return badges for optimal recycling.