Samsung said at its annual Developers Conference last November that it would be exploring new form factors for mobile devices. And at a launch event in early February in San Francisco, the company revealed its latest foldable device along with other new mobile products to come.
Samsung Galaxy Z Flip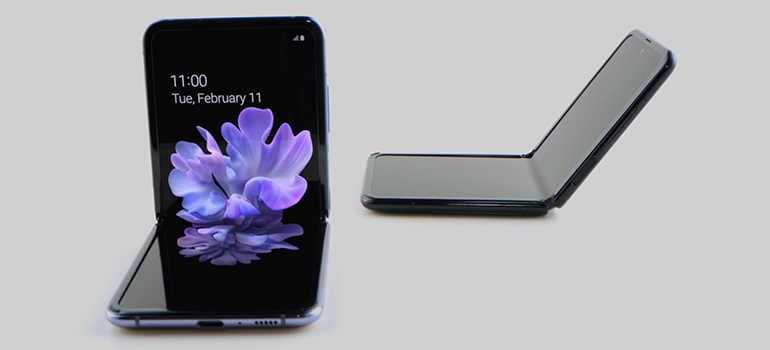 Samsung's newest foldable phone features foldable glass and a 6.7″ display that, when folded closed, is about the size of a typical wallet, and thus can easily fit into the palm of your hand or a shirt pocket. The Hideaway Hinge and custom-built UX also affords a flexible camera experience.
At the heart of the design is Samsung's first foldable glass Infinity Flex Display that uses the company's own proprietary bendable Ultra-Thin Glass (UTG). Alongside the Hideaway Hinge is a dual CAM mechanism that allows it to be stably folded and unfolded, again and again, as needed. Once opened, it can sit in a variety of ways to accommodate whatever you're doing, whether it's typing, watching videos, playing games, or engaged in a video chat using Google Duo. When in freestanding mode, it can split into two 4″ screens for multitasking. And when you want to take a group selfie or shoot video, just stand it on its own and use the timer to snag the shot, without the need for a tripod.
A neat feature of the phone is a cover display that provides date, time, and battery status information so you don't need to unfold the device to see those basics that you often refer to multiple times a day. You can also see real-time notifications like whose calling or the contents of a text message.
It will come with up to four months of free YouTube Premium access along with features like
Samsung Health, Pay, and Knox, and can be wirelessly charged. Wireless PowerShare also lets you wirelessly charging your Galaxy Buds+, Galaxy Watch, or another device.
It will be available in limited quantities in selected markets starting February 21 and come in mirror purple or black finish options. Pricing in Canada will be $1,820, and eligible purchases will include an eligible screen repair within one year for $159, regularly $1,000.
New Flagship Phones: Galaxy S20 5G, S20+ 5G, S20 Ultra 5G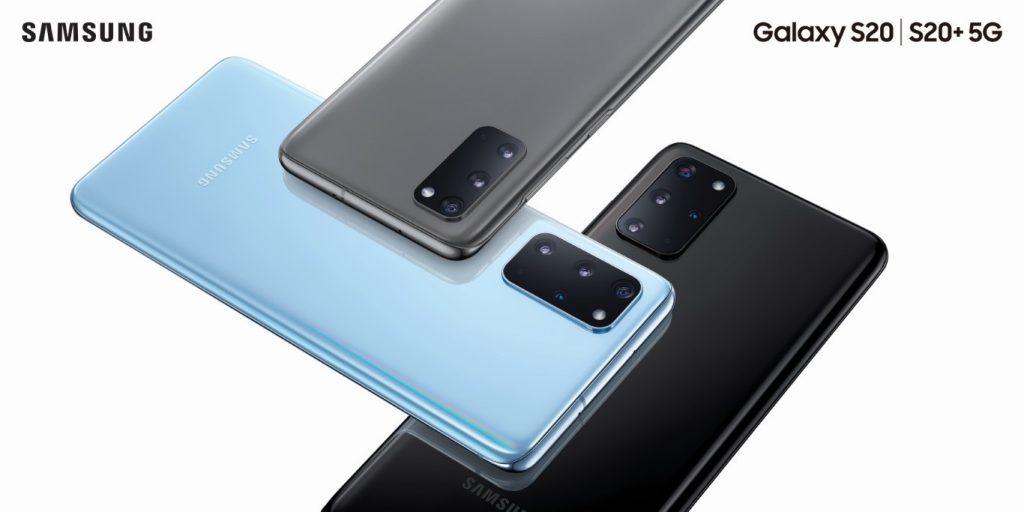 Not surprisingly, Samsung's trio of new flagship smartphones boasting the traditional rectangular design all focus on 5G connectivity, which will be launching via networks in Canada through carriers like Rogers Wireless this year.
All three are capable of connecting to a 5G network, with the S20 introducing a new camera with AI and Samsung's largest image sensor to date, and the S20+ and S20 Ultra as the first devices to power mobile experiences using sub-6 capabilities.
The S20 and S20+ both have 64MP cameras and the S20 Ultra has a 108MP camera but allows you to switch between 108MP and 12MP modes. Space Zoom technology combines Hybrid Optic Zoom and Super Resolution Zoom so you can zoom in close from far distances to capture a shot. The S20 and S20+ both have up to 30X zoom while the S20 Ultra has folded lenses that use AI powered, multi-image processing to reduce quality loss at high zoom levels, resulting in Super Resolution Zoom up to 100X.
Live Focus is joined by other camera features like cropped and Ultra-Wide; the phones can also shoot 8K videos that can be streamed to a compatible Samsung QLED 8K TV. Use Super Steady to stabilize action in photos and AI motion analysis. 8K videos can also be uploaded directly to YouTube from the phones, which come with up to four months of YouTube Premium.
All three devices can integrate with Spotify and Bixby Routines, and feature Music Share for extending a paired Bluetooth connection to a car stereo or third-party speaker. There's also Google Duo for video chat support, allowing you to chat with virtually anyone, regardless of their operating system.
An improved Netflix experience helps promote mobile video viewing by allowing you to discover and access content through Samsung Daily, Bixby, and Finder; and gaming is enhanced thanks to the 120Hz display, fast processor, 12GB of RAM, audio tuned by AKG, and a game booster that optimizes settings. Later this year, Microsoft will launch Forza Street in the Galaxy Store, marking the first time the game is coming to mobile.
The phones are secure, protected by Knox along with a secure processor that helps protect the devices and their contents from hardware-based attacks.
They come with a 25W fast charger and the S20 Ultra 5G supports 45W Super Fast charging as well. Storage options range from 128GB up to 512GB.
They'll be available starting March 6, 2020 in different colour options, with pre-orders starting February 11 through to March 5, 2020. A pair of Galaxy Buds+ (see more on those next) will be included as a gift with purchase.
The Galaxy S20 5G will come in Cosmic Grey, Cloud Blue (128GB + 12GB – $1,320), the Galaxy S20+ 5G: Cosmic Grey, Cloud Blue, Cosmic Black (128GB + 12GB – $1,580); (512GB +12GB – $1,780-Black only); and the Galaxy S20 Ultra 5G: Cosmic Grey, Cosmic Black (Samsung exclusive) (128GB + 12GB – $1,850) (512GB + 16GB – $2,110 – Grey only).
As a bonus, Galaxy S20+ 5G or Galaxy S20 Ultra 5G device pre-orders online between February 11 and March 5, 2020 will be eligible for up to 2,000 Air Miles bonus miles with purchase.
Samsung Galaxy Buds+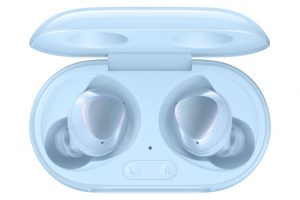 Complementing the experience with either phone, or any mobile device, for that matter, are the new Galaxy Buds+, which offer sound tuned by AKG.
With a battery that lasts for up to 11 hours, plus an additional 11 using the included charging case, they have two-way speakers and three mics. Compatible with the app that's available for both Android and iOS devices, you can listen to Spotify music and podcasts using a single button press.
Galaxy Buds+ will sell in Canada starting March 6 for $200 and come in black, blue, and white.
Pre-orders started February 11 and are available through March 5, 2020.