In response to the urgent needs of people and businesses during the COVID-19 pandemic, tech companies in Canada are creating, repurposing and refocusing their software-based hiring platforms and job placement tools.
From finding frontline medical staff who are available for work in hospitals and healthcare facilities to filling volunteer shifts at the local food bank or not-for-profit organization, technology companies large and small are stepping forward to contribute their technical capabilities and expertise in these critical times.
And beyond the people usually identified as essential workers, like medical staff and first responders, the current crisis has opened our eyes to a much wider range of crucial and essential workers: retail clerks, delivery drivers, concierge staff, cleaners, cooks, security staff and many more.
Hiring for Health Care
The abilit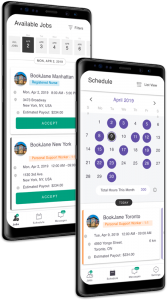 y to book a physician in seconds who can come in and provide some relief for overworked doctors and nurses is one way to address staffing shortages in an overburdened healthcare system.
That's just the start of what Ontario-based BookJane is doing, using its proprietary technology platform.
Any hospital or healthcare facility in the province can make a service request on the platform, which is broadcast to participating physicians and appears on their mobile phone screen, generating quick responses and acceptance notices from individuals, based on availability and proximity.
The company's mobile app and cloud-based platform have been selected by the Ontario Medical Association so its members can use and be accessed on the platform. Just days after that partnership was announced, earlier this month, more than 1,500 physicians had registered using their iOS or Android device, and the company reports that its platform has been used to book more than one million caregiver service hours for health care clients across the province.
The app also lets users chat online with prospective hires and track their movements while on the job in real-time. Payments can be made directly through the app.
"The OMA has been working with BookJane for the past few weeks to tailor the app to ensure Ontario's physicians are working where they are most needed to fight COVID-19," Allan O'Dette, Chief Executive Officer, OMA explained in a release. "Since launching late on the evening of April 3, more than 1500 physicians have registered. We appreciate BookJane's partnership and thank all the physicians who have signed up. We know many are doing this in addition to their current clinical responsibilities."
BookJane is also working with other caregiver associations, registered nurses and registered partitional nurses among them, to bring their memberships onto the platform so that hospitals may use one single hub for a variety of staffing needs. The platform can also be used to tap into other resource pools, including sister facility locations and other care facilities, when shortages occur.
The company's intensified focus and ability to help the healthcare sector with staff placement is rooted in more than four years of operational experience. It launched in 2016 and it has built up a database of some 2,500 caregiving participants since that time.
Individuals seeking babysitters or elderly attendants, childcare centres with staffing shortages as well as full treatment hospitals have used the service. BookJane's enterprise platform is accessible throughout Canada and in the United States.
"The pandemic is causing staffing shortages at many facilities across North America," ' said Curtis Khan, CEO and Founder of BookJane, "and we are proud to provide a solution to help meet the evolving needs of our healthcare system and frontline workers as they deal directly with this crisis."
BookJane is currently waiving administration and overhead costs to access external staff for any facility using the platform.
From Hospitals to Hospitality
Hospitals are surely on the front line of the COVID-19 battle, while the hospitality industry may have seen the greatest decline in activity and revenue. Restaurants (save for take-out) are closed; theatres shuttered, hotels empty.
In its efforts to help the hospitality industry, the international online learning company Typsy has launched its COVID Support Plan, and it is offering free access to its online library of training and information videos.
It's not a placement service, but the support plan is designed to help businesses stay in touch and connected with their workforce. Participants can easily and conveniently upgrade their hospitality knowledge and learn new skills that can bring confidence and greater opportunity when re-entering the workforce.
Typsy's Netflix-style library of 650+ hospitality videos is open to individuals, businesses, and schools through September.
In addition to courses about leadership, beverage making and servings, hotel management and culinary crafts, Typsy has also released a COVID-19 course with tips and topics useful to many operators right now, such as how to provide safe takeaway service for customers.
Helping Not-for-Profits Without Profiting
Recognizing that thousands of servers, bartenders and cooks in the industry are among those currently out of work, the technology and employment services company Hyr is making efforts to connect them with businesses that have short-term needs.
Its mobile employment app, created in Toronto, connects businesses with workers who can fill in on a per-shift basis; Hyr says more than 25,000 Canadians currently use the app.
And they can use it for free: the company has eliminated its service fee, as company co-founder Erika Mozes noted in a social media post.
"Our team at Hyr is laser-focused on helping the 25,000 hospitality and retail gig workers in our Hyr community access the earnings they so desperately need during these challenging times. [W]e've waived our fees for independent businesses, and will not benefit financially from shifts filled during this challenging time."
Hyr supports companies in the food service, healthcare, retail, and security sectors, and it has expanded the use and scope of its tech platform so that any non-profit organization can use it. Food banks and temporary shelters also need such support, so Hyr is helping fill vital volunteer shifts as well as paid gigs.
And, with the expanded definition of essential workers, Hyr is letting large companies also connect with displaced workers, and companies like Loblaws, Walmart, Amazon and the like can also now post and fill job opportunities on Hyr for free. The opportunity to connect the overlapping skill sets of the thousands of hospitality and retail workers that already use Hyr to create new job opportunities in other sectors takes the notion of a sector-specific employment placement tool into a more creative space.
In fact, the company's tech platform can also be used to help those seeking work better their chances by offering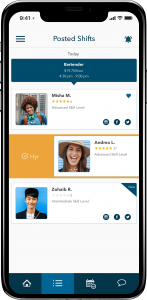 presentation and resume (postings can include work history, photos, social media accounts, ratings, and history/accountability reports) polishing skills so potential workers can stand out in a competitive marketplace.
Classified as Pros on the Hyr platform, potential workers are independent contractors and essentially self-employed. Once accepted for work by an employer, and once the shift has been completed, Hyr pays via direct deposit within 72 hours.
Employment and Emotional Support for Gig Workers
Finding employment opportunities and getting paid in a timely manner is all the more important during the current COVID-19 crisis and it is all the more important for those independent contractors we've come to call gig workers. They're the ones often doing temporary work, sideline jobs, short-term assignments and the like for multiple employers without getting many of the benefits we tend to expect from full-time employment.
It's a repurposed word – gig may have first been used by jazz musicians in the 1920s – that sounds so light, so airy, so… fun. But even in the best of times, it can be anything but.
According to findings contained in a fascinating but sobering report from researchers at the University of Toronto, gig economy workers were 50 per cent more likely to report feelings of helplessness and almost 40 per cent more likely to report feelings of little control.
Even before COVID, gig workers were more likely to report a sense of powerlessness than other workers. Gig economy workers were, therefore, less happy and much more likely to experience loneliness, anxiety or depression. The self-isolation and physical distancing due to COVID only compounds those issues.
Among the much-needed sources of assistance for gig workers and other non-traditional members of the economy, be it in finding some employment or managing their emotions, are the 60,000-member Professional Institute of the Public Service of Canada (PIPSC), the Freelancers Union in the U.S. and a group known as the Movement of United Professionals.
Its web portal has specific COVID-19 resources, including support for frontline workers and tips for working from home, as well as the information about tapping into supports offered by labour unions and other worker representatives.
# # #
WhatsYourTech.ca has more COVID-19 related technology articles you can read; please visit our new dedicated articles listing page.
-30-