At this time of social distancing, we're all looking for ways to be social with friends and family without actually seeing them in person. Because, of course, we can't. And while some neighbors are doing things like gathering on the street, everyone seated at least six feet apart, to chat in person, or families are doing drive-by hellos, or people are talking through glass windows, you can make things a bit more personal by ironically going virtual.
Here are some great ways that you can use technology to make sure that social distancing doesn't translate to having no social interaction.
Zoom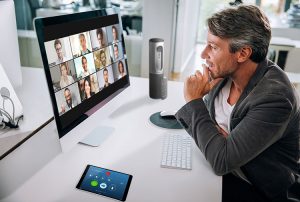 Arguably the most popular video conferencing solution among businesses and individuals since the beginning of this pandemic, Zoom typically costs a fee for chats over 40 minutes long, but the company has since removed that limitation for its basic free account for K-12 schools. While it is a video conferencing service that is typically used for businesses to hold remote meetings, friends and family have been leveraging it to keep in touch given the current situation. You can join a Zoom meeting from any device or computer using a meeting ID number and your display name. Enable video or just audio if you're having a terrible hair day.
Tip: Zoom has been plagued with data privacy and hacking issues of late which is raising some red flags about the service. If you want to consider an alternative, look into Skype, which is offering free audio and HD video calling for up to 50 people in a call along with screen sharing and call recording. Another popular option to use instead is Microsoft Teams which lets you host up to 250 people – enough to accommodate a virtual wedding!
FaceTime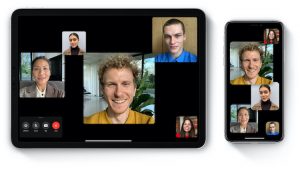 If you and everyone you want to call has iOS devices, including iPhones, iPads, MacBook computers, or even iPods, you can use FaceTime to chat. Simply call the person using the FaceTime icon on the device and enable video. The latest devices can be used for Group FaceTime calls as well of up to 32 people! You will, however, need an iOS device that can download iOS version 12.1 or higher.
Tip: To add more than one person to the chat, open the app, tap the "+" icon, type a person's name or number and if it appears in blue (meaning they can support Group FaceTime), tap to add them. Continue adding names until you are done. Alternatively, if you are already on a video call with someone and want to add someone else, swipe up and you will see a menu with "+ Add Person" that allows you to add another person to the call. Do this for as many people as you want to add. Tap the screen and the star icon to have some fun and add stickers, text, Animoji and Memoji to your face.
Facebook Messenger

Facebook Messenger is a great way to keep in touch with family and friends. Download the app, which works alongside Facebook, and you can send text-based messages to people individually or in groups. You can also use video chat. Select the person you want to call then tap the phone receiver or video camera icon on the top, right to make a voice or video call to them. You can voice chat with up to 50 people at a time or video chat with up to six people.
Tip: Sign your kids up for Messenger for Kids, a special version of the service linked to your account that is designed specifically for young children. You can add select friends to their list from those connected to other parent profiles (to whom you are, in turn, connected with) as well as adults like grandparents, aunts, and uncles. Then, kids can chat in individual or group text-based messages or place video calls to one another, both one to one and in groups. They can also play a few fun games. Parents must approve any new contacts, can set times when the app is disabled, like after bedtime, and can download a full history of communications if desired. It's a great way to allow kids under the age of 13 to virtually communicate with friends and family during a time when they can't physically see one another in person.
Houseparty
Houseparty is getting a lot of attention because not only is it a video chatting app that you can use to talk with up to eight people per session, but you can also play fun games together. Choose a trivia category, for example, and each person will see the question and multiple-choice answers on their screens. Submit your answer, see who got it right and wrong, and compete to find out who wins. There's also a head's up game where one player sees a word and must get the others to guess what it is.
Tip: After you download the app and set up an account, invite friends by sending them a text message prompting them to join. This way, they can easily click one button, download, sign up, and be ready to go instead of searching for the app in their respective app store. They'll be more inclined to join if you make it easy for them!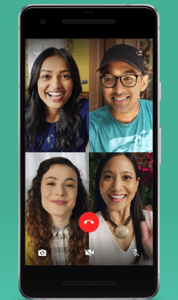 Use this popular messaging app for both text and video chats with friends and family. You can send messages to others using cellular data despite what type of phone they have, so it's an instant messaging app of choice for iPhone and Android device users to communicate with one another without resorting to SMS. You can also send videos, images, and GIFs. And if you want to go live and start a video call, it's super simple: tap the phone receiver with a "+" sign at the top, right of the screen. If you're in a group conversation, you can select which people you want to call and placed your call.
Tip: Set up various groups of people you'd want to call ahead of time to simplify things. For example, have one group with grandma and grandpa, another group with all of the cousins, another group with friends, another with colleagues, and so on. This will also make it easy to select the people you want to call by group and just eliminate the one person you know isn't available at a specific time, for example, while keeping them in the group for the next chat session.
####
WhatsYourTech.ca has more COVID-19 related technology articles you can read; please visit our new dedicated articles listing page.