For those who are working from home, the nice weather can make it tempting to slack off. When you're in an office, you are stuck in that office. But in your own home? Well, it's hard to convince yourself to stay tucked away in your basement office when it's 30 degrees and sunny outside. If you're like me, you might like to move the home office outside every now and then to get some sun. But what gear do you need to allow this to happen?
Here's a look at items that will make creating an outdoor office do-able, including ones I have set up in my own backyard.
WiFi Extender
Having sufficient connectivity outside is essential. It's one thing to lay in the hammock with your earbuds in your ears and laptop in your lap as you go over the latest revenue projection figures. It's another to be unable to access your office files, surf the web, send e-mails, or stream content, or deal with a choppy connection. If the home Wi-Fi connection doesn't necessarily reach all the way to your backyard where you want to set up shop, consider a Wi-Fi extender. You can plug one into a power outlet outside and leave it there permanently or just when you plan to work outdoors.
Consider an option like Google Nest WiFi, which is $229 for the router, $349 for the router with one point, $459 with two points, and $199 for individual points to extend your Wi-Fi signal.
Outdoor TV
You might not initially think there's a need to have an outdoor TV, but the next time you're BBQing while squinting at your smartphone screen to watch the big game, or running in the house to see who scored, you'll realize how beneficial they can be. From a work perspective, they can also come in handy. Turn on the local morning news and catch up on the headlines while you sip your morning coffee and pull out the laptop on the back deck. Plug a USB drive into the outdoor TV to review work documents, photos, or videos on the big screen.
One of the latest outdoor TVs to hit the market is Samsung's Terrace, which boasts a 4K QLED picture, IP55 rating to withstand temperatures as cold as -30 and as hot as +50 (Celsius) as well as water, 2,000 nits of brightness, and voice control. It starts at $5,000 for the 55″, which will start shipping on June 24; come August, you can also grab the matching Terrace Soundbar for enhanced audio for $1,200.
Video Doorbell
What does a video doorbell have to do with working outside? If you're like me and you get tons of deliveries, you will need to keep an eye out for the door. With a video doorbell, you can see who's at the door and if you need to spring up to action to sign for an important package or can see that the delivery man has left the package at the door already so you can take your time.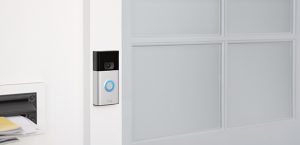 Ring just released its first new video doorbell in years that offers improvements compared to the original like 1,080 HD video (the previous version was only 720p), improved night vision, updated motion zones, and useful features like two-way talk so you can tell the delivery person to leave the package on the porch or tell the neighbour to swing around and meet you in the backyard. $125
Noise-Cancelling Headphones
Making phone calls while outdoors can present its own unique set of challenges. What if your neighbour starts mowing the lawn, cars are going by, or it's a windy day? A pair of noise cancelling headphones can cancel out ambient sounds while you're on a call or just trying to focus on your work. Throw on a pair to listen to soothing background tunes while you work or use the Active Noise Cancellation (ANC) function to cancel out distracting surrounding noise.
The Urbanista Londons are true wireless if you don't want a lot of bulk, and you can isolate sound via active noise cancellation (ANC) technology and adjust settings to hear some surroundings if desired.
Anti-Glare Screen Protector
While there are things you can do to make your laptop screen more readable when in direct sunlight, like up the brightness or simply work in the shade under an awning or umbrella (which will probably be more comfortable anyway), you can also invest in a nice anti-glare screen protector that both protects you from eye strain from the LCD as well as reduces glare from strong light sources. The bonus is that it will protect your laptop screen from scratches.
Another option is to invest in a laptop that has features especially designed for favourable viewing outdoors. One such model is the new Samsung Galaxy Book S, which is lightweight and compact, but most importantly features Outdoor Mode that instantly boosts brightness to 600 nits using a two-key shortcut. The new Galaxy Book Flex has the same Outdoor Mode feature plus Wireless PowerShare for wirelessly charging Qi-compatible devices right on the trackpad, a feature that can also come in handy outdoors.
Outdoor Speaker
Listening to music or radio on low volume in the background while working can really help get you in the groove. Dead silence isn't always the most conducive to getting work done and a lot of people listen to tunes in their offices. So why not be able to do that at home, too, and extend it to the outdoors if you are planning to work outside? Grab an extra-rugged outdoor speaker that is designed to withstand the elements, offers long battery life, and comes in a portable chassis that is easy to move around with you.
For those who own a Sonos system inside the house, the Sonos Move is a logical option. It's the first Sonos speaker that is battery powered and designed for use outside, whether it's on the deck or by the pool. Connect it to a whole-home Sonos system so the same music can continue in the kitchen when you pop inside for lunch. The durable exterior can withstand rain, moisture, dust, dirt, UV, and extreme temperatures. And it is voice controllable as well via Amazon Alexa or Google Assistant so you can ask questions like when your next Zoom call is or to make calculations as you work through last month's numbers. When you're on lunch, crank up the volume and listen to another episode of your favourite podcast or an audiobook.
Related:  Smart Home