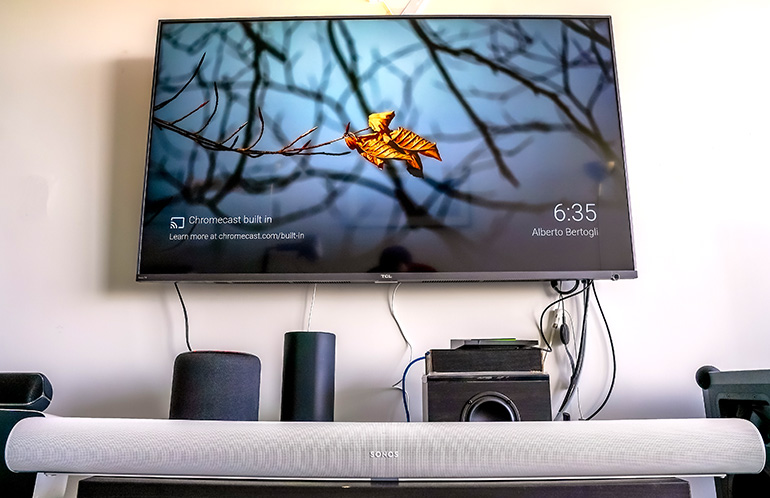 Sonos not only built a whole new sound bar, it also sought to build on its audio chops by including Dolby Atmos support, along with a new app to usher in a new era.
TVs have certainly gotten thinner, slimmer and lighter, but all of that fat-trimming has come with one major casualty: audio fidelity. Built-in TV speakers today are often times much worse than they were on flat-panels that came to market back in 2005-10. Splurging for a new screen shouldn't be hampered by subpar audio, but it's exactly the conundrum that comes with buying a TV today.
The sound bar market is filled with players, yet for Sonos, doing it right has been key to sprucing up its overall lineup. The Beam, which serves as an excellent lower-key sound bar, was missing some of the key features many Sonos users wanted. That's what the Arc was designed to address, and it does so with plenty of gusto.
Design and features
This is a full-sized sound bar dwarfing the size of the Beam. For perspective, the Arc is 45-inches long, whereas the Beam is just shy of 26-inches. It's also taller and deeper, making it important to consider where you're going to put it.
All of this effectively replaces two legacy products for Sonos: the Playbar (2013) and Playbase (2017). Both of those were built to address needs the company felt needed to be filled, but with the Arc, it has truly eliminated the need to go with either one. Expect them to be phased out and discontinued as manufacturing ceases.
Part of the reason I say that is because of what the Arc comes with. It's the first Sonos product supporting Dolby Atmos — a much sought-after feature that it has finally included. The sonic features figure prominently in relation to the connectivity ones, which is why you will need to be certain of what you're looking to achieve here.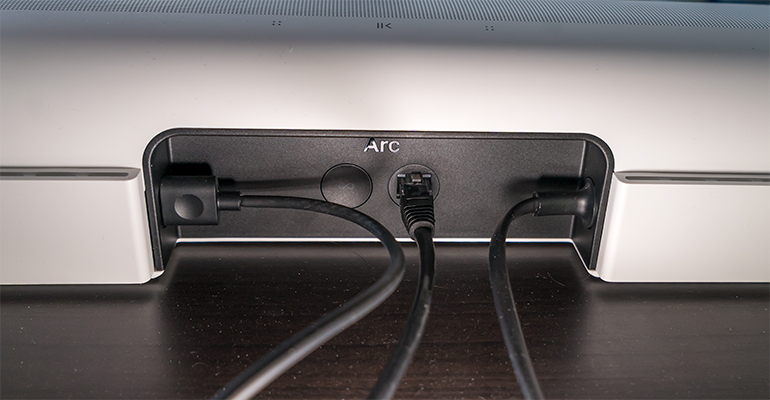 The Arc has an HDMI ARC output that, when plugged into a TV's HDMI ARC or eARC port, means the two can send digital audio and video signals both ways. However, in this case, the sound bar's port is strictly output-only. There is no separate HDMI input that would enable it to work with an audio receiver, for instance. If your current setup includes a receiver, you will have to be creative in getting the setup you need. If yours doesn't, then you won't have much of a problem — unless your TV's HDMI outputs are already taken.
Generally, TVs are equipped with four HDMI ports, with a few exceptions. The Arc will need one of them, leaving you three others. You could choose to use a Toslink optical audio adapter to use that port on the TV, but I would advise against it for the simple fact you won't get the full gamut of what this sound bar can do.
While the Arc is equipped with support for Dolby Atmos, Dolby Digital Plus, Dolby TrueHD and the standard Dolby Digital 5.1, your TV needs to support them, too. Atmos is the least common, as not all content is coded with it. But when you can have it, you should use it, for the outstanding surround sound effect. More often than not, however, you would be getting Dolby Digital Plus or Dolby TrueHD from your TV (make sure to configure it in your TV's audio settings if it doesn't automatically switch to it). But you can't get either of those without using HDMI ARC or eARC on your TV. With an optical audio adapter, the best you can hope for is Dolby 5.1.
I know this might seem confusing if you're not 'in the know' on sound bars, but it's important when talking about a $1,000 product.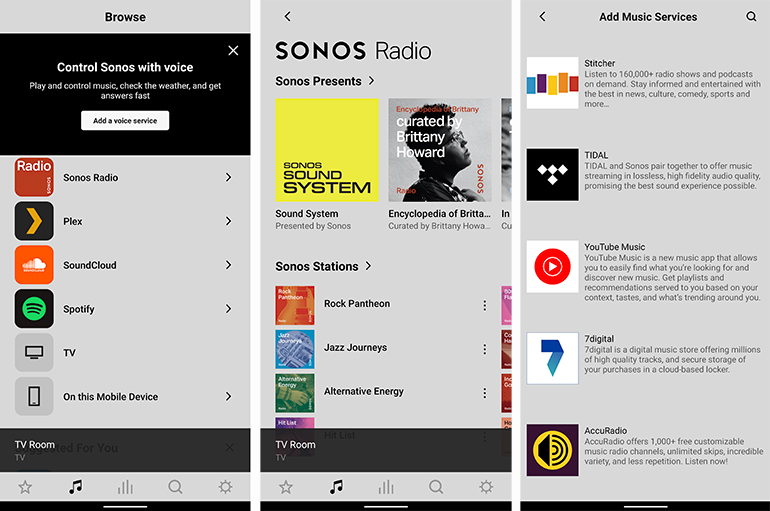 Sound setup
There's more at work here because the Arc also represents a software departure for Sonos. Coinciding with its launch is the Sonos S2 app, an updated operating system that will effectively cut off access to older legacy products. However, that doesn't mean the company is abandoning ship, it's just using two separate apps. The Sonos S1 app will still work with previous products, whereas the new S2 app (simply called "Sonos") will work with the Arc and select other products going back a decade.
The Arc will force you to use the new S2, so if you have something really old kicking around still part of your Sonos system, your only option is to basically run two concurrent Sonos systems. Or you can trade in the old gear towards something newer. Unless you have something that old, the move over to S2 shouldn't be inconvenient.
Then there's TruePlay, Sonos' tuning software that uses a smartphone's microphone to measure a room's acoustics for the best possible sound profile. Trouble is, it's still an iOS-only feature, so Android users can't use it unless they borrow someone else's iPhone to set it up.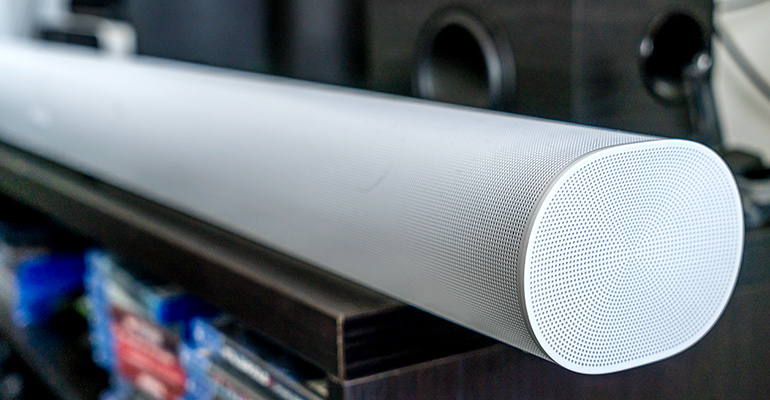 Audio quality
Sonos' mantra for sound has always been to try punching above its relative weight, as well as making sound feel inclusive and resonant. The Arc is, in effect, the truest take on that because it audibly delivers at every turn.
The sound bar has 11 drivers, with two facing up, plus another two facing out on either end. It's a spatial setup designed to make sound bounce off surfaces and feel like it cascades over and around you. While Atmos is the pinnacle of its performance, that's not to shrug aside the other Dolby features. Even at standard 5.1, the quality is impressive.
That it's such a huge upgrade from a TV's speakers isn't the surprising part. It's the fact the Arc can come across so powerfully. For me, it's even better to pair it with two Sonos Ones as rear left and right channels for surround sound (you can also do this with two Play:5s or Ikea Symfonisk speakers). By taking some of the spatial work away from the Arc, the drivers can focus on firing everywhere else. Whether it's streaming content or video games, the sonic impact was such that I put the volume at 4/10 and my living room boomed with every explosive action onscreen.
While a Sonos Sub would take the bass to another level entirely, I haven't felt like I really needed it. Smaller spaces, like condos and apartments wouldn't get the full benefit of using the Sub anyway, which is why I recommend going that route if a) you're in a house and b) you have the budget for it.
For music, the Arc is no less capable. Rich and clear, it doesn't matter what genre you're playing. If I was pumping house music during the day and late night jazz in the wee hours, the results were wonderful. I should caution, though, that discerning ears may catch differences between genres. For example, playing classic jazz or rock, you may find instrumentation hits a wall. Not in a terrible way, mind you, but just enough to notice.
There is such a thing as Dolby Atmos music, which offsets those limitations, but finding it isn't always easy. For starters, many songs aren't mastered or remastered in it, and Tidal's HiFi subscription service is one of the only avenues you can find them in.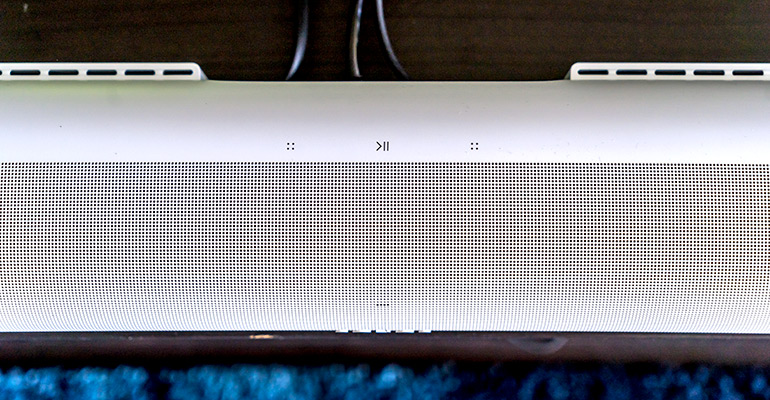 Voice assistants
I would be remiss if I didn't mention this part, though it's not dramatically different from before. The Arc supports both Amazon Alexa and Google Assistant, where you will have to choose one as the primary option. Coming from the Beam, where I used Alexa all the time to raise or lower volume, among other basic tasks, the access also means compatible smart home products are equally accessible.
For Mac and iOS users, AirPlay 2 support is of great convenience when you want to move any audio content to the sound bar. What's cool about this is that you can effectively play audio from YouTube (though ads can sometimes mess it up), which adds to the content pool available.
A big investment
Sonos has a solid track record in making products that last, despite its recent missteps in how it dealt with retiring older devices consumers wanted to trade in. The Arc is not just a massive upgrade on TV speakers, it's also a considerable one from the Beam. Going with this will be a noticeable improvement from much of what's available at a similar price point.
And it should be. Spending $1,000 on a sound bar means the Arc may be more expensive than the TV itself, depending on what you have. Add a couple of rear surrounds and a Sonos Sub, and you're already north of $2,000. Expansion is up to you, of course, and not a choice you have to make until you're good and ready. The Arc will hold its own just fine in the meantime.