Panasonic's newest product offering not only expands its family of rugged mobile computing devices, but it also opens up a new ecosystem for customers using or transitioning to the Android operating system.
The new Toughbook FZ-A3 tablet and the productivity+ suite of Android service and solutions from Panasonic are described as purpose-built for today's mobile workforce – and all the new physical and sanitation norms that the workforce faces.
(Panasonic notes, in a sign of those new norms, that it has "rigorously tested" its Toughbook devices against the prolonged use of disinfectant wipes, with various anti-bacterial agents used to wipe several areas on the outside of the device at a specific pressure and fixed frequency more than 10,000 times.)
More than new gadgets, Panasonic's productivity+ suite is a multi-faceted offering that includes hardware, software, and professional services, along with an extensive network of support partners focused on the modernization and digitization of rugged mobile devices.
As Logan Stewart, Panasonic Canada's Toughbook Business Manager reminds, the company has been working in that rugged space for almost 25 years.
Yet changes in technology and the environment in which that technology is used have pushed evolutionary developments and new priorities in different areas of the sector.
Yes, hardware that is rugged and resilient enough to function capably in settings where consumer technology cannot is crucial. But important, too, is a robust and sustainable operating environment that allows for customizable development that meets unique user requirements.
Stewart listed a number of such users of rugged technology and Panasonic product line, including of course first responders, public safety workers, and EMS teams; security and military service workers; other government agencies as well major enterprise customers in telecom, oil & gas, hydro, warehousing and mining, to name but a few.
And while many of these users have been working with the widely adopted Windows CE mobile operating system for some time, that OS is "end of life" and, especially in the rugged mobile or handheld space, Android is becoming the OS of choice.
"No matter where they are, mobile workers need the right tools. They need hardware that is highly rugged and can keep them working in the field as long as possible," itemized Stewart. "They need software that is secure, reliable, and productive. Of course, service and support are equally important for both. So we've introduced the FZA3 10.1-inch tablet and the Android suite."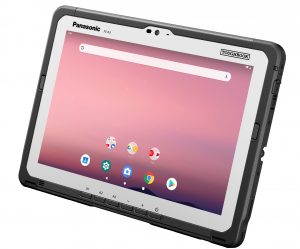 The 10.1" 1920 x 1200 pixel screen on the new tablet has a 500 nit brightness and a 2000:1 contrast rating, and it's treated with an anti-reflective coating to combat glare. In-field workers need strong visibility from their screen, Stewart described, and that's something designed into the device so workers can see beyond the glare of a mid-day sun or strong overhead lighting.
What's more, the device supports wet-touch and gloved work environments, he added. The touch screen's sensitivity can work with both glove and skin contact, meaning workers do not have to put on and take off protective equipment just to use their computer, and it can distinguish rain or water droplets and prevent them from triggering the touch controls or disrupting the user interface.
Having enough power to get the job done, especially in remote locations where charging stations are not a possibility, is imperative.
The FZ-A3's battery life is rated for all-day use with its two standard batteries. LEDs on the back of the tablet show a low-battery indication for each battery, and an LED on the front of the tablet shows a charging status as green, orange while charging and red when the batteries are low. Users can hot-swap batteries to keep going, and Panasonic offers 5,580mAh extended batteries.
Of course, a Toughbook has to be tough, and Stewart noted that the company is proud that its new tablet passed tests giving it one of the sector's highest ratings – a five-foot drop test to concrete, six to hardwood. Ouch!
To meet the needs of a mobile work environment, the FZ-A3 features several connectivity options, including the usual NFC, WiFi, Bluetooth, and GPS, but also a 4G LTE band for use by public safety agencies and emergency responders.
A mobile computing device also has to be customizable, due to the wide range of potential users and applications. So the new Toughbook has five user-definable hot buttons to trigger specific functions or launch often-used apps.
There are also optional gadget areas, Stewart described, where users can add optional barcode scanners, smart card readers, USB ports, or other devices.
And, of course, it's all running on Android, specifically the Google Android Enterprise operating system that brings extra enterprise security and control features such as high-grade security and verified boot and execution software.
The Panasonic productivity+ suite also gives the user the ability to rewrite applications, configure device settings, and define user access for the devices. IT managers can custom-configure, deploy, and sustain new devices while maintaining compatibility with legacy applications.
Stewart outlined how Toughbook device owners benefit from not only multi-year, global warranties but, when needed, from a local network of authorized repair and service providers as well as from Panasonic's service centre in Mississauga.
He added that the company is working with a number of partners to develop accessories –such as docking stations – for its Toughbook products, and within a few days of speaking to him, word came from Havis Products in the U.S. that is is offering a full line of docking stations for the A3 tablet, including compatibility with all tablet configurations and options, including barcode reader, extended battery, smart card, as well as access to the A3's buttons and ports.
The full family of Panasonic TOUGHBOOK rugged mobile devices for Android now includes:
TOUGHBOOK A3 – 10.1" Tablet (new)
TOUGHBOOK L1 – 7" Tablet
TOUGHBOOK T1 – 5" Handheld
TOUGHBOOK N1 – 4.7" Handheld
-30-