How we work continues to be impacted by social distancing and the closure of offices, for many. Business communication and productivity has found a way, nonetheless, with digital communication and learning applications providing a strong foundation.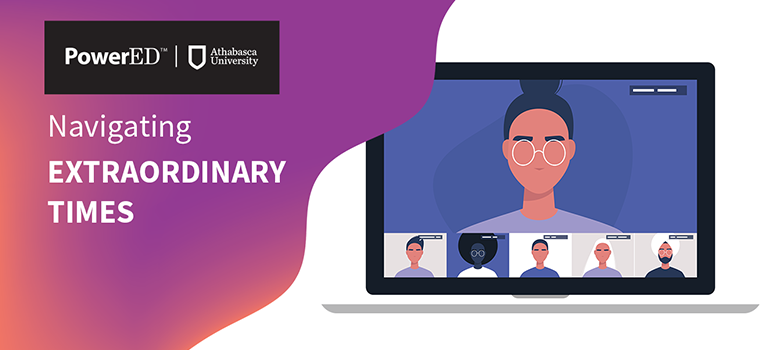 Lauralee Sheehan, Founder & CCO of Digital 55, recently developed "Navigating Extraordinary Times," a free micro-course in partnership with PowerEd by Athabasca University, that teaches leaders how to navigate our new COVID-shaped reality.
New Leader & Team Dynamics
Navigating Extraordinary Times addresses how to reflect upon today's changed work environment, and offers strategies to strengthen leadership and teamwork. Learning objectives include re-evaluating what is possible within present conditions; reconnecting with one's capacity to practice influence and control in the face of constraints and limitations; supporting the health and wellbeing of oneself and one's teams; and bringing intention to leadership in a time of crisis.
"We talk a lot in the course about empathy, vulnerability and resilience in order to build frameworks leaders can use to support these practices, and regard them as critical in today's workplaces," stated Sheehan. "The goal is to foster inclusive and safe spaces for people to work."
"It was surreal to be building a course during an unprecedented global event about navigating said unprecedented global event — especially one that is still continuously unfolding and changing," shared Sheehan. "We had to be more agile and work more rapidly than ever before, which is saying a lot considering that our regular workflow is already incredibly fast-paced."
Added Sheehan, "I feel strongly about advocating for equity and believe "the next normal" should, by design, include as many voices and perspectives as possible so I'm very proud of this project.
Humanity-Centred Design
"There's a new term being thrown around: humanity-centered design, which is the next iteration of human-centered design, and I think it's a pretty appropriate term for the future of digital design," remarked Sheehan.
"Humans are going through a lot right now — there is so much social disparity and injustice. A multiplicity of voices and experiences truly help create diversity in storytelling and provides experiences that are much deeper than just A to B connections."
"Diverse design teams are critical because as designers, we have a responsibility to disseminate complex human experiences and stories," explained Sheehan. "We create experiences that directly impact the lives of others, and yet we generate ideas that are the result of our own personal history. The quality of ideas that we can generate with a diverse team is much richer…."
Online Learning in a post-COVID future
"Blended or hybrid learning is really the way of the future," revealed Sheehan. "Blended [learning] helps support and stack capacity and critical knowledge through different modalities, including online learning, which will become more integrated into every part of learning.
"The rise of "edutainment" — educational entertainment — will also be super integrated into online learning," shared Sheehan. "Think of Things Explained on Netflix or Blue Planet, which sort of started the whole trend of next level factual entertainment. There are so many integrations we can think of in terms of the Internet of Things for learning (How many articles do you have saved on Pocket to read?) and the inclusion of digital components is key to blended instruction."
"Gone are the "mom jean" days of digital learning — learning experiences can now be just as digitally refined as any other online experience and people can use online learning for further exploration." Added Sheehan, "the YouTube vortex is real, but there is something to be said about micro content and stacked learning."
Related:  Distance Learning