It's a tough time for parents of school-aged kids right now who must make the difficult decision about schooling. Due to COVID-19, kids in most provinces have the option of going back to school in person, either full or part-time, or opting for distance learning instead.
Regardless of which option you choose, kids will resume their education come September. And there are products and gear they'll need and/or can use, whether they'll be working from home or in a classroom.
So what will they need in terms of technology? Here's a handy checklist.
A Computer
One of the most essential items students of all ages will need is a computer, especially if they will be taking part in in distance learning from home. While you might have a family computer, each child will require their own personal device from which to work. Chromebooks are the most affordable and logical options. I reviewed a number of Chromebooks earlier this year, and two in particular stood out for students. The Lenovo C340 is a simple option that appeals to kids because it flips all the back around to be used in tablet mode for gaming, watching videos, and other downtime activities. But the Asus C423, which my 8-year-old son uses, is the perfect size to suit kids that age all the way up to high school. It has all of the features they'd need, from the ChromeOS to access to the Google Play store, Bluetooth, a lie flat design (it doesn't totally rotate to tablet mode), touch screen, and full-sized keyboard.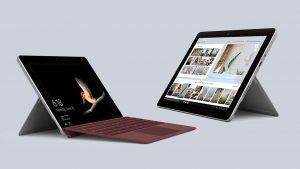 For older students who need something more robust, there are plenty of affordable Windows-based laptops, like the Microsoft Surface Go 2. Starting at $529, it is just as portable as a Chromebook but comes loaded with the Windows OS for more data-intensive applications. It has a 10.5″ touchscreen, battery that lasts up to 10 hours, and optional LTE Advanced connectivity in addition to Wi-Fi. Want to win one? Enter our contest.
A Printer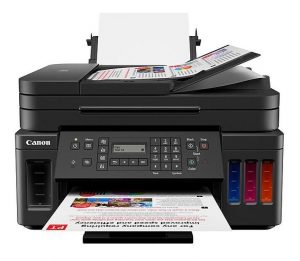 Yes, a printer is still necessary, especially if you expect your child to be doing a lot of schoolwork from home. Even if assignments are delivered virtually, kids might find it easier to print them and view them on paper. This is a good idea regardless to ensure that they aren't staring at a screen all day long.
The idea of a printer that doesn't require you to change ink cartridges constantly is a student's, and parent's, dream! The Canon Pixma G7020 Megatank all-in-one printer is one such option. Instead of ink cartridges, it has refillable ink reservoirs that can yield up to 6,000 pages of black and white text or up to 7,700 color pages per ink bottle set. With a 350-sheet capacity, kids can get all of their homework done with ease. $450.
For something affordable and small that won't take up a lot of room, especially if your child doesn't have a dedicated workspace, the HP Tango is an interesting option. It appeals to kids because it works entirely wirelessly so they can print from anywhere; even by voice using Alexa when within range. And parents will love it because it can sit on a side table in the living room and not look out of place. It's ideal for work, school, and occasional printing needs. At a $179.99 value, enter our contest for your chance to win one.
Smartphone
When it comes to smartphones for students, you'll likely want something premium and new but that also won't break the bank. A great option in this category is the TCL 10L, which costs just $345 outright but comes with premium features like a sizable 6.53″ screen, Qualcomm Snapdragon 665 Octa-core processor, 6GB RAM, quad rear cameras with dual LED flash, and up to 64GB of storage, expandable up to 256GB via optional microSD card. Enter our contest for your chance to win one.
Another adorably cute and brand new smartphone that students will love is the Google Pixel 4a, which starts at just $479. It has tons of storage, comes with three months of YouTube Premium, has a fabulous camera, and an all-day battery along with Quick Charge capability.
Other Tech
A great supplementary learning activity for kids is to learn a second, or third, language. And there's plenty of software available to help them do that. While there are free apps like DuoLingo, they are limited unless you opt for the paid tiers. Babbel helps you learn several languages through various subscription plans and expertly created courses tailored to everything from the basics to specific topics like travel and business. If you're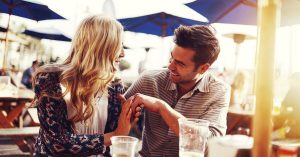 interested in learning another language with your kids, from French to Italian, Spanish or Indonesian, enter our contest for the chance to win 5 years of language learning for FREE with Babbel