A recent report of Canadian elementary and middle school teachers revealed its collective desire to increase STEM skills and knowledge, improve digital literacy, and participate in greater professional development related to STEM.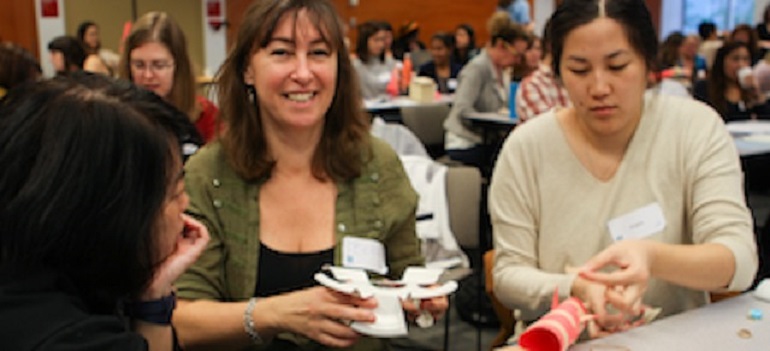 Actua, a Canadian charity and the largest science, technology, engineering and mathematics (STEM) youth outreach network, undertook this national survey in September 2020. Its goal was to discern opportunities for teacher professional development, specifically related to teacher confidence and skills in the delivery of hybrid learning, which continues to be critical for meaningful student education during the COVID-19 pandemic.
Survey highlights include:
94% of teachers agreed there is room to improve their digital and STEM skills, yet half of those surveyed said there were limited opportunities to pursue professional development.
Women teachers stated they are more likely to say they lack confidence in their ability to teach digital and technology skills (39 percent) compared with men teachers (19 percent)
Less than half of teachers say they have the confidence to teach digital and technology skills
More than half of teachers cited a lack of opportunities, as the main barrier inhibiting them from developing their STEM learning and digital professional skills.
To this last statistic, I asked Jennifer Flannagan, Actua president and CEO, to describe some of the barriers that teachers face.
Flannagan responded, "Our survey revealed that Canadian teachers clearly recognize the importance of digital skills and STEM knowledge for their students– yet there are clearly barriers preventing them from advancing their skill sets further."
"Half of teachers said there are too few opportunities available to them," said Flannagan.
"Time and cost were also cited as significant barriers. This is incredibly important information in order to understand the gaps and challenges faced by teachers to ensure new training resources and professional development that suits their current realities and needs."
In terms of government investment in teacher PD, Flannagan shared, "while … teacher training is a provincial government responsibility, the federal government has recently stepped up with $30M in funding through their CanCode initiative to support digital teacher training programs through organizations like Actua." Flannagan added, however, "While this level of investment by the federal government is welcome, it is not enough for the significant gap in resources, training and support being shouldered by teachers to integrate digital technologies into their classrooms."
Actua launched its own national Teacher Training program in 2018 to provide K-12 teachers with professional development opportunities in STEM.
Said Flannagan, "The Actua network now engages over 15,000 teachers annually in every region across Canada. The program is designed to provide teachers with relevant, timely and accessible resources to help them equip today and tomorrow's youth with in-demand STEM skills."
Actua teacher training covers topics such as coding and digital skills, robotics, artificial intelligence, cyber security and digital citizenship, engineering design/design thinking, makerspace education and others. Explained Flannagan, "All of the resources are based around developing competencies including computational thinking, creativity, and critical thinking."
Furthermore, said Flannagan, "Our survey revealed that although more teachers prefer in-person over online professional development formats, almost all agree that online formats would be helpful in developing their skills. Given the time, cost and availability barriers teachers face to professional development — and acknowledging the ongoing uncertainties around in-person gatherings and travel, there is a strong case for developing and widely distributing high-quality online STEM and digital skills development opportunities for teachers across Canada."
As the 2020-2021 school year continues to be delivered in multiple formats to mitigate COVID-19 risk, Flannagan stressed the importance in supporting digital skill development, now.
"… The COVID-19 pandemic has accelerated Canada's transition to the digital economy and in doing so, has highlighted that there is still very much a digital divide," shared Flannagan. Many students in Canada lack access to the internet and to technology at home. As we prepare youth with STEM skills, we need to ensure we are not leaving behind large segments of our population in this critical future workforce."
"Our teachers," said Flannagan, "are crucial agents for change and are tasked with this important responsibility and need the support and training to integrate these subjects into their classrooms. Now more than ever, we must harness this momentum and prioritize the urgent need to equip teachers and students with STEM skills."
"The challenges we're facing as a global community are growing increasingly intricate, requiring robust solutions centred on innovation, tech, science and medicine," Flannagan stated. "To develop solutions and further Canada's innovation, our current and future generations of students need to be equipped with skills and confidence for STEM."
"STEM education is no longer just about creating our next generation of scientists and engineers," remarked Flannagan. "Rather, in our increasingly digital world, all students will need an understanding of the core principles and applications of STEM to succeed in life and careers across multiple sectors."
"Unfortunately," added Flannagan, "COVID-19 has worsened Canada's digital divide, further restricting some youths' access to STEM learning. The pandemic has disproportionately negatively impacted Indigenous youth, at risk youth and those living in remote communities. To ensure we do not take major steps back in diversifying our STEM fields for the future, quick action must be taken now to support the learning of our most vulnerable youth. Post-pandemic efforts to support youth are critical for us to rebuild our economy in the medium term."
Summarized Flannagan, "the great news out of this recent survey is that Canadian teachers believe that STEM skills and knowledge are important to ALL students' future education, careers and citizenship."
More on STEM and stem skills