This year more than ever is going to be a tough one for young kids. While Santa and his elves are all immune to coronavirus (thankfully, this has been confirmed by scientists!), most families will not be getting together with extended relatives or big groups of friends to have large gatherings. It will just be parents and kids at home, enjoying a quiet Christmas in.
But there are lots of ways you can entertain kids and get them into the Christmas spirit even if they can't see their grandparents, cousins, best friends, and neighbours. And tech helps. Here are some creative ideas to make Christmas extra special this year for the kids.
Augmented Reality Photos and Videos With Santa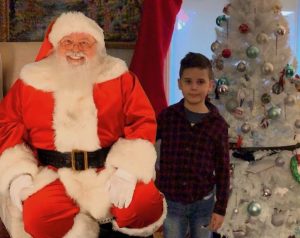 ImagineAR has a really neat feature in its app, available for both Android and iOS, that allows you to place an augmented reality (AR) Santa right in your home so you can take a virtual photo of him with your kids. It even goes a step further with animated Santas for taking videos, like a dancing Santa and Santa playing the guitar. Download the free app, click "AR Near Me" and the Santa options will appear. Hold your phone steady, pointing the camera at where you want Santa to pop up, then adjust his size and positioning until it's just right. It might take a few minutes to get him to appear in the correct spot and a bit of a learning curve if you have never used an AR app. But with some patience, it works wonderfully.
Get the kids all dressed up then line them up to take their photos with Santa by simply listening to his audible queue to come pose a pic, then tap the virtual button. Make shirt to hand them a candy cane after and print out a copy on your home printer. To shoot a video, follow the same instructions except press and hold the button to record.
Make sure to save the video or photo to your camera roll once done.
Fun Baking Projects
While you probably already have sugar cookies and gingerbread on the baking roster for the holidays, consider getting even more creative with new kitchen projects for the kids. An ice cream maker like the Cuisinart Cool Creations Ice Cream Maker would be a fun family gift so the kids can each make their own delicious frozen treats for dessert, including not only ice cream but also gelato, frozen yogurt, or sorbet.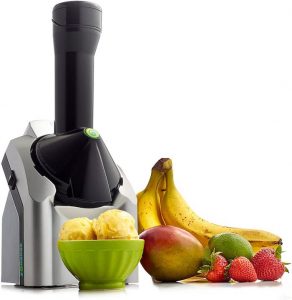 In my household, we love the Yonanas machine, which allows you to make fruit sorbet that has an ice cream like texture without any milk or cream – perfect for those who have issues digesting lactose. All you need to do is defrost frozen fruit for about eight minutes, then feed it through the chute and push it down where it will come out at the other end with a smooth texture. Mix and match fruit, add other ingredients, and have fun with it. My son and I have made a smores dessert before with partially frozen bananas run through the machine topped with graham cracker crumbs, melted marshmallow, and chocolate sauce. You can find the classic machine for about $40.
Dance Party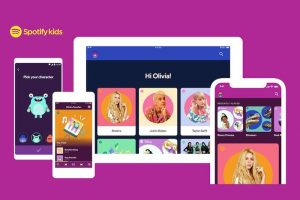 Along with the AR dance party with Santa, you can also keep the music going so the kids can have even more fun. With Spotify Kids, which is part of a Spotify Premium Family subscription (first month free than $14.99/mo.), kids can enjoy their own version of the app, listening to kid-friendly content, music, and audiobooks. They can discover new music or listen to songs from their favourite movies or artists. There are Party Jams that are perfect for boosting their mood, too. You can also just set up a fun playlist in whatever music streaming service you use, like Spotify or Apple Music, that contains all of their favourite Christmas hits. Decorate a room of the home, have them dress up, set out a drink station with juice boxes or smoothies in fancy glasses, and they can pretend they're at a big party.
Online Video Game Party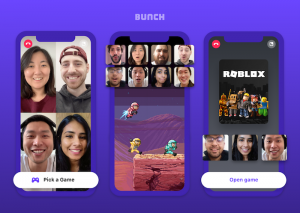 While you'd normally want to prevent your kids from having too much screen time, nowadays, it's the only time they can spend with their friends and extended family due to social distancing. And one of the most popular activities is to play games. Apps like Bunch make it easy for people to play together, while still physically being apart. Available for both iOS and Android devices, it's a group video chat app designed specifically for multiplayer games. It comes bundled with games like Draw Party, Mars Dash, and Trivia, and works with other popular games, like Among Us, Roblox, and Minecraft so you can chat while you play. Up to eight people can play together at a time.
Amazon Prime Video Watch Party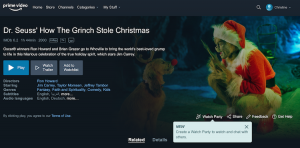 Amazon recently launched a new Watch Party feature for Prime Video subscribers, which allows you to sync up a movie or TV show with someone else remotely and watch together. There's an interactive chat section where kids can share their thoughts while watching, and the host can pause playback for everyone if someone needs a bathroom break, for example, or wants to get snacks. You can connect up to 100 friends or family members (everyone has to have their own Amazon Prime account), then sit back and watch a Christmas movie together, like How the Grinch Stole Christmas, National Lampoon's Christmas Vacation, or check out some new and inspirations content like Amazing Christmas Recipes For Kids.
Charades App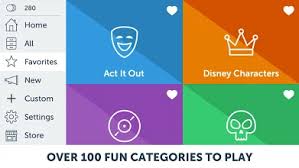 Have family game night, playing board games, or go high tech by using an app like Charades! for a night of physical fun and silly antics. Download the app on either an Android or iOS device, like a communal tablet you can pass around, then draw a card to see what you have to act out. It includes everything from dancing to impersonating celebrities, trivia questions, and more in over 100 themed decks, from the '70, '80s, or '90s to movie character or dance moves, and 400+ gameplay cards. Just tilt the phone up or down to draw a new card, then try and get your family members or partner to guess what you're doing before the timer runs out. It's a great game the whole family can enjoy. If a younger child pulls a card with something they don't understand, it's easy for them to just draw again. No score keeping is needed, though especially competitive families can assign points if they wish.
related:  Kids and tech