Not everyone celebrates Valentine's Day, but for those who do, the celebration might include gifts for a loved one, close friend, or romantic partner. And this year, the best gift ideas are a bit different, or at least they should be.
There won't be any date nights at a restaurant or vacations, and there isn't much need for fancy jewelry without anywhere to wear it to, at least for the first half of this year. Skip the usual items that will only serve as reminders of the things we can't do right now. Instead, the most thoughtful Valentine's Day gifts for 2021 will keep the pandemic in mind and consider ways to make life easier, fun, and relaxing while we spend more time at home.
Not sure what to get? Here are some ideas.
Urbanista Miami Active Noise Cancelling Wireless Headphones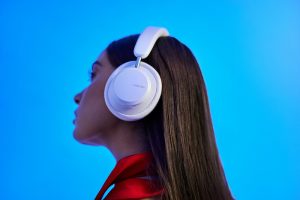 While you might love your partner to death, spending 24/7 with them – especially if you have kids as well – is enough to drive anyone crazy. Yet this is a situation many households find themselves in this year, especially if both partners are working from home. Some quiet, solitary time might just be what the doctor ordered, and your partner can achieve this by locking themselves in a room, putting on their favourite playlist or podcast, and relaxing for an hour with a pair of active noise cancelling headphones.
The Urbanista Miami headphones offer up to 50 hours of battery life per charge, or up to 40 hours with ANC mode on. If your partner decides to go for a walk around the block, the Ambient Sound Mode will ensure they can still hear their surroundings. And no need to pause the music when the kids are calling or you hear the doorbell: as soon as you remove the headphones from your head, the audio automatically pauses. Grab them in pearl white, midnight black, teal green, or – perfect for Valentine's Day – ruby red. Keep in mind that these new headphones aren't available just yet, but you can pre-order them for delivery by mid-February for US$149.
Skullcandy Mood Boost Indy ANC True Wireless Earbuds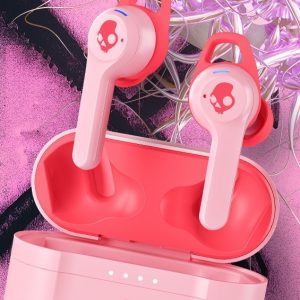 If you want to go the earbuds route instead, the limited-edition Skullcandy Mood Boost Indy ANC true wireless buds feature an exclusive mood boost art print by London-based artist James Dawe and come in a colour called "feisty pink." But what truly sets them apart from any other pair of true wireless earbuds with great specs and sound quality is that, with every purchase of the limited-edition bundle, Skullcandy will donate towards the non-profit movement To Write Love on Her Arms, which is dedicated to presenting hope for those struggling with depression, addiction, self-injury, and suicide. The earbuds offer up to 32 hours of continuous listening using the wireless charging case and boast Active Noise Cancelling (ANC) technology to provide the same immersive listening experience as a pair of over ears when your partner needs some "me" time. US$130
Grovemade Wood iPad Stand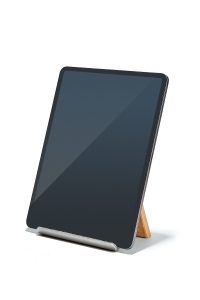 Help your loved one add style and functionality to their home office with the convenient Grovemade Wood iPad Stand that makes it easy to neatly integrate the Apple tablet into your workspace. Available in either black walnut or hardrock maple, a wool-lined stainless-steel holder keeps the device secure. Natural cork on the bottom provides extra traction while cord management keeps the charging cable out of the way. Use it to hold the tablet in either landscape or portrait mode. Grab it for US$70.
Limited Edition Tile Bluetooth Trackers
If you're familiar with Tile Bluetooth trackers, you know how they work: attach one to a valuable item,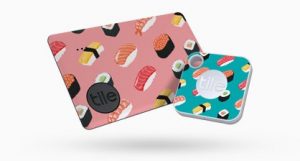 whether it's a key ring, camera lanyard, wallet, gym bag, or pair of headphones, then pinpoint the item's location using the mobile app should you lose or misplace it by ringing the Tile or seeing its location on a map. That's especially useful nowadays if you don't want to have to re-trace your steps to every grocery store, gas station, take-out restaurant, office, and other venue you've been to recently during a time when you should be limiting travel outside of the home. Imagine going back to the grocery store and waiting in line just to see if you left your house keys at the checkout when they were actually stuck between the couch cushions the whole time?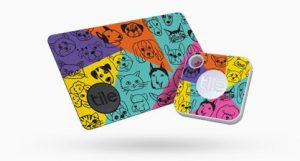 The limited edition Tile Bluetooth trackers come in cool finishes that are perfect for Valentine's Day, like ruby red. Or go the more playful route and get one in a design that perfectly fits your loved one's personality, with images of cats and dogs, space, flowers, or even sushi. Get either the Pro or Slim, or a two-pack with one of each, starting at about $32.
Denon Home Sound Bar 550
Chances are you're spending most of your downtime together doing things like binge-watching TV shows and movies in the living room with popcorn and wine. In fact, this might very well be the plan for a quiet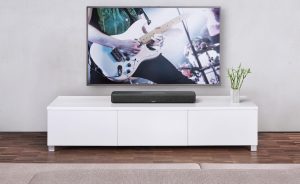 Valentine's Day in. If you haven't yet invested in a full home theatre set-up to go with your big screen HD or 4K TV, consider the new high-performance yet also compact Denon Home Sound Bar 550 that can provide a better sound experience while you watch the latest action movie, binge watch The Boys or The Queen's Gambit, or stream music from your phone. It delivers Dolby Atmos and DTS:X 3D surround sound to provide an immersive sound experience. Stream audio from the most popular services over Wi-Fi, AirPlay 2, or Bluetooth; or even your local music library using HEOS. It's also Roku TV Ready, verified to work seamlessly with Roku TVs if you own one. By the Spring, Amazon Alexa voice control capability will be added via a firmware update so you can easily control playback without having to move from the comforts of being under your warm throw blanket. US$599
Amazon Echo Show 10 Smart Display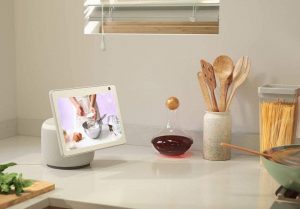 Yes, you'll have to deliver this new smart display in the form of an IOU as it isn't officially available until February 25. But it might just be worth the wait for a special someone. It has a 10.1-inch HD screen like its predecessor, but the cool new feature: it can rotate on a base to follow you as you move. So, if you're multitasking and talking to friends while cooking in the kitchen or doing a virtual exercise class, even as you move, you'll always remain in the frame.
It also has a 13MP built-in camera with auto-framing for snapping photos and works with Zigbee compatible devices, without the need for a hub. Of course, it can also do everything else you'd expect from an Alexa-enabled device, including playing music or videos from streaming services like Amazon Prime Video, answering queries, and controlling other smart home devices, including displaying live footage from a compatible security camera, like those from Ring. You'll be able to get it in charcoal glacier white for $330.
Check out our contests and enter for your chance to win a cool tech prize for your Valentine!