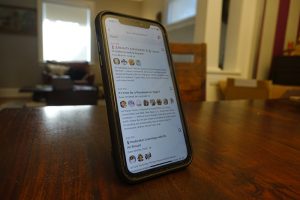 There has been a ton of chatter of late about a little-known iPhone app called Clubhouse, and it has been taking the tech and professional world by storm. But how does it work and, more important, how do you get invited to this exclusive app?
What Is Clubhouse?
The idea behind the app, which was created by Alpha Exploration Co.'s Paul Davison and Rohan Seth in 2020, is to serve as an audio-only virtual meeting space where members can join conversations and presentations at any time, listening in on a wide range of topics and speakers from Silicon Valley executives, entrepreneurs, journalists, and even celebrities. By January 2021, thanks to participation from well-known tech names like Elon Musk and Mark Zuckerberg raising the app's profile, Clubhouse reached a valuation of $1 billion. As at mid-February, the app has more than eight-million members.
The concept is simple. Once you have been granted access, you can poke around to see what's going on. At any given time, discussions are taking place on a wide range of topics, from a neuroscientist discussing how to heal anxiety, to a talk about NBA top shots, women in tech, Bitcoin, business growth strategies and mentorship, and even a singles night for those looking for love.
You can join a room, listen in to see if you like what you hear, and sneak out at any time by tapping the "Leave quietly" button. You can ping someone in the room or virtually raise your hand, turn on your
microphone, and wait for the moderator to grant you speaking privileges within the room. In most cases, one person, or a small group of people, are talking while others are listening as though they are in a virtual audience. Every room has a moderator who keeps an eye out for unacceptable chatter or behavior. You can also tap a button to report a speaker should you believe they have violated rules. Even with these safeguards in place, however, as with any other Internet-based service, there have still been complaints relating to everything from Anti-Semitism to sexism, an issue that will have to be examined more closely should Clubhouse's profile continue to rise.
Want to start your own discussion? That's simple as well. Tap the "start a room" button at the bottom of the screen. You can make it open to anyone, a social group, or closed to only those you invite, and attach a topic to it so that others who are interested can participate if you permit them to do so.
Looking for something, or someone, specific? Go to the Explore tab and you'll see suggestions of people to follow as well as various topic categories like Life, Arts, World Affairs, Wellness, and Entertainment, and find conversations going on about them that you can join. For example, click Entertainment and a group pops up called Tech Talks that describes themselves as "a group for diverse individuals from all walks of life, diverse backgrounds, industries, and departments," some of whom have tech backgrounds and others who do not. Look under "Hanging Out" and there's a group called "Dear Young Queen" where professional women can share stories of the offensive things they deal with day to day. If you want to get political, there are rooms focused on that topic as well, along with LGBTQ+ rights, Black issues, and more.
Once you join a "club," you'll get notifications when a session is taking place and you can participate. It's a great way to network, meet others, and build your knowledge base on a variety of subjects, share your ideas, and gain diverse perspectives.
In settings, set up notifications so you know what's going on at any given time: note that Normal frequency will see notifications constantly being pushed to your device about rooms that have begun so you might want to set them to Infrequent. If you select various Interests, this will also tailor the types of notifications you receive to ones that might be most fitting to you.
That's really all there is to it. No video, no text-based chats or photo sharing. Just audio. It's like a constant conference with unlimited seating, no standing rooms. Everyone joins from the comfort of their living rooms or offices and can learn about, get perspectives on, and share ideas about a variety of topics with people from all over the world.
How To Get Invited to Clubhouse
Now comes the big question: how do you get invited to Clubhouse? That's a bit trickier.
The app, which is only available for iPhones at the moment (Android support is reportedly coming this year), is only accessible to those who have been invited. Browse members, each of whom you can follow, and you'll see celebrity names like Mark Cuban, entrepreneurs like Max Mullen, the founder of Instacart, tech moguls like Bill Gates, and entertainers like Tiffany Haddish along with professional people from all walks of life.
The idea is to keep the app exclusive to professionals. But once you're in, you can invite two more people, they can invite two more, and so on. While this lessens the idea of exclusivity, the point is that there's at least some accountability: every person you "nominate" to be added will show up under your profile so everyone knows you recommended them.
If you're really interested in joining Clubhouse but haven't received an invite, you can download the app and join the waitlist. Fill out a form with your name, phone number, and a desired username. If someone in your phone's contact list is already a member, they will get a notification that you are trying to join and if they want, they can let you in. Doing so does not count towards their two exclusive invites, which means a single user can effectively permit access to dozens of colleagues, clients, and friends.
You can also reach out to those in your social or professional network to ask if they would consider adding you using one of their two direct invites. I recently received three more invites for a total of five to doll out if desired, suggesting that Clubhouse is now looking to expand its user base even more.
Is Clubhouse Worth It?
It's tough to tell at this point whether Clubhouse is worth joining for the long-haul or not. Like any app, once membership grows, chances are that finding good content might be like searching for a needle in a haystack. That said, many who have joined and listened in on discussions already have praised the site as the "next big thing," comparing it to a virtual and mobile TED Talk (minus the video portion, of course). Some users, reports Rolling Stone, report getting sucked down the rabbit hole and using the app for 4-5 hours daily.
But it can also be tough to navigate since there are so many different discussions about so many different topics going on at any given time. And without a compelling visual element like videos or photos, it takes the industry back decades. Isn't Clubhouse just a glorified conference call or talk show radio program?
That said, Clubhouse is an interesting way to network with other like-minded (or differently minded) individuals without the sometimes awkwardness of video chatting and at a time when meeting in person is out of the question. Given Clubhouse's success to date, apps like Facebook and Twitter have begun to explore audio-only conversational features, too, trying to replicate the concept.
Will Clubhouse, and this trend on the whole, continue to be successful post-pandemic? We'll just have to wait and see. For now, if you have the opportunity to check it out, judge for yourself.