Now four months into the year, it's about that time that New Year's Resolutions are being abandoned or have already long been left behind. For many, that Resolution was to get in shape, or at least adopt a healthier lifestyle. And while it's tempting to put down the weights and resistance bands and pick up the glass of wine and bag of potato chips, there's plenty of reason to keep on the right path. And there are plenty of apps that can help, some of which are free but most that come at a small, but worthwhile, cost.
BeachBodyonDemand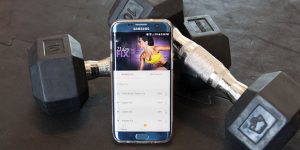 The BeachBodyonDemand website and app has a lot of things going for it: hundreds of workouts for everyone from novices to intermediate-level fitness enthusiasts. A variety of engaging coaches. Real-time and on-demand classes. Accessibility from a variety of devices, including Apple TV, iOS, Android, Roku, Chromecast, and Fire TV, which means you can work out no matter where you are. And all-encompassing plans that not only include exercise but also nutrition. It's a one-stop-shop of programs for those who are ready to make a serious change. And it's great to do with friends. Even if you can't coordinate to do the workouts together, even virtually, you can still commit to doing the same program. Set up a group chat to discuss the workouts and share sweaty selfies and screenshots of daily workout stats from smartwatches and activity trackers. The downside? It doesn't come cheap. A 12-month plan is $119 and six months is $90.87. If you are reluctant to commit but want to start a program first, there is a 14-day free trial after which you pay $75.20 every three months (cancel within 14 days to avoid charges for the next billing cycle). But you also get your own personal fitness coach who can help you achieve your goals. You can pay more for a full program that includes a nutrition plan, shakes, and more.
Orangetheory Live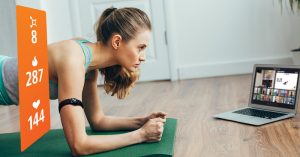 Orangetheory Fitness Canada has pivoted in these trying times to offer virtual classes given gym closures and/or limited capacity rules for classes and entrance. Called Orangetheory Live, the workout platform recently launched in Canada, marking the first global market outside of the U.S. It includes live coaching with guidance and feedback from local coaches that are usually in studio, medical vetting, a virtual "lobby" where members and coaches can get together socially before starting a workout, and the ability to still pair your OTbeat wearable device to the workout to monitor performance in real-time. Available for both iOS and Android devices (as well as macOS 11 or later), there's a catch: you need to be a member of Orangetheory Fitness to access it. The bonus: once restrictions are lifted and in-person gyms are open in your area, you can combine your virtual sessions with ones in the facility as well. Check your local gym facility for the available programs and membership fees.
Worth noting is that non-members can also access Orangetheory's free At-Home Workouts on YouTube, which launched at the beginning of the pandemic. The channel adds new videos all the time with workouts of all kinds you can follow at home.
Apple Fitness+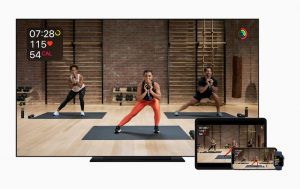 Exclusive for Apple Watch owners, Apple Fitness+ offers studio-style workouts on an iPhone, iPad, or Apple TV, combining metrics from the Watch with your on-screen activities. The Watch screen will animate, for example, during key moments in the workout, like if the trainer tells you to check your heart rate, or to display a countdown timer as you're about to finish reps. Enjoy various popular workout types, like High Intensity Interval Training (HIIT), strength, yoga, dance, core, cycling, treadmill, rowing, and mindful cooldown, all led by a team of trainers. They range from 10-45 minutes and include options that can be done with or without equipment. Apple adds another element – music! – to the experience. Through Apple Music, you can choose from nine different music styles to accompany your exercise, from latest hits to pure dance and throwback hits. You don't need an Apple Music subscription to get them while working out, but if you are a subscriber, you can also use your own custom playlist. Choose the desired workout and which trainer or use recommendations that suggest workouts that fit what you like, will complement what you're already doing, or encourage you to try something new. A standalone subscription is $13/mo. or $100/yr., plus, of course, the cost of the Apple Watch if you don't already own one. Buy an Apple Watch Series 3 or newer, however, and you get the first three months of Fitness+ free (existing Apple Watch owners get the first month free). But you can share a plan with up to six family members, so it's the perfect option for an entire family looking to get fit. You can also get Apple Fitness+ as part of an Apple One Premier plan, which includes Apple Music, Apple TV+, Apple Arcade, Apple News+, and 2TB of iCloud storage for $33.95/mo. shared among up to six family members.
Fitbit Premium Workouts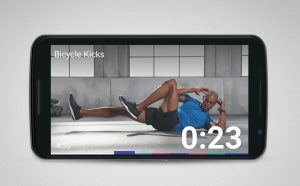 If you own a Fitbit smartwatch or activity tracker, you might have been mulling over getting a Premium subscription given the generous offers that include anywhere from 90 days to the first year free. What does it include? Along with other features like additional insights into your health metrics, including Sp02, breathing rate and heart rate variability, you also get access to a variety of workout programs. For an additional $45/mo., you can also get one-on-one health coaching. There are 15+ guided programs and 200+ workouts, from run training to intro to HIIT and programs designed to help you eat better or get more sleep. You'll pay $13.49/mo. after the trial period.
Studio SWEAT OnDemand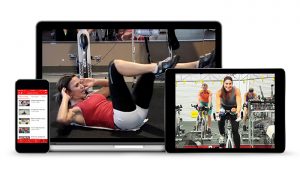 This streaming fitness service is designed to appeal to all ages, from kids to the elderly and serious athletes. Like the others, it features certified trainers in a variety of workouts, from indoor cycling to kickboxing, TRX, body sculpting, and cardio and strength training classes. Classes can be streamed or downloaded to watch without a wireless connection. The service offers a seven-day trial period and classes can be downloaded individually or sign up for a program. A guest pass for a single class is $7.88 or an all-access pass is $19.88/mo., $99.28 for six months, or $188.56 per year, with the ability to cancel at any time.
Get Kids Moving on YouTube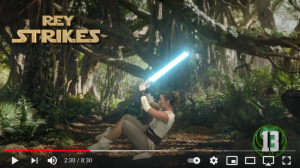 Don't have a budget, nor the time, to invest in one of these programs? There are plenty of simple workout videos you can find online to at least get a low-impact, 10-minute workout in every day. For busy parents, the Get Kids Moving account on YouTube is a favourite and one that many kids are already doing in virtual school for their "movement breaks." It features a variety of short workouts, ranging from just four minutes up to 11 or 12 minutes each. What sets them apart is that the workouts are all themed with kid favorites like characters from the Avengers, Star Wars, Harry Potter, and more. The trainers dress up in full costume while each move has a special name with a twist that fits the theme. For example, when Black Panther runs on the spot for 30 seconds, it's called the T'Challa Sprints. When Rey from Star Wars does sit-ups, she pushes her hands down with a lightsaber each time she sits up and they are called Rey Strikes. You'll find all the regular exercises in a typical cardio workout, from squats to push-ups, delivered in Tabata style with 20-30 seconds of reps followed by a 10-second break. Kids love it while parents get a decent workout or, at the very least, some exercise added to their days. And it's something fun to do together with the kids. Turn it into a full workout by combining four or five videos to equate to 20 full minutes of cardio. The best part? It's entirely free though you might encounter some ads before or between workouts, which you can skip or use for a quick water break.