Earlier this month, I highlighted a number of fitness apps that can help get you motivated to be more active and exercise more. But physical health isn't the only component to consider when it comes to your overall wellness: mental health and exercising your mind is important, too.
This is more important than ever this year, considering that employee burnout is a growing issue among workers, including those working from home (and especially those with younger children. In a recent poll, Blind found that fewer than 15% of employees believe their company has a plan in place to address employee burnout and the vast majority (84%) don't think their companies are taking the necessary steps to address the issue.
This means taking matters into your own hands to find ways to alleviate stress and mental burden and keep your mind sharp and agile. This could be as simple as going for a short solo walk every day to clear your mind or playing a strategy-based video game once a week as a stress release and mind workout.
There are lots of apps and online programs that can help keep you mentally fit, promoting mindfulness activities and featuring games, breathing exercises, or calming sounds. And while 83% of employees in the Blind survey believe that employees should be able to expense mental health and fitness-related subscriptions used as a means to help combat burnout, they're worth investing in even if you have to pay out of pocket for now.
TalkSpace: This company, which went public in January in a US$1.4 billion deal, provides access to virtual meetings with therapists who can help get you through if you're feeling down, stressed, anxious, angry, depressed, lonely, or sad. Answer some questions about your preferences, select your therapist from a curated list of recommendations, and begin online therapy. Access the site 24/7, choose from flexible plan options, and even switch therapists if you find you're just not jiving with the person you first select. There are also couples and teen therapy options, and you can chat via live video, messaging, or by phone – whichever you prefer. Some insurance companies even cover the cost of TalkSpace, a subscription-based service that starts at US$65 for a 30-minute a la carte session. Plans range from US$260 per month for the Therapy Plus plan, which includes unlimited messaging with responses from the therapist daily, five days per week, to US$396 monthly for unlimited messaging for the Therapy Ultimate Plan that adds four 30-minute live sessions per month.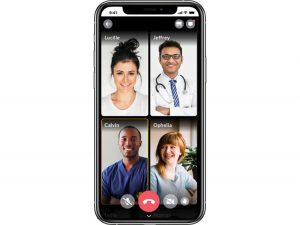 Espri by Telus Health: Focused on mental health, this app is designed to provide targeted mental health resources for specific industry verticals, including clinically informed content about building good habits, promoting wellness, and learning to better manage stress. There are articles, podcasts, and videos, as well as goal setting. It also includes group video sessions designed specifically for workers and their family members that include things like mentoring, support, and even fitness. There's one-click access to crisis lines and assistance programs and access to the Calm app for sleep, meditation, and relaxation. Designed for high-pressure, frontline worker industries like emergency medical services, law enforcement, healthcare, and firefighters, Telus says the app can be tailored to the unique needs of any type of organization. It comes with a free three-month trial subscription.
Shine – Self-Care & Meditation: Named among Apple's App Trends of 2020, this app, as its name implies, is designed to help users practice self-care. The idea is to use the app to help guide you through a daily ritual that involves meditation, connecting, and reflecting. Begin your week with the Daily Shine short meditation, connect with a community to get support on whatever hardships you're encountering in your life, then reflect on how grateful you are for what you have. A Premium subscription offers worthwhile upgrades, including recommended meditations for the weekend and to help you wind down in the evenings, and the ability to track your mood and receive more meditation recommendations along with articles and journaling exercises. The Premium version, which is $20/mo. or $72/yr., also includes access to an audio library and more than 800 meditations on topics ranging from Black wellbeing to navigating COVID-19 anxiety, burnout, finding joy, and strengthening relationships. It offers seamless integration with an Apple Watch along with Siri shortcuts; and you can enable Apple Health to track your Mindful Minutes. The app is, however, also available for Android devices.
PC Health App: Last November, Loblaw Companies Limited launched the PC Health app powered by League, an app that provides Canadians with access to healthcare resources and support. Depending on your location in Canada, you can access live chats with a registered nurse or dietitian on health and nutrition as well as set personal health goals. There are also specific programs targeting mental health and anxiety management. Completing daily goals and activities has the added incentive of earning PC Optimum points for those who use the loyalty program. The app can also be used to help find the appropriate health care provider to meet your needs as well as access real-time virtual care from pharmacists, physicians, and specialists. The app is available as a free download for both iOS and Android devices.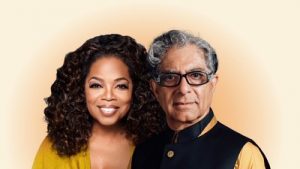 Chopra Meditation & Well-Being: This highly rated and free app from Deepak Chopra provides mindful tips for self-care. Leverage a variety of tools in the app to help relax, get better sleep, relieve stress and anxiety, and enjoy personal and spiritual growth. There are sessions as short as five minutes and ones as long as 30 minutes to suit your schedule. There are also the popular 21-day Meditation Challenges, including "Getting Unstuck: Creating a Limitless Life," which is led by Chopra along with Oprah Winfrey. That program is free through to April 18, 2021 and includes a 20-minute audio meditation every day with reflections and questions designed to promote thought and fulfillment. There's lots of free content in the app or you can unlock all of the signature programs and other content for $70/yr.
Breathing Exercises in Smartwatches and Fitness Trackers: Most smartwatches and fitness trackers have breathing exercises and guided meditations you can use to help calm yourself when you're feeling stressed or anxious or need to bring your heart rate down. You'll find these in models from popular brands like Fitbit and Apple. If you sign up for the Fitbit Premium service, which is currently free for anywhere from three to 12 months, depending on which device you own or buy ($10/mo. thereafter or $80/yr.), you can choose from a wide selection of mindfulness sessions, including ones provided by Deepa Chopra like a five-minute session called "Prepare for Restful Sleep" or a 12-minute Happy Place Meditation session under the Mindful Minutes category. There's everything from breathing techniques to audio meditations you can listen to through headphones while you go for a walk or relax on the hammock outside. There are even ones focused on self-love and self-care, like "Kindness Body Scan" and "Grateful for Your Body."
Related:  Mindfulness